Wiki Targeted (Entertainment)
Play Sound
Ranger (as credited) was a park ranger in Yosemite Park during the attack by Vilgax's Drones on the Tennyson's Summer road trip.
Appearance
He is a Caucasian man, with glasses and a greyed beard. He also wears a park ranger outfit, made up with a green jacket with patches/badges, and a tan colored, wide brimmed hat.
Personality
He appears to be brave, putting himself in danger to help campers escape Vilgax's drones. Otherwise he was happy to accept help from Gwen and Max Tennyson when needed.

History
During And Then There Were 10, late at night, he came across the aftermath of Ben Tennyson's first transformation from finding The Omnitrix and turning into Heatblast, unable to control his powers, and causing a wildfire, driving up in a car to see what had happened.
Later, he was seen first running from one of Vilgax's Gigantic Drones, then helping a camper who had fallen nearby his car. The drone, seeing this, picked him up off the ground, only dropping him back down onto his car once Diamondhead stepped in, telling him to pick on someone his own size.
Gwen and Max Tennyson were seen helping him down off the car, asking the two what was going on, which was quickly interrupted by Diamondhead getting thrown through the car, causing him to run away.
He appeared again in Gwen 10, going through most of the same events as he did in his debut.
Appearances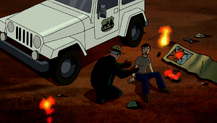 Ben 10
Season 1
Season 2