House of the Dragon Trailer - The Loop
Play Sound
Xylene's Ship is a spaceship used by Xylene. It is where Xylene kept the Omnitrix as part of the DNA Force, guarding it away from the hands of those he would seek to use it for their own gain.
Xylene's ship was shot down in And Then There Were 10, crash-landing in the arctic. The ship was rebuilt at the end of The Visitor, but with a different color.
Appearance
Xylene's ship is shaped in a very peculiar manner, being mostly horizontal but with a ring surrounding the back of the ship, seemingly acting both as thrusters and landing gear. It is navy blue with some components being green.
When rebuilt, Xylene's ship had a very uniform silver color scheme.
History
When she was leaving Earth for the first time, Xylene asked Max to come with her to space, but he declined. She flew off in her ship as Max and Phil looked on.[1]
Xylene was given the grand responsibility by Azmuth of being the Omnitrix's carrier and a member of the "DNA Force."
Ben 10
While Xylene was carrying the Omnitrix,[pop-up 1] Vilgax attacked her near the asteroid belt and rings of Saturn, seeking the device, forcing Xylene to make the decision of sending it in a pod locked on to Max's DNA signature.[pop-up 2] With the pressure of being attacked, she accidentally missed Max's location and the Omnitrix's containment pod was sent to the nearby forest, where his grandson Ben Tennyson stumbled upon it.
Xylene managed to send a powerful enough energy blast to accurately hit Vilgax, forcing him out of commission after much of his body was destroyed. Unfortunately, Xylene's ship also suffered a major blow from Vilgax's ship and crashed on Earth. She and the remains of her ship were then frozen for quite some time until a group of Inuits found her.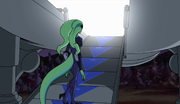 Xylene's ship was later repaired, albeit with a slight change in appearance. She asked Max to go with her, but he declined, and her ship departed Earth soon after.
Appearances
Ben 10
Season 1
Season 3
Omniverse
Season 5
Notable Inhabitants
Notable Visitors
Trivia
References
Pop-ups