Voliticus Biopsis are flying mosquito-like aliens from the planet Primus.
Appearance
Voliticus Biopsis are blue robotic mosquito or wasp-like creatures with two pairs of wings and four legs. They have eyes with black sclera and green pupils.
History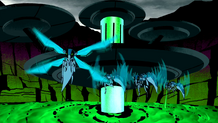 Voliticus Biopsis are mosquito-like creatures created by Azmuth that collect DNA samples from sentient aliens for the Codon Stream.
Powers and Abilities
Voliticus Biopsis are capable of flying at high speeds.
Since they travel across the universe to collect DNA samples, they can survive in the vacuum of space.
They can use their sucklings to sample DNA from various life forces and released the samples as a form of green liquid.
Weaknesses
They are not very durable, as Gwen and Kevin easily destroyed them in combat.
Etymology
The name Voliticus Biopsis comes from Latin '"volat", meaning fly and "bio", meaning life.
Community content is available under
CC-BY-SA
unless otherwise noted.