Voliticus Biopsis are flying mosquito-like aliens from the planet Primus.
Appearance
Voliticus Biopsis are blue robotic mosquito/wasp-like creatures with two pairs of wings. They have eyes with black sclera and green pupils. They also have four legs.
History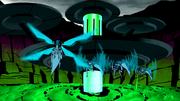 Voliticus Biopsis are mosquito-like creatures created by Azmuth that collect DNA samples from sentient aliens for the Codon Stream.
Etymology
The name Voliticus Biopsis comes from Latin '"volat", meaning fly and "bio", meaning life.
Community content is available under
CC-BY-SA
unless otherwise noted.