Line 163:
Line 163:
 
 
 

==Errors==

 

==Errors==

−

*[[Vilgax (Classic)|Vilgax]] and [[Psyphon]] call [[Ultimos]] "Ultimo". The end credits also spell his name as such.

+

*[[Vilgax (Classic)|Vilgax]] and [[Psyphon]] call [[Ultimos]] "Ultimo".

 

*When Vilgax says "Few have withstood an assault from the [[Ruby Ray of Rouleau]].", the ''Ben 10 Alien Force: Volume 7'' DVD's closed captioning says "You have withstood an assault from the Ruby Ray of Ulo." [[Ssserpent]]'s name is also misspelled as "Serpent".

 

*When Vilgax says "Few have withstood an assault from the [[Ruby Ray of Rouleau]].", the ''Ben 10 Alien Force: Volume 7'' DVD's closed captioning says "You have withstood an assault from the Ruby Ray of Ulo." [[Ssserpent]]'s name is also misspelled as "Serpent".

 

*After [[Kevin Levin (Classic)|Kevin]] is sprayed with venom, his arms are no longer metal.

 

*After [[Kevin Levin (Classic)|Kevin]] is sprayed with venom, his arms are no longer metal.

Line 173:
Line 173:
 

*While [[Azmuth (Classic)|Azmuth]] talks to Ben through the [[Omnitrix (Original)|Omnitrix]] before it gets hacked, its faceplate is like the original Omnitrix's faceplate and has grey colors.

 

*While [[Azmuth (Classic)|Azmuth]] talks to Ben through the [[Omnitrix (Original)|Omnitrix]] before it gets hacked, its faceplate is like the original Omnitrix's faceplate and has grey colors.

 

*When the dots appear above the Omnitrix before, some of them are clipped.

 

*When the dots appear above the Omnitrix before, some of them are clipped.

 
+

*In the credits Jetray's name is misspelled as "Jet Ray", and Ultimos' name is misspelled as "Ultimo".

 

<gallery bordercolor="transparent" captionalign="center" hideaddbutton="true" spacing="small" position="center">

 

<gallery bordercolor="transparent" captionalign="center" hideaddbutton="true" spacing="small" position="center">

 

AF Vol 7 DVD Ruby Ray Error.png|Incorrect closed captions on the ''Ben 10 Alien Force: Volume 7'' DVD

 

AF Vol 7 DVD Ruby Ray Error.png|Incorrect closed captions on the ''Ben 10 Alien Force: Volume 7'' DVD

Line 182:
Line 183:
 

VoV1 (496).png|Cooper is injured

 

VoV1 (496).png|Cooper is injured

 

VoV1 (538).png|Faceplate error

 

VoV1 (538).png|Faceplate error

 
+

VoV1 (563).png|Name errors

 

</gallery>

 

</gallery>

 
 
---
Latest revision as of 22:37, 22 June 2022
This article belongs to the

Classic Continuity
Vengeance of Vilgax: Part 1 is the first episode of the third season of Ben 10: Alien Force, and the twenty-seventh episode overall.
Plot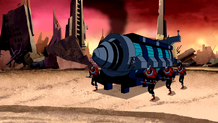 On another damaged planet, Tini searching for Synaptak, who is trapped under rubble. However, as soon as she finds him, the still alive of Vilgax attacks her and wants to fight Ultimos. Then, Ultimos, the leader of the Galactic Enforcers, arrives and attacks Vilgax, but he is easily defeated. Vilgax has issued him a Conqueror's Challenge for his planet, and now controls it. Vilgax's assistance, Psyphon, Vilgax's new right-hand man, arrives with several drones, who bring a machine to Vilgax, hooks up a machine to Ultimos that transfers his powers, as well as the powers of the other Galactic Enforcers members, to Vilgax. He now has the powers of the greatest heroes of 10 worlds, which he intends to use to get revenge on Ben.
On Earth, Gwen and Kevin are having trouble with fighting a snake-like alien named Ssserpent. Gwen is irritated that Ben isn't there yet. Ben is at home, watching TV when an ambassador, Lukik, teleports into his room and gives him a medal for saving the universe from the Highbreed. Ben puts it in the closet with his other trophies and he sees a commercial for a Sumo Slammers movie and freaks out. Gwen calls Ben and tells him to come to the fight. Ben transforms into Jetray and flies there. After he arrives, Jetray transforms into Cannonbolt as he lands and easily defeats Ssserpent. Cannonbolt transforms back into Ben and Gwen yells at Ben for not being there, but he shrugs her off. Gwen and Kevin storm off. In the Rust Bucket, Max picks up an alarm on a training mission with the Plumbers' Helpers and drives to a park where Psyphon is preparing a machine. The police are already there. They attack him, but Psyphon blocks their attacks and throws a grenade. The officers run. Psyphon warns them not to distract them again and he projects a force field around the park.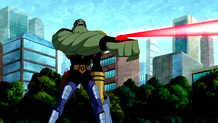 Vilgax arrives and he and Psyphon issue a Conqueror's Challenge to Ben, with the Earth as the prize. The Rust Bucket arrives and Max and the Plumbers' Helpers exit out of it. Cooper attacks Vilgax, but he is defeated and rescued by Helen. Vilgax attacks and knocks out Helen with a laser. Manny attacks Vilgax, but is also defeated. Alan takes on his Pyronite form and attacks, but Vilgax uses his newly acquired ice breath to put out his flame and send him into a tree. Pierce is the next to attack, but is easily taken down. Vilgax then searches for Max and Max comes out of hiding, using a mask to render himself invisible, and blasts him with a blaster. The blasts have little to no effect and Vilgax swats him away. Psyphon starts to drain him, but Vilgax tells him not to. Vilgax says that he will return in one day to fight Ben 10, and he will destroy the Earth if Ben doesn't show up.
At Mr. Smoothy, Ben, Gwen and Kevin are drinking smoothies and yell at Ben for being full of himself, but he dismisses their concerns. The team is about to have a smoothie fight when Max calls Ben. He tells Ben that Vilgax has returned and has issued a Conqueror's Challenge. Kevin says that Ben can't accept it, but he does and he is confident that he will win. Later, the team watches the Plumbers Helpers fight Vilgax. Gwen and Kevin are concerned with Vilgax's new powers, but Ben is not. Kevin opens his garage to reveal a machine that he intends to use to hack the Omnitrix in an attempt to re-unlock the Master Control. Kevin sets up the machine, but Gwen has her doubts that this would work.
Ben knows that with the Master Control, he can do almost anything with it. Gwen is worried, but Kevin is sure that he can do it. Kevin starts the machine and briefly transforms the Omnitrix into its old form. However, once back into its recalibrated form, Azmuth appears on the communicator and warns Ben not to stray from the hero's path and hack the Omnitrix, stating that he is not yet ready to use its full power. Both Kevin and Gwen thought that it was a very close call, and decide to call the whole thing off. But despite both warnings, Ben still wants to hack the Omnitrix due to believing that Azmuth actually wants him to hack it. Ben activates the machine back on, but the Omnitrix starts to overload. Kevin tries to help Ben get it off. It releases a burst of energy, destroying the garage.
Noteworthy Events
Major Events
Vilgax challenges Ben to a Conqueror's challenge.
Character Debuts
Minor Events
Since Ben saved the universe from the Highbreed, he has been receiving numerous trophies and medals from various planets.
Ben and Kevin try to hack the Omnitrix.
Characters
Villains
Aliens Used
Quotes

Vilgax: Where is he? Where is Ultimos?
Ultimos: Right here, Vilgax. (flies at him) And rest assured, you will pay dearly for your craven attack on my teammates. The Galactic Code of Conduct- (punches the Shield of Ziegel) (Vilgax knees Ultimos, then slams him down)
Vilgax: The Galactic Code of Conduct says that a conqueror's challenge is between the greatest warrior of the attacking race, and the greatest warrior of the planet under attack. That's me...and you. Your teammates cheated, but that won't change the outcome.
Ultimos: I am the most powerful hero on this planet. I'll perish before I let it fall into your hands
Vilgax: Yes....you will. (blasts him with the Ruby Ray of Ulo) I salute you. Few have withstood in assault from the Ruby Ray of Ulo. Ultimos (groaning): I... can't... let you... win.




Gwen: Guys, focus! Bad guy on the loose!
Cannonbolt: It's not a problem, Gwen. Creeps like this... Um, what's your name?
Ssserpent: I am Ssserpent, the snake that walks like a man.
Cannonbolt: (repeatedly rolls over Ssserpent) Is it okay if I call you "Roadkill, the snake that only made it halfway across the street."
Ssserpent: Ughhh...
Cannonbolt: I'll take that as a "yes."




Gwen: I'm not kidding, Ben. I'm really mad at you!
Ben: But you won't stay mad at me. I'm adorable.
Gwen: You're completely full of yourself!
Ben: Which is forgivable because I'm so adorable.
Gwen: You were late for a mission. Kevin and I could've been killed!
Kevin: And I don't think you're adorable, I think you're obnoxious. (Gwen and Ben look at him, surprised) Obnoxious. That's what Gwen used to call me all the time. Am I using it right?
Gwen: Couldn't have said it better myself.
Kevin: You've been obnoxious ever since you-
Ben: Saved the whole entire universe?
Kevin: See, you're doing it again.
Gwen: Obnoxious.
Ben: After stopping the Highbreed invasion I think we deserve to enjoy our success.
Gwen: Ugh.
Ben: So lighten up. Have a smoothie on me.
Gwen: Ok. Here's a smoothie on you. (pours her smoothie on Ben)
Gwen and Kevin: (laughs)
Ben: I hope you like pineapple. (gets ready to pour his smoothie on Gwen)
Gwen: (backing away) Come on Ben, this is a new shirt.




Manny: Shotgun! I called it!
Helen: You're already riding shotgun. Why do you keep calling it over and over?
Manny: Because it's fun to yell shotgun. Shotgun!



Naming and Translations
| Language | Name | Origin |
| --- | --- | --- |
| French | La Vengeance de Vilgax, 1re partie | The Vengeance of Vilgax, 1st Part |
| Hungarian | Vilgax bosszúja, Első rész | Vilgax's Revenge, Part 1 |
| Portuguese (Br) | A Vingança de Vilgax, 1ª Parte | The Vengeance of Vilgax, 1st Part |
| Spanish (HA) | La Venganza de Vilgax: Parte 1 | The Vengeance of Vilgax: Part 1 |
| Spanish (Spain) | Vilgax Regresa: Parte 1 | Vilgax Returns: Part 1 |
Cast
Continuity
Allusions
Errors
When Vilgax says "Few have withstood an assault from the Ruby Ray of Rouleau.", the Ben 10 Alien Force: Volume 7 DVD's closed captioning says "You have withstood an assault from the Ruby Ray of Ulo." Ssserpent's name is also misspelled as "Serpent".
After Kevin is sprayed with venom, his arms are no longer metal.
Despite the end of the previous episode implying that Ben's aliens were replaced with a whole new roster, he is shown to have all his aliens intact in this episode.
When Jetray transforms into Cannonbolt, his back is white for a split second.
Right before Ssserpent gets hit by Cannonbolt, his chest is green for a split second.
Cannonbolt is more brightly-colored than usual after he defeats Ssserpent.
While Azmuth talks to Ben through the Omnitrix before it gets hacked, its faceplate is like the original Omnitrix's faceplate and has grey colors.
When the dots appear above the Omnitrix before, some of them are clipped.
In the credits Jetray's name is misspelled as "Jet Ray", and Ultimos' name is misspelled as "Ultimo".
Trivia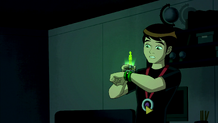 References
T.J. Collins