Vaxasaurians are a dinosaur-like species from the planet Terradino.
Appearance
Vaxasaurians are a humanoid dinosaur-like species, being biege in color. They have human-like hands with four fingers, each with large gray nails. They have long dinosaur-like tails and stand about 12 feet tall and can grow to about 60 feet tall.
When they grow, the Vaxasaurians' dinosaur features become more pronounced, growing Stegosaur-like plates on their back, a crest on their forehead and spikes on their tail. Also, on their shoulders, three plates separate and grow.
Female Vaxasaurians look like males, but wear bones and a big loincloth, much like that of a caveman. They also have five spikes on their head.
Vaxasaurians from Dimension 23 are greyish-cyan in color.
Reproduction
Vaxasaurians reproduce by laying eggs.[1][2]
Powers and Abilities
Vaxasaurians possess incredible strength and a thick layer of armor-like skin which provides vast resistance to injury and damage. Vaxasaurians are strong enough to lift To'kustars.[3][4]
Vaxasaurians have the power to increase their own body size and mass, which increases their strength and durability further.
They can also grow Stegosaur-like plates on their back, a crest on their forehead and spikes on their tail, with or without growing.
Vaxasaurians are able to survive in space for a few minutes.
They can move on all fours.[5]
Vaxasaurians are quite agile for their size, as Humungousaur can somersault,[6] slide,[7] and evade attacks while jumping.[8]
Weaknesses
A Vaxasaurian's strength has a clear limit, as with such cases with moving and lifting beings or objects as heavy as a Tyrannopede, whose sheer weight proved a challenge for Humungousaur to manage.
Vaxasaurians are also very slow and combined with their naturally large physique, it makes them a very easy target for enemy attacks. Even their base size makes it impossible for them to fit into small spaces.
Vaxasaurians are extremely susceptible to electricity.
Vaxasaurians are vulnerable to a Methanosian's fire blasts.
Notable Vaxasaurians
Notable Vaxasaurian Hybrids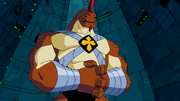 Naming and Translations
Language
Name
Origin
Spanish (HA)
Vaxasaurio
Vaxasuaurio (The Ultimate Heist)
From Vaxasaurio, Vaxasaurian
From Vaxasuaurio, Vaxasuaurian
Etymology
Vaxasaurian comes from the Icelandic "vaxa", which means "to grow", and "sauria", which is a clade of lizards.
References
Community content is available under
CC-BY-SA
unless otherwise noted.