Cobra Kai Season 4 - The Loop
Play Sound
Vincent Vladislav Argost (often referred as 'V.V. Argost', or just 'Argost') is a villain appearing in Ben 10: Omniverse. He first appeared in T.G.I.S.. He is a highly intelligent cryptid from the planet Earth.
Appearance
After his resurrection, Argost's body is now a patchwork of machine and cryptid body parts: Specifically the head, torso, and left arm of a Yeti, the horns, wings and legs of the Jersey Devil, and the tail and head of the Loch Ness Monster for a right arm. Additionally his body is interspersed with stitches where he was put back together and machinery.
Personality
Argost is a meticulous planner and master manipulator: on several occasions he tricks his enemies into either doing his bidding or luring them away from his real plans. Additionally he has developed a number of plans to be executed over the course of years, most notably his lifelong hunt for the power of Kur. He is also a ruthless psychopath relishing in the death, destruction, and misery that he causes. His ultimate goal is world domination.
History
Background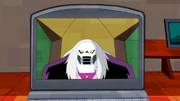 Argost is a Yeti, long time host of the show "Weird World", and long term enemy of The Secret Scientists and the Saturday family. Three years ago, in case he met his end, he contacted Dr. Animo and gave him the blueprints for a machine that would use alien and cryptid essence to bring him back to life. His fears were confounded when he tried to absorb the Kur powers of Zak Saturday and they mixed with his Anti-Kur powers and destroyed him.
Omniverse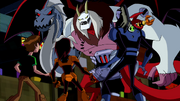 Animo, after three years, was finally able to restore Argost to life in a hybrid body of Yeti, Loch Ness Monster, and Jersey devil. Since Argost still needed Animo's supply of essence and Animo needed Argost's Kur powers and cryptid expertise to control and make his army he proposed an alliance. Fortunately their alliance soon fell apart and the Saturday family was able to free the cryptids from Animo's control and drain the essence from him, swearing revenge as he was taken away by Plumbers.
Powers and Abilities
Argost was a Yeti that had strength beyond normal humans, and he still had his anti-Kur powers from before, that allows him to control cryptids by thought alone, but slightly less potent now.
After he was resurrected with a body of an assortment of cryptid parts, he is now stronger than ever before. He also has wings that allow him to fly in the air, and the dragon-like cryptid head on his right arm can breathe fire.
Weaknesses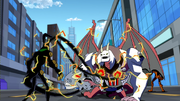 Due to the way he was revived, he is vulnerable to having his life force taken from him.
Appearances
Omniverse
Season 3