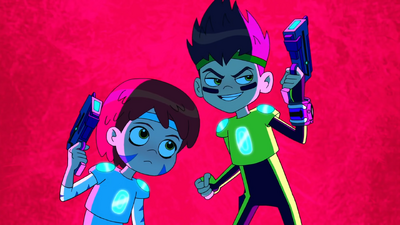 Hey, I'm Justine and I'm from Belgium. I've been watching Ben 10 since the first version. I don't know when but it's so long ago. I also saw Ben 10: Alien Force and bought a swampfire from Lego. I saw a few episodes of Ben 10: Omniverse but I don't really like the cartoon style. The reboot of Ben 10 seems very interesting, might want to watch more.
If you speak Dutch like me, you can watch full episodes and even the movies on Cartoon Network's YouTube. I used to watch it in Dutch but now I'm rewatching them in English.
Favorite Stuff
Episodes
| Image | Title | Number |
| --- | --- | --- |
| | Duped | 2 |
Series
I haven't watched everything yet, so it will change.
Aliens
Heroes
Villains
Quotes

Gwen: It's more than that. I like swimming, and school, and breaking boards with my hands, and running and feeling tired afterward and, ... kissing boys
- What Are Little Girls Made Of?




Kevin: Today I'm going to the auto show. I need a new ride.
Gwen: I'll go with you.
Kevin: You like cars?
Gwen: Not really, I like you though.
- War of the Worlds: Part 2




Kevin: (after telling Julie and Gwen his story on how he had his nose in another dimension for three hours, going to his car to remove alien tech, that could bring Ben back on the earth) Aren't you going to ask how I smelled?
Gwen: Terrible, just like your joke.
- Singlehanded



Games
Also I was addicted to the Ben 10 Cartoon Network games. Some of my favorite ones are below.
Random Pictures
Community content is available under
CC-BY-SA
unless otherwise noted.