Jurassic World: Dominion Dominates Fandom Wikis - The Loop
Play Sound
This article belongs to the

Classic Continuity
Ultimos is the leader of the Galactic Enforcers and the most powerful hero on planet T.K.
Appearance
Ultimos is a male humanoid alien with a heroically muscular build, standing as tall as Four Arms' shoulders. He has dark blue skin, a bald head with a lantern jaw, and four-fingered hands. His eyes are pure light blue and he wears a domino mask around them (likely to cover his identity). His uniform is a simple yellow one-piece jumpsuit with a stylized 'U' on the chest and a white cape with golden buckles. In the Original Series, he had an oval-shaped mark on his forehead.
Personality
Ultimos is very particular about rules. He frequently cites the Galactic Code of Conduct, in battle and everyday conversation, and is of the mind that a Galactic Enforcer should live by the rules of Conduct everyday. However, his sticking to the rules makes him rather distractible when doing proper battle conduct, making it easier for bad guys to get the better of him.
Ultimos is very polite and courteous to Ben and his allies, and is usually seen as a reasonable authority figure. However, he does not let his politeness supersede his devotion to the Galactic Code of Conduct, such as when he politely confined Max and Gwen to his ship due to their (then) status as mere civilians.
Despite his strict adherence to rules, Ultimos does find excitement when given the opportunity to fight without a plan or protocol, as he found fighting alongside Ben Tennyson (and using his unorthodox styles) exhilarating. He sees a lot of potential in heroes like Ben, and thinks they would be especially useful against fighting newer breeds of criminals. He was eager enough to offer Ben a permanent position among the Galactic Enforcers.
History
Ben 10
In The Galactic Enforcers, Ultimos appeared with his titular team on Earth, assisting Ben Tennyson in a fight against SixSix and Vulkanus, later making Ben's acquaintance after the two criminals escaped. Ultimos teleported Ben and his team to the Galactic Enforcers' ship. He gave Ben a tour of the ship and decided, if they were to indeed work together, to make him an honorary member of the Galactic Enforcers. Ultimos later strategized with Team Tennyson, catching them up on the criminals' plan to create Element X and predicting their next location. Before teleporting back to Earth, Ben offered Ultimos a piece of chocolate, which he took, not wanting to be rude. Once they got there, Ultimos was revealed to have been severely weakened by the chocolate and unable to battle. Synaptak took the lead in his stead. After the battle was over, he regained some strength; enough to urge Ben to continue to follow the Galactic Code of Conduct, but Ben told him to forget protocol and start doing things "the Tennyson way". Ultimos and his team fought improvisationally with Ben at a steel mill in Pittsburgh, ultimately trapping SixSix and Vulkanus for good. Ultimos admired Ben's creativity in battle and offered him a position as a permanent member of the Galactic Enforcers. Ben refused to go with them, but Ultimos insisted he keep his badge, in hopes that they someday meet again. He and the Enforcers took the criminals and left Earth.
Alien Force
In Vengeance of Vilgax: Part 1, when Vilgax challenged T.K.'s greatest warrior to a Conqueror's Challenge and knocked out Synaptak and Tini, Ultimos came to fight. He was however no match for Vilgax, who swiftly defeated him, claimed dominion over T.K., and syphoned his powers for himself.
After Ben 10,000 defeated Dr. Animo, Ultimos showed up with the Galactic Enforcers, telling Ben he should leave them some bad guys to take care of. Ben dismissed the idea, but allowed them to take the defeated Animo to the Null Void Chamber. As he and the enforcers begrudgingly did, they got surprised by Animo and knocked out.
Later, he asked for Ben's help in battling the Nuevo Circus Freaks and was delighted to hear that Ben was busy celebrating his grandfather's birthday, finally letting the Galactic Enforcers do it themselves.
Powers and Abilities
Ultimos has the ability to fly at high speeds.
Ultimos possesses enhanced strength, enabling him to lift objects much heavier than himself.
Ultimos is able to generate beams of heat from his eyes.
Ultimos is able to generate cold air from his mouth. His breath is powerful enough to cool hot liquid metal.
Ultimos can survive in space.[DM 1]
Weaknesses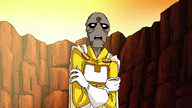 Ultimos is weak to chocolate. Eating it turns his skin into a brownish gray color, makes him feel extremely cold, and severely weakens him, making his body become skinny. Synaptak identified that a specific chemical in chocolate, referred to as "sucrotaxonite", is poisonous to Ultimos and his species.
Personality-wise, Ultimos is unwavering in his tendency to follow the rules of the Galactic Code of Conduct, as well as his apprehension towards breaking them. He can also be polite to a fault, as his weakness to chocolate was discovered by him not wanting to say 'no' when Ben offered him a bit of the chocolate he had on hand.
Appearances
Ben 10
Season 2
Season 3
Alien Force
Season 3
Trivia
References