Time Cycles or Time Bikes are time travel vehicles that enables the driver to travel through space and time. They were built from Ben and Rook's destroyed Tenn-Speed and Proto-TRUK.
Appearance
They took in the form of a motorcycle that can combine into one vehicle.
Features
The vehicles have the capability to travel through space-time giving the user instantaneous travel. They are also impervious to time attacks. They are capable to deal with a Time Beast.
Appearances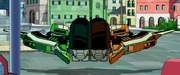 Ben 10: Omniverse