Wiki Targeted (Entertainment)
Play Sound
"
He's not like the worst. He is The Worst.
"
The Worst is the Omnitrix's DNA sample of an Atrocian originally from the planet Atrocius 0.[DJW 1]
Appearance
The Worst is a yellow, fat, round blob-like alien who wears a pair of green underwear with white stripes on it. He has elephant-like feet with three toes and bear-like hands with three claws. He also has wart-like bumps on his forehead and both arms.
The Worst's Omnitrix symbol is located on his belly button.
Powers and Abilities
The Worst is indestructible on the outside of his body, as he is able to withstand heavy physical attacks due to his soft, blob-like body.[2][3][DJW 2]
The Worst has malleable skin, allowing him to absorb hits.[3]
The Worst can survive energy attacks, such as Exo-Skull's laser.[1]
The Worst is resistant against extreme heat and immune to acids.[1]
The Worst has claws that are like thick blunt nails.[DJW 3]
Weaknesses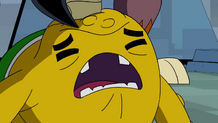 "
I said you were indestructible. I didn't say it wouldn't hurt.
"

– Rook to The Worst during the latter's fight with Malice.[3]
Although he is indestructible, The Worst still feels pain.
Sharpened Taydenite can possibly break The Worst's skin.[DJW 4]
The Worst lacks any offensive options, basically becoming a punching bag for any capable enemy. In general, he has many attributes that could hinder him in battle.[DJW 5]
The Worst needs oxygen to breathe, meaning that he can neither breathe underwater nor survive in the vacuum of space.[DJW 6]
The Worst's claws are not really sharp.[DJW 3]
Like other organic beings, The Worst is vulnerable to being aged to dust by the time rays of a Chronosapien or a Chronian, though it would take a while due to all the dead skin and calluses.[DJW 7]
History
Omniverse
Appearances
Omniverse
Season 2
Season 6
Season 7
Season 8
Naming and Translations
Language
Name
Origin
Bulgarian
Най-Лошия
From the original English name
Chinese
糟糕先生
From 糟糕 (Zāo Gāo), worst, and 先生 (Xiān Shēng), mister
French
Le pire
From le pire, the worst
German
Der Schlimmste
From der schlimmste, the worst
Greek
Ο Χειτόρερος
From ο χειρότερος, the worst
Hebrew
הכי גרוע
From הכי גרוע, the worst
Hungarian
A Legrosszabb
From a legrosszabb, the worst
Italian
Il Peggiore
From il peggiore, the worst
Polish
Najgorszy
From najgorszy, worst
Portuguese (Br)
O Pior
From o pior, the worst
Romanian
The Worst
From the original English name
Russian
Худший
Ворст
From худший, the worst
From the original English name
Spanish (HA)
Peor
From peor, worst
Spanish (Spain)
El Peor
From el peor, the worst
Turkish
En Kötüsü
From en kötüsü, the worst
Trivia
References