The Secret of Chromastone is the forty-second episode of Ben 10: Alien Force.
Plot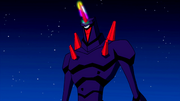 The episode begins with Ben having a cold and Kevin driving him to Mr. Smoothy. Kevin purchases a smoothie for Ben in order to make his cold remedy go down better. Ben drinks it and the taste of the smoothie is terrible. Then, a ship lands next to the car and the team gets out. Tetrax, Ben's old ally and friend when he was 10, exits from the ship. Ben sneezes on him as he says "Tetrax... good to see you." Ben apologizes. Tetrax then grabs Ben while he says "C'mon, man. I apologized for sneezing on you!" But all Tetrax can say is "Ben Tennyson, give me Chromastone!"
Tetrax throws Ben on the ground and he asks him what he wants with Chromastone. Tetrax then tries to transform Ben into Chromastone, but Ben transforms into Diamondhead instead, angering Tetrax. Ben doesn't even have time to explain what happened to him. Kevin and Gwen attack Tetrax, but they are both defeated. Tetrax shatters Diamondhead and reveals a Crystalsapien inside. Tetrax gives the Crystalsapien named Sugilite a back-up crystal that alters the colors of his crystals from magenta to red. Sugilite flies off into space and Gwen ties up Tetrax with mana. Kevin assembles all of the parts of Diamondhead he can find and he transforms him back into Ben. Ben instructs Gwen to let Tetrax go. Afterwards, Tetrax apologizes for what he did and explains that he discovered a way to resurrect his home planet, Petropia, through giving Chromastone the crystal that Vilgax used to destroy it when the planet's suns align. Chromastone would then line up with the stone and the crystal would bring back Petropia and its residents. Tetrax stole the crystal and gave it to Sugilite, who was created in order to be Petropia's guardian. Vilgax arrives and demands the crystal.
The four run from Vilgax and Ben transforms attempts to transform into Way Big, but he transforms into Humungousaur instead and attacks Vilgax. Humungousaur then transforms into Jetray as the team retreats. While in outer space, Sugilite arrives at Petropia's ruins and lines up with the suns. The planet's pieces start to come together. As Jetray and Vilgax fight, Jetray reverts to Ben and begins to fall. Luckily, Gwen catches Ben with a mana slide and Kevin, having an idea, runs off and gets into his car. Vilgax attacks the rest of the team and demands the crystal from Tetrax. Kevin picks them up in the car and creates a smokescreen. Vilgax shoots into it and goes up to the car, but the team is gone. They escape into a building through the sewers, but Ben sneezes and Vilgax hears it with his super hearing. Vilgax arrives and demands the crystal. Ben transforms into Echo Echo and creates duplicates of himself. The Echo Echoes sneeze a sonic sneeze, which knocks Vilgax away, and transforms back into Ben. Vilgax attacks the team and grabs Tetrax. Tetrax says that Vilgax will never find the crystal, but Kevin mentions that Sugilite has it and Vilgax flies away. The team gets into Tetrax's ship and flies to Petropia after Vilgax. Sugilite has rebuilt the planet and is about to resurrect the people when Vilgax arrives and attacks him.
Sugilite begs for mercy, but Vilgax tears the crystal off of Sugilite and discovers that it is drained of power, Vilgax then flies away and leaves Sugilite to die. The team arrives and finds Sugilite near-dead, but Sugilite grows another crystal and gives it to Ben before he dies. Ben transforms into Diamondhead as he knows what to do with the crystal. Diamondhead climbs to the top of the planet's tallest mountain and hold the crystal up to the stars. The Petrosapiens are resurrected and Diamondhead returns to the team and transforms back into Ben. Sugilite was resurrected as well and tells Ben that Chromastone is still in his Omnitrix. Ben gives him the crystal and he reattaches it. The Petrosapiens cheer for Ben. Tetrax brings the team back to Earth. Ben thanks Tetrax for the ride home. Tetrax replies that it was the least he could do. Gwen says that she, Kevin and Ben don't want to hold him back as he must be anxious to get back to his friends. Tetrax replies that he is, but first; he has a score to settle with Vilgax. Ben wonders if it's such a good idea, as Vilgax is pretty much invincible. Tetrax just replies with a simple "Maybe... Maybe not." And speaking of Vilgax..... he has unfortunately caught Ben's cold and the episode ends with Psyphon giving Vilgax a tissue for him to cure his cold.
Noteworthy Events
Major Events
Minor Events
Ben catches a cold for the second time (the first being in Side Effects).
It is revealed that Chromastone can fly.
Characters
Villains
Aliens Used
Quotes

Ben: I don't know... (transforms into Diamondhead)
Diamondhead: ...but Diamondhead does.




Ben: Tetrax, good to see you. (sneezes on Tetrax and wipes his snot on his coat) Sorry.
(Tetrax grabs Ben)
Ben: Come on man, I apologized for sneezing on you.
Tetrax: Ben Tennyson, give me Chromastone!




Ben: (Talking about Vilgax) I'll handle him! (Attempts to turn into Way Big, but ends up as Humungousaur) WAY BIG! Oh man... stupid Omnitrix. (Pulls a street lamp out of the ground) Get ready to rumble, Vilgax, 'cause Humungousaur is gonna... gonna... gonna...
Kevin: He's gonna blow! (dives out of the way while Tetrax runs for cover)
Humungousaur: AAAA...TCHOOOO!! (Sneezes out a pile of phlegm which lands on Kevin's car)
Gwen: Uggh, gesundheit!
Kevin: You are so washing that.




Kevin: (on the road, Kevin driving fast as usual, suddenly sees a truck in front of him and horns) C'mon, C'mon, move it! (sees that the truck does not move) Oh! Is that how it's gonna be?! (Kevin's car produces weapons to blast the truck)
Gwen: Kevin!
Kevin: What?
Gwen: Anger management! Appropriate response!
Kevin: Yeah, okay, no missiles. We're goin' off-road! (takes the shortcut and manages to overtake the truck)
Gwen: (turns around and sees as Ben coughs)
Ben: (In weak voice): I don't think I'm gonna make it...
Kevin: Hang in there, hero! We're almost there!
Gwen: Look! There it is!
Kevin: (reaches Mr. Smoothy's) One mango blueberry with extra lemon stat.
Ben: (sits up and sneezes) ... Better make it a double.
Gwen:(seeing that Ben is overacting, like he is going to die) Okay Ben, it's just a common cold.
Ben: There's nothing common about this cold, Gwen. It's epic. (blows his nose with his hand)
Gwen: (disgusted by Ben's act) You are completely disgusting, use a tissue. (hands him a tissue)
Ben: I was gonna wipe my hands on my pants.
Gwen: I swear, Ben, you're gonna get us all us sick!
Kevin:(handing the prepared smoothie to Ben) Here you go, Tennyson, the old Levin family cure.
Ben: Really? Smoothies?
Kevin: (pours a yellowish-brown color medicine in it) Nah, the smoothies's just so that you can gulp down the real cure. It's bitteroot. (as Ben takes a sip) They call it that because...
Ben: (makes a vomiting sound and his mouth gets stuck to the straw as he stops drinking)
Kevin: Anyway, it's good for a cold... also it's supposed to ward off bear attacks. Drink up.
Ben: (mutters something which is not understandable)
Kevin: (as he and Gwen both turn to look at Ben) What?
Gwen: He says he can't, his lips are puckered shut.
Kevin: You can understand that? You should be a dentist!




Kevin:: (after Ben starts to show off after he brings the Petrosapiens back to life) We're never going to hear the end of this, are we?
Gwen: Not ever.




Jetray: Float like a butterfly, sting like a-huh?
(Vilgax grabs him)
Vilgax: I'll squash you like the insignificant insect you are!




Sugilite: I beg of you, do not do this.
Vilgax: Why not? The crystal is mine. I paid for it. You're nothing but a common thief! (starts attacking Sugilite)
Sugilite: Billions of lives are at stake!
Vilgax: You should be concerned with preserving your own life.



Naming and Translations
| Language | Name | Origin |
| --- | --- | --- |
| French | Le secret de Mégachrome | The Secret of Chromastone |
| Hungarian | Kromakő titka | The Secret of Chromastone |
| Portuguese (Br) | O Segredo do Cromático | The Secret of Chromastone |
| Spanish (HA) | El Secreto de Piedra | The Secret of Chromastone |
| Spanish (Spain) | El Secreto De Megacroma | The Secret of Chromastone |
Cast
Allusions
Trivia
Many changes were made to the scene where Tetrax Shard witnesses the destruction of his home planet.
When Diamondhead revived the Petrosapiens, no female or child Petrosapiens were seen.
Unlike in Side Effects, Ben's alien transformations did not have their powers badly affected by his sickness in this episode; they were just weaker than normal.
Humungousaur turned into Jetray without touching the Omnitrix, similar to the Master Control.
Community content is available under
CC-BY-SA
unless otherwise noted.