We're Getting Mutants in the MCU - The Loop
Play Sound
The Filth is the second episode of Ben 10.
Synopsis
Ben is tasked with cleaning the Rustbucket. But when he is tricked into letting the villainous and vile Fly Guys steal it, he must chase them down before they create an unstoppable Magg-O-Net Monster with sights firmly set on destroying Las Vegas.
Plot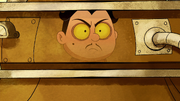 The episode opens up with Maurice and Sydney in a desert robbing a cargo truck of all its toxic waste stored inside, they appear to be using it to fill up some machine. The machine is almost full, but they don't have enough waste, but then the find a vehicle that can be useful to them.
Later on, Max, and Gwen, are cleaning the Rustbucket, while most of the dirtiness is caused by Ben. While they are cleaning Ben (as Grey Matter) is watching cartoons on his tablet, Gwen tries to convince him to help them, but Ben decides to continue watching his programs. Max then give Ben his chore list, which is packed with things to do, so Max decides to leave Ben behind and do his chores while he and Gwen go explore so bat-guano caves, though Ben isn't too upset, knowing he can turn into a super fast alien XLR8, that get all of his chores done quickly.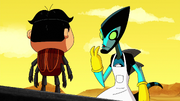 Next, Maurice and Sydney are seen spying on the Rustbucket, they plan to take it to continue on with their plan. After Max and Gwen leaves, Ben turns into XLR8 in order to get his chores done. XLR8 later steps out to clean the bumper on the Rustbucket, he encounters the Bug brothers. XLR8 then figures out that Maurice and Sydney once swapped heads. Right after that Sydney punches XLR8 and both he and Maurice hijack the vehicle. Leaving XLR8 behind only to try and take it back, who then fails, soon after that he creates a Cyclone that only benefits the Bug Brothers. Ben later turns into Four Arms, who tries to defeats the bug brothers, his idea was to throw a huge bolder at them, but they stop right before it almost hits them, to relies that they were heading in the wrong direction. Then, Ben as Cannonbolt, attempts to knock them off course, but then failed and crashes into rocks. Ben tries to turn into another alien, but Omnitrix, is timed out, leaving Ben no choice but to continue on foot.
After what seems like hours of walking, Ben arrives at a toxic waste dump, later to find the Rustbucket clean as ever. Ben finds the Bug Brothers doing something, that seems to be no good, so Ben activates his watch and transforms into Four Arms, and starts to fight them.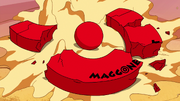 After the fight, Maurice activates the magnet, creating a monster made out of maggots. Four Arms starts throwing things at it in order to take it out, Maurice then drops the remote that controls the remote, then Four Arms picks it up and destroys it, leaving the monster out of control. Maurice and Sydney runs away after the remote was destroyed, leaving Four Arms on his own. He later figures out that if he gets rid of the magnet within the Monster, he looks around finding something to throw at it, then realizes that he has to sacrifice a clean Rustbucket to stop the monster. He then throws it at the magnet destroying the monster.
After the battle Ben cleans up the Rustbucket himself without using his alien powers before Max and Gwen arrive, he asks Max if he can use Wi-Fi again, but Max reveals that he has way more chores left.
Noteworthy Events
Major Events
Ben encounters the Bugg Brothers for the first time.
Omnitrix Alien Debuts
Character Debuts
Characters
Villains
Aliens Used
Quotes
| | | |
| --- | --- | --- |
| | Four Arms: So, let me get this straight. You stole our RV... so you can fuel that trash machine... to power a magnet that attracts maggots... to make a monster... that would eat Las Vegas? Whatever! TIME TO THROW STUFF. | |
Naming and Translations
| Language | Name | Origin |
| --- | --- | --- |
| German | Die Müllsammler | The Garbage Collectors |
| Portuguese (Br) | A Sujeira | The Dirty |
| Spanish (HA) | La Suciedad | The Dirt |
Cast
Allusions
The entire 'Ben trying to stop Maurice and Sydney in the Rustbucket' scene is an allusion to 'Road Runner and Wile E. Coyote' from Looney Tunes.
Trivia
This was aired as the first episode in Asia, Australia, and the U.S.
Considering the landscape and that Devastation Flats is labeled as the #1 in Nuclear Testing, this episode likely takes place in Nevada.
The games based on this episode are "Rustbucket Rescue" and an XLR8 Minigame.
Ben's underwear is a pair of blue boxer briefs with his name stitched into the back.
Four Arms' "Time to throw stuff" line was used as a clip that would be seen in the Cartoon Network Studios logo at the end of Ben 10 (2016) season 1 episodes.
References
Pam Friend Tilkete
Ben 10 Episodes
| | |
| --- | --- |
| Season 1 | Waterfilter • The Filth • Clown College • The Ring Leader • Take 10 • Ben 24hrs • Freaky Gwen Ben • Rustbucket RIP • The Clocktopus • Growing Pains • Villain Time • Something I Ate • Don't Let the Bass Drop • Cutting Corners • Animo Farm • Riding the Storm Out • Need for Speed • Brief Career of Lucky Girl • Forgeti • Shhh! • Bright Lights, Black Hearts • Adventures in Babysitting • Steam is the Word • Recipe for Disaster • All Wet • Story, Bored • Xingo • Drive You Crazy • Scared Silly • Hole in 10 • The Beast Inside • Tomorrow Today • Bad Penny • Max to the Max • Zombozo-Land • Don't Laze Me, Bro • Omni-Tricked: Part 1 • Omni-Tricked: Part 2 • Omni-Tricked: Part 3 • Omni-Tricked: Part 4 |
| Season 2 | Out to Launch • Can I Keep It? • Battle at Biggie Box • Bon Voyage • The 11th Alien: Part 1 • The 11th Alien: Part 2 • Mayhem in Mascot • Screamcatcher • Vote Zombozo • Animorphosis • High Stress Express • Creature Feature • Drone On • Safari Sa'Bad • The Nature of Things • Assault on Pancake Palace • Bomzobo Lives • The Sound and the Furry • King Koil • Reststop Roustabout • That's The Stuff • Half-Sies • Xingo's Back • Bounty Ball • Fear The Fogg • The Charm Offensive • Super-Villain Team-Up • The Feels • Chicken Nuggets of Wisdom • Past Aliens Present • Double Hex • Ye Olde Laser Duel • Ben Again and Again • All Koiled Up • Dreamtime • Innervasion Part 1: Message in a Boxcar • Innervasion Part 2: Call the Dream Police • Innervasion Part 3: Strange Bedfellows • Innervasion Part 4: Mind Over Alien Matter • Innervasion Part 5: High Override |
| Season 3 | Omni-Copped • This One Goes to 11 • Moor Fogg • Rath of Con • King of the Castle • Speechless on the Seine • Poles Apart • Show Don't Tell • Don't Touch • Big in Japan • Welcome to Zombozo-Zone! • Bridge Out • Cyber Slammers • Big Ben 10 • Beach Heads • LaGrange Muraille • Charm School's Out • Billy Bajillions • Franken-Fight • Buggin' the Buggs • Which Watch • Baby Buktu • Them's Fightin' Words! • Lickety Split • Mutiny for the Bounty • The Chupaca-bro • Buggy Out • Introducing Kevin 11 • Four by Four • Cirque-Us • Forever Road • The Bentathlon • Beware the Scare-Crow • The Night Ben Tennyson Came to Town • The Claws of the Cat • Prey or Play • And Xingo Was His Name-O • Fear in the Family • Roundabout: Part 1 • Roundabout: Part 2 |
| Season 3 Extra | Xingo Nation • Heads of the Family • My Bodyguard • Wheels of Fortune • Heat of the Moment • Vin Diagram • A Sticky Situation • What Rhymes with Omnitrix? • You Remind Me of Someone • Adrenaland Jr. • Steam Fight at the OK Corral • I Don't Like You |
| Season 4 | Gentle Ben • Funhouse • Summer Breakers • The Monsters in Your Head • Tokyo Fun, Part 1: Big Bugg Bash • Tokyo Fun, Part 2: Slamming It Up • Queen of Bees • Falls, Falls, Falls • The Greatest Lake • Mud on the Run • Chicken In Chichen Itza, Part 1: Pyramid Scheme • Chicken In Chichen Itza, Part 2: The Wages of Fear • It's Story Time • Cosplay Day • Bottomless Ben • Tales from the Omnitrix • Ben in Rome, Part 1: A Slice of Life • Ben in Rome, Part 2: The Bee's Knees • Party Poopers • Wind Some, Lose Some • Digital Quality • Tim Buk-tv • Growing Up Is Hard to Do • The Hex Factor • Sweet Tooth • Medieval Upheaval • Speed of Sound • Xingo's World • Tummy Ache • Players of the Lost Park • De-Fanged • Mock 10 • Rekoil • Buktu The Future |
| Season 4 Movie | Ben 10 Versus the Universe: The Movie |
| Season 5 Specials | Ben 10,010 • Ben Gen 10 • Alien X-Tinction |
| Specials | Crossover Nexus |
| | |
| --- | --- |
| Season 1 | The Filth • Waterfilter• The Ring Leader • Riding the Storm Out • The Clocktopus • Take 10 • Growing Pains • Shhh! • Brief Career of Lucky Girl • Animo Farm • Clown College • Adventures in Babysitting • Something I Ate • Steam is the Word • The Beast Inside • All Wet • Villain Time • Drive You Crazy • Tomorrow Today • Story, Bored • Hole in 10 • Recipe for Disaster • Rustbucket RIP • Freaky Gwen Ben • Ben 24hrs • Bright Lights, Black Hearts • Don't Laze Me, Bro • Don't Let the Bass Drop • Bad Penny • Zombozo-Land • Forgeti • Max to the Max • Cutting Corners • Need for Speed • Xingo • Scared Silly • Omni-Tricked: Part 1 • Omni-Tricked: Part 2 • Omni-Tricked: Part 3 • Omni-Tricked: Part 4 |
| Season 2 | Out to Launch • Battle at Biggie Box • Bon Voyage • Mayhem in Mascot • Screamcatcher • Creature Feature • Bomzobo Lives • Animorphosis • Assault on Pancake Palace • High Stress Express • The 11th Alien: Part 1 • The 11th Alien: Part 2 • Half-Sies • Xingo's Back • Bounty Ball • Fear The Fogg • Super-Villain Team-Up • Can I Keep It? • Chicken Nuggets of Wisdom • All Koiled Up • King Koil • The Charm Offensive • Double Hex • Ye Olde Laser Duel • Ben Again and Again • Vote Zombozo • Drone On • Safari Sa'Bad • The Nature of Things • The Sound and the Furry • Reststop Roustabout • That's The Stuff • The Feels • Past Aliens Present • Dreamtime • Innervasion Part 1: Message in a Boxcar • Innervasion Part 2: Call the Dream Police • Innervasion Part 3: Strange Bedfellows • Innervasion Part 4: Mind Over Alien Matter • Innervasion Part 5: High Override |
| Season 3 | Omni-Copped • This One Goes to 11 • Rath of Con • Poles Apart • Show Don't Tell • Welcome to Zombozo-Zone! • Bridge Out • Beach Heads • Charm School's Out • Billy Bajillions • Franken-Fight • Buggin' the Buggs • Which Watch • Baby Buktu • Them's Fightin' Words! • Mutiny for the Bounty • The Chupaca-bro • Buggy Out • Introducing Kevin 11 • Four by Four • Moor Fogg • King of the Castle • Speechless on the Seine • Don't Touch • Big in Japan • Cyber Slammers • Big Ben 10 • LaGrange Muraille • Lickety Split • The Claws of the Cat • Roundabout: Part 1 • Roundabout: Part 2 • Cirque-Us • Forever Road • The Bentathlon • Prey or Play • Beware the Scare-Crow • The Night Ben Tennyson Came to Town • And Xingo Was His Name-O • Fear in the Family |
| Season 3 Extra | Xingo Nation • Heads of the Family • My Bodyguard • Wheels of Fortune • Heat of the Moment • Vin Diagram • A Sticky Situation • What Rhymes with Omnitrix? • You Remind Me of Someone • Adrenaland Jr. • Steam Fight at the OK Corral • I Don't Like You |
| Season 4 | Chicken In Chichen Itza, Part 1: Pyramid Scheme • Chicken In Chichen Itza, Part 2: The Wages of Fear • Ben in Rome, Part 1: A Slice of Life • Ben in Rome, Part 2: The Bee's Knees • Gentle Ben • Funhouse • Summer Breakers • The Monsters in Your Head • Queen of Bees • Falls, Falls, Falls • The Greatest Lake • Mud on the Run • It's Story Time • Cosplay Day • Bottomless Ben • Tales from the Omnitrix • Party Poopers • Wind Some, Lose Some • Digital Quality • Tim Buk-tv • Tokyo Fun, Part 1: Big Bugg Bash • Tokyo Fun, Part 2: Slamming It Up • Growing Up Is Hard to Do • The Hex Factor • Sweet Tooth • Medieval Upheaval • Speed of Sound • Xingo's World • Tummy Ache • Players of the Lost Park • De-Fanged • Mock 10 • Rekoil • Buktu The Future |
| Season 4 Movie | Ben 10 Versus the Universe: The Movie |
| Season 5 Specials | Ben 10,010 • Ben Gen 10 • Alien X-Tinction |
| Specials | Crossover Nexus |
| | |
| --- | --- |
| Season 1 | Waterfilter • The Ring Leader • The Filth • Freaky Gwen Ben • Take 10 • Animo Farm • Clown College • Something I Ate • Rustbucket RIP • Ben 24hrs • Riding the Storm Out • The Clocktopus • Growing Pains • Shhh! • Brief Career of Lucky Girl • Adventures in Babysitting • Steam is the Word • Need for Speed • Cutting Corners • Don't Let the Bass Drop • Villain Time • Bright Lights, Black Hearts • Recipe for Disaster • All Wet • Story, Bored • Xingo • Drive You Crazy • Hole in 10 • The Beast Inside • Tomorrow Today • Forgeti • Scared Silly • Bad Penny • Max to the Max • Zombozo-Land • Don't Laze Me, Bro • Omni-Tricked: Part 1 • Omni-Tricked: Part 2 • Omni-Tricked: Part 3 • Omni-Tricked: Part 4 |
| Season 2 | Out to Launch • Can I Keep It? • Battle at Biggie Box • Bon Voyage • Mayhem in Mascot • Screamcatcher • Vote Zombozo • Animorphosis • The 11th Alien: Part 1 • The 11th Alien: Part 2 • High Stress Express • Creature Feature • Drone On • Safari Sa'Bad • The Nature of Things • Assault on Pancake Palace • Bomzobo Lives • The Sound and the Furry • King Koil • Reststop Roustabout • That's The Stuff • Half-Sies • Xingo's Back • Bounty Ball • Fear The Fogg • The Charm Offensive • Super-Villain Team-Up • The Feels • Chicken Nuggets of Wisdom • Past Aliens Present • Double Hex • Ye Olde Laser Duel • All Koiled Up • Ben Again and Again • Dreamtime • Innervasion Part 1: Message in a Boxcar • Innervasion Part 2: Call the Dream Police • Innervasion Part 3: Strange Bedfellows • Innervasion Part 4: Mind Over Alien Matter • Innervasion Part 5: High Override |
| Season 3 | Omni-Copped • This One Goes to 11 • Moor Fogg • Rath of Con • King of the Castle • Speechless on the Seine • Poles Apart • Show Don't Tell • Don't Touch • Big in Japan • Welcome to Zombozo-Zone! • Bridge Out • Cyber Slammers • Big Ben 10 • Beach Heads • LaGrange Muraille • Charm School's Out • Billy Bajillions • Franken-Fight • Buggin' the Buggs • Which Watch • Baby Buktu • Them's Fightin' Words! • Lickety Split • Mutiny for the Bounty • The Chupaca-bro • Buggy Out • Introducing Kevin 11 • Four by Four • Cirque-Us • Forever Road • The Bentathlon • Beware the Scare-Crow • And Xingo Was His Name-O • The Night Ben Tennyson Came to Town • The Claws of the Cat • Prey or Play • Fear in the Family • Roundabout: Part 1 • Roundabout: Part 2 |
| Season 3 Extra | Xingo Nation • Heads of the Family • My Bodyguard • Wheels of Fortune • Heat of the Moment • Vin Diagram • A Sticky Situation • What Rhymes with Omnitrix? • You Remind Me of Someone • Adrenaland Jr. • Steam Fight at the OK Corral • I Don't Like You |
| Season 4 | Summer Breakers • Gentle Ben • Funhouse • The Monsters in Your Head • Tokyo Fun, Part 1: Big Bugg Bash • Tokyo Fun, Part 2: Slamming It Up • Queen of Bees • Falls, Falls, Falls • The Greatest Lake • Mud on the Run • Chicken In Chichen Itza, Part 1: Pyramid Scheme • Chicken In Chichen Itza, Part 2: The Wages of Fear • It's Story Time • Cosplay Day • Tales from the Omnitrix • Bottomless Ben • Ben in Rome, Part 1: A Slice of Life • Ben in Rome, Part 2: The Bee's Knees • Party Poopers • Wind Some, Lose Some • Digital Quality • Tim Buk-tv • Growing Up Is Hard to Do • The Hex Factor • Sweet Tooth • Medieval Upheaval • Speed of Sound • Xingo's World • Tummy Ache • Players of the Lost Park • De-Fanged • Mock 10 • Rekoil • Buktu The Future |
| Season 4 Movie | Ben 10 Versus the Universe: The Movie |
| Season 5 Specials | Ben 10,010 • Ben Gen 10 • Alien X-Tinction |
| Specials | Crossover Nexus |