Wiki Targeted (Entertainment)
Play Sound
The 11th Alien: Part 2 is the fiftieth episode of Ben 10.
Synopsis
After discovering that Vilgax has joined forces with the Weatherheads to trick him into turning over the Omnitrix, Ben must not only overcome his doubts, but fully embrace his new powers if he is to beat his foes.
Plot
Picking up where the last episode left off, Shock Rock, Gwen, and the spirit walkers spin around in the tornado. Shock Rock times out reverting back to Ben. The tornado suddenly stops, and they all begin to fall. Ben hits his watch, attempting to transform into Stinkfly, however he gets Omni-Enhanced Overflow. He uses Overflow's water cannons to create a lake for them to land in. Ben helps Gwen out of the water, disappointed in himself.
Back at their campsite, Ben asks Gwen what he is good at. Gwen tells him he's great at being a hero. Gwen tells Ben to use the crystals to look for guidance. Ben wanders off into the desert. He transforms into Diamondhead, and creates a giant crystal, after getting the idea from Tevin and Melvin. He accidently falls asleep. He wakes up, noticing a storm of lighting. He is confused on why it's happening, when he isn't Omni-Enhanced. The lighting gets out of control. Diamondhead creates shelter for Max, Gwen, and the spirit walkers. He times out and the lighting stops. Ben tells Max and Gwen to stay away from him.
Vilgax suddenly shows up, realizing Ben finally understands. Max and Gwen doesn't approve of Ben's decision to give Vilgax the Omnitrix. Ben states he has to do it, since it's getting worse. Ben says goodbye to all of his aliens. Lighting randomly appears again, despite the fact that Ben isn't using the Omnitrix. Gwen wanders off after hearing laughing. She spots the Weatherheads, who have appeared to be working with Vilgax. Ben says good by to his new alien, who he was going to name Shock Rock. Before Ben hands it over, Gwen runs out yelling that the Weatherheads were working for Vilgax, while being chanced by them. Ben pieces it all together and concludes that Vilgax was lying. Vilgax attacks Ben as a result. Vilgax talks down on Ben, telling him the watch is far more powerful than he can comprehend. Ben agrees that it might be dangerous, but he believes in himself way more than he believes in Vilgax.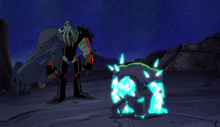 Ben transforms into Shock Rock, and he and Vilgax battle. Shock Rock throws his boomerang at Vilgax, angering him. The Weatherheads realize how powerful Ben's new alien is, they fear that it made be too much for Vilgax to handle on his own. They initiate their transformation sequence. While the Weatherheads go off to fight, Max escorts everyone to safety. The Weatherheads joins into the fight, along with Vilgax, they double-team him. The Weatherheads creates a tornado. Shock Rock questions why they are working with Vilgax, and they tell him that Vilgax promised them Earth in exchange for their services. Shock Rock tells them that Vilgax wants to destroy Earth. The Weatherheads think, realizing that they've been tricked. Shock Rock blasts them with an energy blast. Vilgax comes in, pinning down, and shooting his laser at him. Shock Rock absorbs the energy from the lasers, and blast Vilgax. Vilgax prepares to fight again, but he is hit by the Weatherheads. Vilgax questions what they are doing, and they reply saying they're angry due to Vilgax's soon to be, betrayal. They create a lightning blast, and shoots it at Shock Rock. It gives Shock Rock a power boost, and he shoots it at both Vilgax, and the Weatherheads. The blast sent them far back into the desert, whereabouts unknown.
Shock Rock times out, and Max and Gwen helps him up. Max tells him that Vilgax and the Weatherheads won't be bothering them for a while. Gwen adds that it gives Ben more time to master his new alien. Gwen states that she can't believe Ben was going to give up the watch. Ben says that he was all mixed up, and he's making this up as he's going along, and he doesn't want to mess up. But in the end, he decided to listen to his guts.
Noteworthy Events
Major Events
Characters
Villains
Aliens Used
Quotes

Ben: The Weatherheads? So the snow, the tornadoes, it wasn't me. It was all a trick. That means I was right about Vilgax!
Vilgax: You wretched little brat!
Ben: You sneaky, sneaky alien jerk! Playing tricks on kids?
Vilgax: I am through with this charade. The Omnitrix is far more powerful than you can comprehend! And you are just a reckless child who will endanger himself and everything around him to play at being a hero!
Ben: Maybe it is dangerous, but I believe in myself way more than I believe in you. (Hits watch).




Vilgax: You don't deserve to wield the power of the Omnitrix! (Shoots lasers).
Shock Rock: Whoa! You don't deserve eye lasers if you don't know how to use them.
Vilgax: You only delay the inevitable. You will power down, and when you do, I will be unstoppable. (Gets hit). Aah! WHAT ARE YOU DOING, YOU FOOLS?!
Weatherheads: You were never planning to give the Earth over to us. This is the definition of betrayal, which would make us very, very angry if we -- Actually, we are angry! We will take the Omnitrix for ourselves. The forecast today shows thunderstorms with a chance of ultimate destruction!




Ben: That was intense.
Max: You did it, Ben. Vilgax and the Weatherheads won't be bothering us for a while.
Gwen: Which will give you more time to master this new alien.
Ben: Yeah, I can't believe Vilgax did all of this for the Omnitrix.
Gwen: I can't believe you were actually gonna give it to him.
Ben: Yeah, well, he had me all mixed up. The trust is, I am making this up as I go along, and I don't want to mess up.
Max: Don't feel to bad Ben. Those four had us all chasing our tails.
Ben: In the end, I decided to listen to my guts!



Cast
Naming and Translations
| Language | Name | Origin |
| --- | --- | --- |
| Portuguese (Br) | O 11º Alien, Parte 2 | The 11th Alien, Part 2 |
| Spanish (HA) | El Onceavo Alienígena | The Eleventh Alien |
Trivia
This episode aired as the 12th episode of Season 2 and the 52nd episode overall in U.S.
Ben 10 Episodes
| | |
| --- | --- |
| Season 1 | Waterfilter • The Ring Leader • The Filth • Freaky Gwen Ben • Take 10 • Animo Farm • Clown College • Something I Ate • Rustbucket RIP • Ben 24hrs • Riding the Storm Out • The Clocktopus • Growing Pains • Shhh! • Brief Career of Lucky Girl • Adventures in Babysitting • Steam is the Word • Need for Speed • Cutting Corners • Don't Let the Bass Drop • Villain Time • Bright Lights, Black Hearts • Recipe for Disaster • All Wet • Story, Bored • Xingo • Drive You Crazy • Hole in 10 • The Beast Inside • Tomorrow Today • Forgeti • Scared Silly • Bad Penny • Max to the Max • Zombozo-Land • Don't Laze Me, Bro • Omni-Tricked: Part 1 • Omni-Tricked: Part 2 • Omni-Tricked: Part 3 • Omni-Tricked: Part 4 |
| Season 2 | Out to Launch • Can I Keep It? • Battle at Biggie Box • Bon Voyage • Mayhem in Mascot • Screamcatcher • Vote Zombozo • Animorphosis • The 11th Alien: Part 1 • The 11th Alien: Part 2 • High Stress Express • Creature Feature • Drone On • Safari Sa'Bad • The Nature of Things • Assault on Pancake Palace • Bomzobo Lives • The Sound and the Furry • King Koil • Reststop Roustabout • That's The Stuff • Half-Sies • Xingo's Back • Bounty Ball • Fear The Fogg • The Charm Offensive • Super-Villain Team-Up • The Feels • Chicken Nuggets of Wisdom • Past Aliens Present • Double Hex • Ye Olde Laser Duel • All Koiled Up • Ben Again and Again • Dreamtime • Innervasion Part 1: Message in a Boxcar • Innervasion Part 2: Call the Dream Police • Innervasion Part 3: Strange Bedfellows • Innervasion Part 4: Mind Over Alien Matter • Innervasion Part 5: High Override |
| Season 3 | Omni-Copped • This One Goes to 11 • Moor Fogg • Rath of Con • King of the Castle • Speechless on the Seine • Poles Apart • Show Don't Tell • Don't Touch • Big in Japan • Welcome to Zombozo-Zone! • Bridge Out • Cyber Slammers • Big Ben 10 • Beach Heads • LaGrange Muraille • Charm School's Out • Billy Bajillions • Franken-Fight • Buggin' the Buggs • Which Watch • Baby Buktu • Them's Fightin' Words! • Lickety Split • Mutiny for the Bounty • The Chupaca-bro • Buggy Out • Introducing Kevin 11 • Four by Four • Cirque-Us • Forever Road • The Bentathlon • Beware the Scare-Crow • And Xingo Was His Name-O • The Night Ben Tennyson Came to Town • The Claws of the Cat • Prey or Play • Fear in the Family • Roundabout: Part 1 • Roundabout: Part 2 |
| Season 3 Extra | Xingo Nation • Heads of the Family • My Bodyguard • Wheels of Fortune • Heat of the Moment • Vin Diagram • A Sticky Situation • What Rhymes with Omnitrix? • You Remind Me of Someone • Adrenaland Jr. • Steam Fight at the OK Corral • I Don't Like You |
| Season 4 | Summer Breakers • Gentle Ben • Funhouse • The Monsters in Your Head • Tokyo Fun, Part 1: Big Bugg Bash • Tokyo Fun, Part 2: Slamming It Up • Queen of Bees • Falls, Falls, Falls • The Greatest Lake • Mud on the Run • Chicken In Chichen Itza, Part 1: Pyramid Scheme • Chicken In Chichen Itza, Part 2: The Wages of Fear • It's Story Time • Cosplay Day • Tales from the Omnitrix • Bottomless Ben • Ben in Rome, Part 1: A Slice of Life • Ben in Rome, Part 2: The Bee's Knees • Party Poopers • Wind Some, Lose Some • Digital Quality • Tim Buk-tv • Growing Up Is Hard to Do • The Hex Factor • Sweet Tooth • Medieval Upheaval • Speed of Sound • Xingo's World • Tummy Ache • Players of the Lost Park • De-Fanged • Mock 10 • Rekoil • Buktu The Future |
| Season 4 Movie | Ben 10 Versus the Universe: The Movie |
| Season 5 Specials | Ben 10,010 • Ben Gen 10 • Alien X-Tinction |
| Specials | Crossover Nexus |
| | |
| --- | --- |
| Season 1 | The Filth • Waterfilter• The Ring Leader • Riding the Storm Out • The Clocktopus • Take 10 • Growing Pains • Shhh! • Brief Career of Lucky Girl • Animo Farm • Clown College • Adventures in Babysitting • Something I Ate • Steam is the Word • The Beast Inside • All Wet • Villain Time • Drive You Crazy • Tomorrow Today • Story, Bored • Hole in 10 • Recipe for Disaster • Rustbucket RIP • Freaky Gwen Ben • Ben 24hrs • Bright Lights, Black Hearts • Don't Laze Me, Bro • Don't Let the Bass Drop • Bad Penny • Zombozo-Land • Forgeti • Max to the Max • Cutting Corners • Need for Speed • Xingo • Scared Silly • Omni-Tricked: Part 1 • Omni-Tricked: Part 2 • Omni-Tricked: Part 3 • Omni-Tricked: Part 4 |
| Season 2 | Out to Launch • Battle at Biggie Box • Bon Voyage • Mayhem in Mascot • Screamcatcher • Creature Feature • Bomzobo Lives • Animorphosis • Assault on Pancake Palace • High Stress Express • The 11th Alien: Part 1 • The 11th Alien: Part 2 • Half-Sies • Xingo's Back • Bounty Ball • Fear The Fogg • Super-Villain Team-Up • Can I Keep It? • Chicken Nuggets of Wisdom • All Koiled Up • King Koil • The Charm Offensive • Double Hex • Ye Olde Laser Duel • Ben Again and Again • Vote Zombozo • Drone On • Safari Sa'Bad • The Nature of Things • The Sound and the Furry • Reststop Roustabout • That's The Stuff • The Feels • Past Aliens Present • Dreamtime • Innervasion Part 1: Message in a Boxcar • Innervasion Part 2: Call the Dream Police • Innervasion Part 3: Strange Bedfellows • Innervasion Part 4: Mind Over Alien Matter • Innervasion Part 5: High Override |
| Season 3 | Omni-Copped • This One Goes to 11 • Rath of Con • Poles Apart • Show Don't Tell • Welcome to Zombozo-Zone! • Bridge Out • Beach Heads • Charm School's Out • Billy Bajillions • Franken-Fight • Buggin' the Buggs • Which Watch • Baby Buktu • Them's Fightin' Words! • Mutiny for the Bounty • The Chupaca-bro • Buggy Out • Introducing Kevin 11 • Four by Four • Moor Fogg • King of the Castle • Speechless on the Seine • Don't Touch • Big in Japan • Cyber Slammers • Big Ben 10 • LaGrange Muraille • Lickety Split • The Claws of the Cat • Roundabout: Part 1 • Roundabout: Part 2 • Cirque-Us • Forever Road • The Bentathlon • Prey or Play • Beware the Scare-Crow • The Night Ben Tennyson Came to Town • And Xingo Was His Name-O • Fear in the Family |
| Season 3 Extra | Xingo Nation • Heads of the Family • My Bodyguard • Wheels of Fortune • Heat of the Moment • Vin Diagram • A Sticky Situation • What Rhymes with Omnitrix? • You Remind Me of Someone • Adrenaland Jr. • Steam Fight at the OK Corral • I Don't Like You |
| Season 4 | Chicken In Chichen Itza, Part 1: Pyramid Scheme • Chicken In Chichen Itza, Part 2: The Wages of Fear • Ben in Rome, Part 1: A Slice of Life • Ben in Rome, Part 2: The Bee's Knees • Gentle Ben • Funhouse • Summer Breakers • The Monsters in Your Head • Queen of Bees • Falls, Falls, Falls • The Greatest Lake • Mud on the Run • It's Story Time • Cosplay Day • Bottomless Ben • Tales from the Omnitrix • Party Poopers • Wind Some, Lose Some • Digital Quality • Tim Buk-tv • Tokyo Fun, Part 1: Big Bugg Bash • Tokyo Fun, Part 2: Slamming It Up • Growing Up Is Hard to Do • The Hex Factor • Sweet Tooth • Medieval Upheaval • Speed of Sound • Xingo's World • Tummy Ache • Players of the Lost Park • De-Fanged • Mock 10 • Rekoil • Buktu The Future |
| Season 4 Movie | Ben 10 Versus the Universe: The Movie |
| Season 5 Specials | Ben 10,010 • Ben Gen 10 • Alien X-Tinction |
| Specials | Crossover Nexus |