Jurassic World: Dominion Dominates Fandom Wikis - The Loop
Play Sound
This article belongs to the

Classic Continuity
The Tenn-Speed was a high-tech motorcycle used by Ben Tennyson in Ben 10: Omniverse.
Appearance
The Tenn-Speed resembled a motorcycle with a car-like hood that folded down for the user to climb out. It had a green body, black hood, and an Omnitrix symbol on the side.
When the driver took their seat, it automatically created a biker suit for him/her. This suit included white trousers and a white helmet with a green visor.
History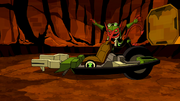 The Tenn-Speed first appears in Rules of Engagement, where it was created by Juryrigg using parts from the Proto-TRUK after it was destroyed by Fistina.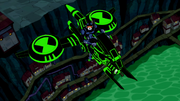 In The Color of Monkey, the Tenn-Speed was used to catch up to Rojo after the Proto-TRUK was stopped by a narrow alleyway. After Rojo successfully made an escape into Bellwood, Ben transformed into Upgrade and merged with the Tenn-Speed, allowing him and Rook to once again catch up to her. Eventually, they collided at Mr. Smoothy and Upgrade was separated from the now-damaged Tenn-Speed.
In Let's Do the Time War Again, the Tenn-Speed was accidentally wrecked by Ben off-screen. He attempted to transform into Juryrigg to rebuilt it, only to mistransform into various aliens up to Eatle, who uncontrollably ate part of it. After the Proto-TRUK was destroyed by Exo-Skull, Uprigg used parts from both vehicles to create Ben and Rook's Time Cycles.
Appearances
Omniverse
Season 2
Season 3
Season 4
Season 5
Season 6
Season 7
Season 8
Etymology
Its name comes from "ten speed". 
Trivia
References