House of the Dragon Trailer - The Loop
Play Sound
"
What is one life compared to the survival of my species?
"

– The Synthroid.[1]
The Synthroid is a sentient alien robot that attacked Max and Verdona in Moonstruck.
Appearance
When first seen, it takes the appearance of a dark mysterious man who wears a trench coat and hat covering the eyes. After a fight with Max, its true form was revealed to be a tall black humanoid robot after its ID Mask was destroyed.
Personality
As a mechanical being, it has no care or remorse for beings who are alive, such as when it told Max that draining Verdona's life would kill her just like its race's organic creators. It also justifies the act by saying it is vital to the continued survival of its race.
History
The Synthroid appeared in Moonstruck, where it was trying to capture Verdona so she could be used as a power source for its planet. Max rescues Verdona and shoots a part of the Synthroid's ship, causing a massive explosion that destroyed the Synthroid itself.
Powers and Abilities
The Synthroid is an extremely dangerous robot. It is very strong, as it can throw powerful punches that can easily defeat a normal human, and rip off a car door. It is also quite durable and can jump very high, can also repair itself should it be damaged. It also has guns built into it's hands capable of shooting powerful laser blasts as well as blue electric ones.
If the Synthroid loses a body part such as an arm, it can still control it on it's own and reattach the part to the rest of it's body with it's Nanobots. The Synthroid's separated arm also makes an excellent throwing weapon, which the Synthroid can throw with precise accuracy.
In addition to its abilities, the Synthroid is very heat resistant and can survive in extreme environments.
The Synthroid can also adapt to it's surroundings, as it scanned a sheriff's car to find out how to safely drive it and tried to run Max and Verdona off the road in it, and could shoot it's lasers at them while also driving.
The Synthroid can also cause great footprint dents in the floor.
Weaknesses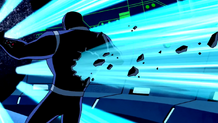 The Synthroid's outer body can be damaged by conventional weapons, such as a crowbar or steel clippers. It was also destroyed by the energy blast produced by the damaged energy core of its spaceship.
Appearances
Ultimate Alien
Season 3
Moonstruck (first appearance; flashback; destroyed)
Trivia
The Synthroid's true form looks similar to the Cybermen from the Doctor Who franchise, whereas its human form bears a close resemblance to Victor Validus or Magister Labrid's human disguise.
The Synthroid has similar traits to the Terminator, particularly the red vision and the pursuing of a target.