This article is a stub. You can help by editing it.
Super-Villain Team-Up is the sixty-seventh episode of Ben 10.[1]
Plot
After a lull in alien antics a restless Ben suggests to Max and Gwen that he might be a better hero if he went solo, but once Vilgax enlists the help of Zombozo to build a giant hypno-mechanism to hypnotize the entire world, Ben must rethink his strategy.
Major Events
Characters
Villains
Aliens Used
By Ben:
Four Arms (unintended transformation; cameo, goes Omni-Enhanced)
Diamondhead (off-screen; goes Omni-Enhanced)
Dream Aliens:
Quotes
Cast
Trivia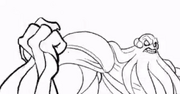 This episode aired as the 17th episode of Season 2 and the 57th episode overall in the U.S.
During the fight against Omni-Enhanced Four Arms, Vilgax's glove was supposed to be destroyed revealing what his hand looks like for the first time in the reboot- a point of interest given that it divides into tentacles. However, this detail was cut for the sake of ease of animation later down the line. The detail was only present in early story boards.[2]
Vilgax's picturing of an alien Omnitrix army shares a similarity to a vision the original series episode Secrets
References
Community content is available under
CC-BY-SA
unless otherwise noted.