House of the Dragon Trailer - The Loop
Play Sound
Super-Villain Team-Up is the sixty-seventh episode of Ben 10.
Synopsis
After a lull in alien antics, a restless Ben suggests to Max and Gwen that he might be a better hero if he went solo, but once Vilgax enlists the help of Zombozo to build a giant hypno-mechanism to hypnotize the entire world, Ben must rethink his strategy if he is to defeat the super-villain team-up.
Plot
The episode starts off with Ben practicing his fighting moves. He claims that he hasn't had a good fight in a while, and needs to keep his moves sharp. Gwen tells Ben to relax, and Max adds in that nothing relaxes him more than the hot springs they're going to. Ben states that nothing relaxes him more than slamming bad guys into the dirt.
Elsewhere, Zombozo tries to hypnotize someone into handing over her purse. However, he fails. Drones fly in, and collects Zombozo. Zombozo is brought into a ship. He questions who's in charge, and notices a huge computer ahead. Vilgax steps in and tells Zombozo that he's been watching him, and that he'll never get anywhere using his children's trinkets. Zombozo prepares to leave, but Vilgax stops him. Vilgax states that he wishes to bring out the true potential in Zombozo, and his path to galactic conquest, involves crushing a common enemy.
Back in the Rustbucket, they are attacked by a tractor beam. Max states that he can't control the vehicle. Ben gets excited, and transforms into Stinkfly. Stinkfly manages to get out of the tractor beam, but is attacked by Vilgax's drones. Stinkfly takes them out. Stinkfly recognizes Vilgax's ship, and prepares to board it. However, he is caught by a bunch of drones. The Rustbucket lands safely on the ship, but Max points out that the beam has them pinned. Gwen points out that it must be Vilgax's ship, and that it's swarming with drones. Max states that they need to find a way to get past the drones. If Ben were there, he could've been the distraction, as pointed out by Gwen. The drones fly away, and Max thinks he already is. The two run out.
The drones throws Stinkfly into the ship. Ben times out, and notices Zombozo in the ship, wearing a new outfit, and teaming up with Vilgax. Gwen and Max, on the other hand, are sneaking through the ship. They notice a clown-themed machine. Ben questions why Zombozo is working with Vilgax. Vilgax signals his drones to hold Ben. Zombozo explains that Vilgax saw his potential like no one ever could. However, Vilgax denies that, stating that what he saw was wasted opportunity. The drones begin moving Ben towards a machine. Ben questions what's happening. Vilgax explains his plan to uses the Omnitrix, and transform all life, on top of using Zombozo's mind-control technology, to have a planet filled with mindless changeling warriors. the perfect army to continue his reign of galactic conquest. Back to Max and Gwen, the machine they saw starts operating. The mind-control ray shoots down from the ship, and they fly towards a city. Zombozo tries to put Ben inside the machine, however, he accidentally activates the Omnitrix. Ben transforms into, Omni-Enhanced Four Arms. Back to Max and Gwen, Gwen states she has no clue to deactivate it. Max gets a few pipes, stating that he has a few ideas.
Vilgax demands Zombozo to get Ben in the machine, while he finishes coding the DNA software. Zombozo fights off OE Four Arms. He attempts to hypnotizes Four Arms, however it fails. Vilgax is almost done, and demands Zombozo to get him in the machine now. Zombozo sends OE Four Arms flying into Vilgax. Vilgax turns around and smacks Four Arms so hard, knocking him off balance. Zombozo trips him, and OE Four Arms lands in the machine. Four Arms easily escapes, and throws Zombozo. Vilgax gets irritated, and fights OE Four Arms, and easily defeats him. Vilgax tells Zombozo to, again, get him in the machine. Max and Gwen continues destroying the machine, and Max gets the final hit, destroying the mind-control device. Zombozo's mind-control staff blows up, sending him flying. Vilgax's plan then fails. Vilgax throws OE Four Arms, and prepares to fight him. OE Four Arms, energy punch harms Vilgax. Four Arms dodges most of Vilgax's attacks. Ben times out. Vilgax then chases Ben around the ship. Vilgax is then angered, and uses his laser vision to target Ben. He accidentally destroys most of his ship. Ben leaves to find out what Max and Gwen are up to. The ship's system then shuts down. Max and Gwen takes out most of the drones. Ben falls in, and meets up with them. They all escape. The lights, and drones, go offline. They run to the Rustbucket. Gwen figures out a plan to get to the ground. Ben transforms into Omni-Enhanced Diamondhead, and creates a ramp for them to land safely. They then leave to go to the spa.
Back on Vilgax's ship, the backup generators are now online. Zombozo states that they'll get them next time. Zombozo is then thrown out of the ship by Vilgax. Vilgax rages, angry at these "Earth creatures".
Noteworthy Events
Major Events
Characters
Villains
Aliens Used
By Ben
Four Arms (unintended transformation; cameo, goes Omni-Enhanced)
Diamondhead (off-screen; goes Omni-Enhanced)
Dream Aliens
Quotes

Zombozo: I don't know how things work in your little space-pancake world, but here on Earth, you can't just go around grabbing guys. Oh! Sure. Why not? Oh! Alright. Who's in charge here? Ooh. That's a -- that's a handsome screen saver you got there, buddy.
Vilgax: Clown, I've been watching you, and you'll never get anywhere using your children's trinkets.
Zombozo: Hey, I don't deserve to get sassed by a space calamari just because I've had some bad luck with a certain brat. I'm out of here.
Vilgax: I brought you here because I wish to unleash your true potential. I believe my path to galactic domination involves crushing a common nemesis of outs.
Zombozo: (Laughs). Now you're speaking my language.



| | | |
| --- | --- | --- |
| | Ben: Ugh! Uh, yeah, I meant to do that. Zombozo? What are you wearing? | |

Ben: Why are you hanging with, Vilgax?
Zombozo: (Laughs). Surprised to see I have friends in high places?
Ben: Makes sense. I turned you into such a joke. Now you have to work with one.
Zombozo: Captain Cthulhu here appreciates me. He saw my potential like you Earth losers never could.
Vilgax: What I saw was wasted opportunity.
Zombozo: This guy gave me everything I needed to make my biggest hypno disc yet. We're going to put on a show that will that'll really known your socks off.
Ben: What? Hey! No! Stop that! What do you think you're doing with the watch?
Vilgax: You've experiences how the powers of the Omnitrix can turn even the most pathetic of your species into capable warriors. Think what can be accomplished by combining that power with the clown's mind-control technology.
Zombozo: Ha, cha, cha, cha.
Vilgax: An entire planet of mindless changeling soldiers under my complete control, the perfect army to continue my reign of galactic conquest.
Zombozo: Well, what do you think? Should I ready the troops.




Vilgax: Get him in the machine. I need to finish coding the DNA software.
Zombozo: You got it, Big V!
OE Four Arms: Finally, some action!



| | | |
| --- | --- | --- |
| | Vilgax: You're trying my patience, boy! | |

OE Four Arms: Wow, Four Arms isn't usually this good at dodging.
Vilgax: Ah!
OE Four Arms: You must be really clumsy. Even Zombozo was doing better than this. Yep. (laughs). You getting tired, are you? (times out).
Vilgax: Ah!
Ben: Oops.
Vilgax: This ends Now!
Ben: Nope!
Vilgax: (Trips over Zombozo). USELESS CLOWN!!! ENOUGH!




Computer: Manual system override successful. Backup generators online.
Zombozo: We'll get him next time, buddy. Boop!
(Vilgax throws Zombozo out of the ship)
Zombozo: Whoa! Good thing you gave me these parachute pants! (laughs).
Vilgax: (Grunts). Wretched Earth creatures!



Cast
Allusions
Vilgax's vison of an alien Omnitrix army shares a similarity to the original series episode Secrets.
Trivia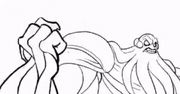 This episode aired as the 17th episode of Season 2 and the 57th episode overall in the U.S.
During the fight against Omni-Enhanced Four Arms, Vilgax's glove was supposed to be destroyed revealing what his hand looks like for the first time in the reboot- a point of interest given that it divides into tentacles. However, this detail was cut for the sake of ease of animation later down the line. The detail was only present in early story boards.[KT 1]
References
Kelly Turnbull
Ben 10 Episodes
| | |
| --- | --- |
| Season 1 | Waterfilter • The Ring Leader • The Filth • Freaky Gwen Ben • Take 10 • Animo Farm • Clown College • Something I Ate • Rustbucket RIP • Ben 24hrs • Riding the Storm Out • The Clocktopus • Growing Pains • Shhh! • Brief Career of Lucky Girl • Adventures in Babysitting • Steam is the Word • Need for Speed • Cutting Corners • Don't Let the Bass Drop • Villain Time • Bright Lights, Black Hearts • Recipe for Disaster • All Wet • Story, Bored • Xingo • Drive You Crazy • Hole in 10 • The Beast Inside • Tomorrow Today • Forgeti • Scared Silly • Bad Penny • Max to the Max • Zombozo-Land • Don't Laze Me, Bro • Omni-Tricked: Part 1 • Omni-Tricked: Part 2 • Omni-Tricked: Part 3 • Omni-Tricked: Part 4 |
| Season 2 | Out to Launch • Can I Keep It? • Battle at Biggie Box • Bon Voyage • Mayhem in Mascot • Screamcatcher • Vote Zombozo • Animorphosis • The 11th Alien: Part 1 • The 11th Alien: Part 2 • High Stress Express • Creature Feature • Drone On • Safari Sa'Bad • The Nature of Things • Assault on Pancake Palace • Bomzobo Lives • The Sound and the Furry • King Koil • Reststop Roustabout • That's The Stuff • Half-Sies • Xingo's Back • Bounty Ball • Fear The Fogg • The Charm Offensive • Super-Villain Team-Up • The Feels • Chicken Nuggets of Wisdom • Past Aliens Present • Double Hex • Ye Olde Laser Duel • All Koiled Up • Ben Again and Again • Dreamtime • Innervasion Part 1: Message in a Boxcar • Innervasion Part 2: Call the Dream Police • Innervasion Part 3: Strange Bedfellows • Innervasion Part 4: Mind Over Alien Matter • Innervasion Part 5: High Override |
| Season 3 | Omni-Copped • This One Goes to 11 • Moor Fogg • Rath of Con • King of the Castle • Speechless on the Seine • Poles Apart • Show Don't Tell • Don't Touch • Big in Japan • Welcome to Zombozo-Zone! • Bridge Out • Cyber Slammers • Big Ben 10 • Beach Heads • LaGrange Muraille • Charm School's Out • Billy Bajillions • Franken-Fight • Buggin' the Buggs • Which Watch • Baby Buktu • Them's Fightin' Words! • Lickety Split • Mutiny for the Bounty • The Chupaca-bro • Buggy Out • Introducing Kevin 11 • Four by Four • Cirque-Us • Forever Road • The Bentathlon • Beware the Scare-Crow • And Xingo Was His Name-O • The Night Ben Tennyson Came to Town • The Claws of the Cat • Prey or Play • Fear in the Family • Roundabout: Part 1 • Roundabout: Part 2 |
| Season 3 Extra | Xingo Nation • Heads of the Family • My Bodyguard • Wheels of Fortune • Heat of the Moment • Vin Diagram • A Sticky Situation • What Rhymes with Omnitrix? • You Remind Me of Someone • Adrenaland Jr. • Steam Fight at the OK Corral • I Don't Like You |
| Season 4 | Summer Breakers • Gentle Ben • Funhouse • The Monsters in Your Head • Tokyo Fun, Part 1: Big Bugg Bash • Tokyo Fun, Part 2: Slamming It Up • Queen of Bees • Falls, Falls, Falls • The Greatest Lake • Mud on the Run • Chicken In Chichen Itza, Part 1: Pyramid Scheme • Chicken In Chichen Itza, Part 2: The Wages of Fear • It's Story Time • Cosplay Day • Tales from the Omnitrix • Bottomless Ben • Ben in Rome, Part 1: A Slice of Life • Ben in Rome, Part 2: The Bee's Knees • Party Poopers • Wind Some, Lose Some • Digital Quality • Tim Buk-tv • Growing Up Is Hard to Do • The Hex Factor • Sweet Tooth • Medieval Upheaval • Speed of Sound • Xingo's World • Tummy Ache • Players of the Lost Park • De-Fanged • Mock 10 • Rekoil • Buktu The Future |
| Season 4 Movie | Ben 10 Versus the Universe: The Movie |
| Season 5 Specials | Ben 10,010 • Ben Gen 10 • Alien X-Tinction |
| Specials | Crossover Nexus |
| | |
| --- | --- |
| Season 1 | The Filth • Waterfilter• The Ring Leader • Riding the Storm Out • The Clocktopus • Take 10 • Growing Pains • Shhh! • Brief Career of Lucky Girl • Animo Farm • Clown College • Adventures in Babysitting • Something I Ate • Steam is the Word • The Beast Inside • All Wet • Villain Time • Drive You Crazy • Tomorrow Today • Story, Bored • Hole in 10 • Recipe for Disaster • Rustbucket RIP • Freaky Gwen Ben • Ben 24hrs • Bright Lights, Black Hearts • Don't Laze Me, Bro • Don't Let the Bass Drop • Bad Penny • Zombozo-Land • Forgeti • Max to the Max • Cutting Corners • Need for Speed • Xingo • Scared Silly • Omni-Tricked: Part 1 • Omni-Tricked: Part 2 • Omni-Tricked: Part 3 • Omni-Tricked: Part 4 |
| Season 2 | Out to Launch • Battle at Biggie Box • Bon Voyage • Mayhem in Mascot • Screamcatcher • Creature Feature • Bomzobo Lives • Animorphosis • Assault on Pancake Palace • High Stress Express • The 11th Alien: Part 1 • The 11th Alien: Part 2 • Half-Sies • Xingo's Back • Bounty Ball • Fear The Fogg • Super-Villain Team-Up • Can I Keep It? • Chicken Nuggets of Wisdom • All Koiled Up • King Koil • The Charm Offensive • Double Hex • Ye Olde Laser Duel • Ben Again and Again • Vote Zombozo • Drone On • Safari Sa'Bad • The Nature of Things • The Sound and the Furry • Reststop Roustabout • That's The Stuff • The Feels • Past Aliens Present • Dreamtime • Innervasion Part 1: Message in a Boxcar • Innervasion Part 2: Call the Dream Police • Innervasion Part 3: Strange Bedfellows • Innervasion Part 4: Mind Over Alien Matter • Innervasion Part 5: High Override |
| Season 3 | Omni-Copped • This One Goes to 11 • Rath of Con • Poles Apart • Show Don't Tell • Welcome to Zombozo-Zone! • Bridge Out • Beach Heads • Charm School's Out • Billy Bajillions • Franken-Fight • Buggin' the Buggs • Which Watch • Baby Buktu • Them's Fightin' Words! • Mutiny for the Bounty • The Chupaca-bro • Buggy Out • Introducing Kevin 11 • Four by Four • Moor Fogg • King of the Castle • Speechless on the Seine • Don't Touch • Big in Japan • Cyber Slammers • Big Ben 10 • LaGrange Muraille • Lickety Split • The Claws of the Cat • Roundabout: Part 1 • Roundabout: Part 2 • Cirque-Us • Forever Road • The Bentathlon • Prey or Play • Beware the Scare-Crow • The Night Ben Tennyson Came to Town • And Xingo Was His Name-O • Fear in the Family |
| Season 3 Extra | Xingo Nation • Heads of the Family • My Bodyguard • Wheels of Fortune • Heat of the Moment • Vin Diagram • A Sticky Situation • What Rhymes with Omnitrix? • You Remind Me of Someone • Adrenaland Jr. • Steam Fight at the OK Corral • I Don't Like You |
| Season 4 | Chicken In Chichen Itza, Part 1: Pyramid Scheme • Chicken In Chichen Itza, Part 2: The Wages of Fear • Ben in Rome, Part 1: A Slice of Life • Ben in Rome, Part 2: The Bee's Knees • Gentle Ben • Funhouse • Summer Breakers • The Monsters in Your Head • Queen of Bees • Falls, Falls, Falls • The Greatest Lake • Mud on the Run • It's Story Time • Cosplay Day • Bottomless Ben • Tales from the Omnitrix • Party Poopers • Wind Some, Lose Some • Digital Quality • Tim Buk-tv • Tokyo Fun, Part 1: Big Bugg Bash • Tokyo Fun, Part 2: Slamming It Up • Growing Up Is Hard to Do • The Hex Factor • Sweet Tooth • Medieval Upheaval • Speed of Sound • Xingo's World • Tummy Ache • Players of the Lost Park • De-Fanged • Mock 10 • Rekoil • Buktu The Future |
| Season 4 Movie | Ben 10 Versus the Universe: The Movie |
| Season 5 Specials | Ben 10,010 • Ben Gen 10 • Alien X-Tinction |
| Specials | Crossover Nexus |