Cobra Kai Season 4 - The Loop
Play Sound
Sumo Slammers is a large media franchise spawning merchandise such as video games, trading card games, TV shows, movies, and MP3 players.
Video Games
Sumo Slammer Smackdown is a video game in which Sumo Slammer's main character Ishiyama, fights and battles against the shape-shifter Kenko, his archenemy. In the episode Game Over, Ben and Gwen wound up in the video game when Ben attempted to use Upgrade to cheat at the game and was struck by lightning whilst playing. The Omnitrix is altered to make Ben find the Omnitrix shaped upgrades that transforms Ben into his aliens eventually collecting Four Arms, Cannonbolt and Upgrade which he uses to trounce Kenko and escape the game alive. It is one of Ben's favorite games.
In Framed, Ben refers to a game Sumo Slammers 2.1.
In Perfect Day, Ben plays a game called Sumo Slammers Space Wars.
In Video Games, Ben mentions Sumo Slammers IV: Tournament Edition.
Card Game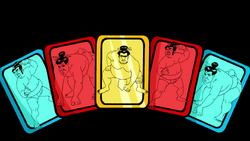 There are three known colors of card shown in the series[1]:
SUMO Blue
The most common card.
SUMO Red
The second most common card.
SUMO Gold
The rarest card. Ben puts a lot of effort into finding this card, and it is very valuable to Sumo Slammers fans.
Sumo Slammer DigiDownloader

This device downloads songs and soundtracks from Sumo Slammer Smackdown.[2]
Arcade Games
In Kevin 11, Ben turned into Ghostfreak to play a game in a four star hotel when he wasn't allowed into the arcade because of that very video game and promptly caused himself, Max and Gwen to be thrown out after Max already paid for the Room.
TV Series
In the episode Monster Weather, is revealed that there is also a Sumo Slammer TV show.
In The Final Battle: Part 1, Ben makes several indirect references to Alien Force while watching the show, and the series is a parody of the Ben 10 franchise. The sequel of Sumo Slammers that he watches in Alien Force is called Sumo Slammers: Hero Generation. Interestingly, Hero Generation was the original working name for Alien Force. It takes place 5 years after the original Sumo Slammers series (just like Alien Force takes place after 5 years), with the villain from the original series teams up with the Hero, a reference to Kevin joining up with Ben in Alien Force. Ben even references how Alien Force wasn't as popular as the original, by saying that Hero Generation was all messed up and whatnot. When Kevin expresses disgust towards the show, Ben says it is not as good as Sumo Slammers classic, a reference to Ben 10. He then says that in 5 episodes, it would switch to the original.
Movies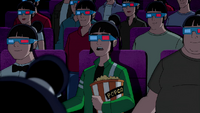 In Vengeance of Vilgax: Part 1, Ben mentions that there will be a Sumo Slammer live action movie, which made Kevin seem excited.
In Duped, Ben watched Sumo Slammers IV movie in 3D, where he and the other viewers used 3D glasses while wearing Samurai-like wig. He watches this movie again but this time with Elena disguised as Julie in The Perfect Girlfriend.
In Catfight, Ben watched Sumo Slammers VI in 3D, with Rook, Rayona and Ester, though they did not wear 3D glasses. They watched the movie again at the end of the episode.
Toys
In the episode Voided, Gwen finds a Sumo Slammers battle ring while cleaning Ben's closet. Gwen refers to it as a dollhouse, which makes Ben upset. It was later broken when Gwen got knocked out.
In the episode Have I Got a Deal for You, Ben receives a rare Sumo Slammer Action Figure from Blarney T. Hokestar. There were also toys of Ishiyama and Kenko seen in And Then There Was Ben in Gweniverse Ben's hands.
Appearances
Ben 10
Season 1
Season 2
Season 3
Season 4
Alien Force
Season 1
Season 2
Season 3
Ultimate Alien
Season 1
Season 3
Omniverse
Season 1
Season 2
Season 3
Season 5
Season 6
Season 7
Season 8
Trivia
References
Pop-ups