Wiki Targeted (Entertainment)
Play Sound
Snap Dragon is a plant-like creature from the Null Void that appears as a boss in Ben 10: Protector of Earth.
Appearance
Snap Dragon had around 20 or more eyes spread all over its menacing brown jaws, a head connected to a green neck with a red throat and spikes attached to large vines which covered most of its body. At the bottom of its body, which was one with the green ground, there were red pulsating heart-like balls, which were part of the organism.
It was a massive creature, its jaws alone being spacious enough that any of Ben's aliens (even the largest one playable, Cannonbolt) could comfortably fit inside them.
History
Snap Dragon first appeared as a much smaller slug-like creature, emerging out of the Null Void portal Kevin 11 used on the Golden Gate Bridge just as it was about to close.
It made its way across the bridge and all the way to Seattle, climbing up the Seattle Space Needle and taking root from there, creating a nest of sorts and spreading plant pods from which many wild and dangerous creatures were born all throughout the city, thanks to the energy of an Omnitrix Crystal given to it (presumably) by Kevin 11 as per Vilgax's orders.
Ben climbed up the tower and faced the monster as it broke out of a cocoon, revealing its true form. With the help of Cannonbolt and Heatblast, Ben was able to defeat it, and after its destruction, obtained the alien DNA inside the Omnitrix Crystal that empowered Snap Dragon, regaining Wildvine.
Powers and Abilities
Though Snap Dragon at first was a relatively small creature, it grew into an enormous and fierce monster, so huge even Ben was reluctant to face it. Thanks to its size, Snap Dragon could attack from afar and use its own body like a weapon, particularly its head and jaws which it used to bite down on Ben or smack him like a giant club.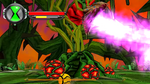 Snap Dragon was too aggressive and only stopped attacking for a moment in order to roar whenever Ben proceeded to run away, though Snap Dragon could move its body in any direction and follow his every movement, and Ben had no other choice but to get closer to attack its weak point, and even then, Snap Dragon had the ability to regenerate and could regrow them in seconds.
It was also capable of spewing out a fire breath-like purple gas in case Ben got out of range.
Weaknesses
The red pulsating heart-like balls at the foot of its body were its weak point. Once destroyed, Snap Dragon became groggy and Ben was able to start attacking it without being hit back.
Trivia
Weirdly, despite Ben being amazed by Snap Dragon's size, it is only the third largest boss in the game, after the two largest bosses which came before it, the Enoch Battle Bot and the Giant Vilgax Destroyer.
Whereas other bosses were knocked unconscious, destroyed (since they were machines) or sent to the Null Void, Snap Dragon is the only boss that Ben killed, using Heatblast to blow up its head from within.