The Rust Bucket 3, also called "RB3", is a standard issue Plumber jet that Kevin modified using some extra alien gadgets that he "picked up here and there".
Appearance
In Ultimate, the Rust Bucket 3 was a large green jet-like vehicle resembling a Concord.
In Omniverse, the Rust Bucket 3 has a forward-swept wingspan, a larger cabin, a shorter and wider body, and an extrusion coming from the back of each wing. Its color scheme it similar to the Proto-TRUK's and the initials "RB3" are printed on the sides of the cabin.
History
The Rust Bucket 3 first appeared in Fame, when the team tracked down an alien that had been stealing from NASA.
Features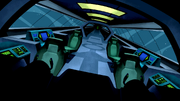 The jet can interface with Plumber Badges.
It has a cargo area that holds Kevin's and Ben's cars, with tunnels leading to different emergency exits.
It has Extranet access, allowing anyone onboard to access any database on Earth, even secure government ones.[1][2]
It is extremely fast, and can be used as a spaceship.[3]

Because it functions underwater, it can be used as a submarine.[4]

The jet has manual and autopilot settings.
Its weapons system includes laser weapons and missile launchers.
Appearances
Ben 10: Ultimate Alien
Season 1
Season 2
Season 3
Ben 10: Omniverse
Season 4
Naming and Translations
See Also
References
Community content is available under
CC-BY-SA
unless otherwise noted.