The Rust Bucket is Max Tennyson's RV, after the first one was destroyed. It is kitted with a lot of Plumbers' gear, which includes lasers and jets.
Appearance
It looks like the old one, but has a slightly different image, for example, the satellite dishes that were the on roof of the first Rust Bucket are gone, and the windows on the Rust Bucket 2 are blue tinted, as the old Rust Bucket's windows were black tinted.
History
Main Timeline
Five years prior to Omniverse
In Ben 10: Omniverse, the Rust Bucket 2 appears in the flashback events that were about Ben, Gwen, and Grandpa Max defeating any of the terrestrial and extraterrestrial threats that they encountered as well as going on adventures during the weekend trips that they had for a year.
Alien Force
It first appeared in Ben 10 Returns: Part 1. It was later stolen by Kevin in Kevin's Big Score.
After Max was presumed deceased after Max Out, the Plumbers put the Rust Bucket 2 in storage.[DM 1]
Ultimate Alien
In Absolute Power: Part 1, the Rust Bucket 2 was destroyed by Ultimate Kevin.
In Moonstruck, it was seen again, fully rebuilt. Ben, Gwen, Max and Kevin did some spring cleaning.
It appeared again in the beginning of Prisoner Number 775 Is Missing.
Technology
Rooms
Bathroom
The bathroom was seen in Ben 10 Returns: Part 1 when Ben was looking for Max.
Bedroom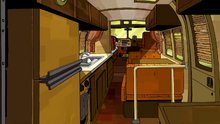 When Gwen and Ben were on their road trips, Ben slept on the upper bed while Gwen slept on the lower bed. Ben once fell from his bed. The same happens with Gwen sometimes. The bedroom is found at the end of the Rust Bucket.
Kitchen
The Kitchen is found opposite to the Rust Bucket's Entry. Max cooks food mostly which Ben and Gwen don't like.
Appearances
Ben 10: Alien Force
Season 1
Season 3
Ben 10: Ultimate Alien
Season 2
Season 3
Ben 10: Omniverse
Season 1
Season 2
Season 3
Season 4
Season 5
Season 6
Season 7
Season 8
Video Games
Naming and Translations
| Language | Name | Origin |
| --- | --- | --- |
| Hungarian | Rozoga | From Rozoga, Rattletrap |
| Portuguese (Br) | Lata Velha | From Lata Velha, Old Can |
| Spanish (HA) | Cámper (before Omniverse) | From Campér, Campervan |
Trivia
References
Crew Statements
Community content is available under
CC-BY-SA
unless otherwise noted.