R.E.D.s (Robotic Extermination Devices) are Psyphon's robots. They first appeared in Reflected Glory.
Appearance
R.E.D.s are red, square, box-shaped robots. Their eyes are red and they have a white skull-shaped face. They also have double blasters with one on the bottom, and the other on the side of their body.
They have humanoid R.E.D.s in Cosmic Destruction, with three claws on each hand. They are red and gray, just like the original R.E.D.s.
The skulls on the R.E.D.s resemble Psyphon.
History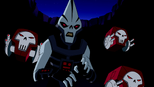 The R.E.D.s made their first appearance in Reflected Glory, when Psyphon brought them to help him defeat Ben and his team. They were easily fooled when Gwen and Kevin tricked them with a mirror, so they were easily destroyed.
Powers and Abilities
The R.E.D.s do not have any actual powers; they just have a variety of high-powered firearms. They also have boosters that enable them to fly. Their guns are so powerful that they can break Gwen's shield with just a few hits. They are also durable enough to withstand Gwen's mana attacks.
Weaknesses
The R.E.D.s are shown to be gullible: Kevin and Gwen were able to trick them by putting a mirror in front of them so they would get hit by their own lasers, meaning they aren't so intelligent.
Appearances
Ben 10: Ultimate Alien
Video Games
Ben 10 Ultimate Alien: Cosmic Destruction
They are enemies in the game Ben 10 Ultimate Alien: Cosmic Destruction. There are R.E.D.s grunts and normal R.E.D.s enemies. During the game, Psyphon mentioned that they only react to his button commands.
There are six different types of R.E.D.s: Grunt, Melee, Sniper, Ranged, Lieutenant and Elite.
They appear in Diamondhead's minigame.
Community content is available under
CC-BY-SA
unless otherwise noted.