Pyroxivors are a type of subterranean cattle that eat rocks. They are native to Earth.
Appearance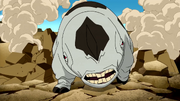 Their skin is grey with brown patches on their back and tail. They have a brown horn coming out of a patch on their forehead. They are always squinting with their small red eyes, because their natural habitat is in caves. They have two brown claws on each of their feet. They have beaver-like teeth in the middle of their mouth.
History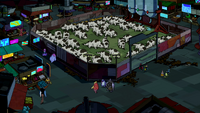 The Pyroxivors were introduced in Inferno. They were driven up from underground because Vulkanus made the Earth warmer by bringing up the lava from the Earth's core, as he was the rightful owner of the Earth (he bought it), and wanted to make it more hospitable to him. The Pyroxivors returned to the underground when Vulkanus was defeated. Pyroxivors resemble large naked mole rats with a cow-like pattern. It is also revealed that they are also a source of food.
There are Pyroxivors living in Undertown.
Diet
Pyroxivors feed on rock.
Appearances
Ben 10: Alien Force
Ben 10: Omniverse