Template:Spellbox The Proto-TRUK was Rook's spaceship. As shown in A Jolt from the Past, it can transform into a small truck with "Max's Plumbing" written on it in order to camouflage from other local people.
Jury Rigg used parts of the Proto-TRUK to build the Tenn-Speed.
In Let's Do the Time War Again, it was destroyed, and its parts were used to create Ben and Rook's Time Cycles.
Features
Gravitor Boosters
Detrovite Nav-System
Quil-Tech Nanoshift Transformer
Faster-Than-Light (FTL) Drive
Prisoner Holding Cell
Tri-Barrel Blaster Turret
Switchable Steering Wheel (in order to comply with other countries' traffic codes)
Appearances
Ben 10: Omniverse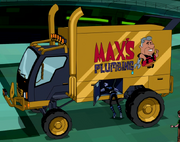 Naming and Translations
| Language | Name | Origin |
| --- | --- | --- |
| Spanish (Latin America) | Proto-CAMIÓN | From Proto-CAMIÓN, Proto-TRUK |
Trivia
In Many Happy Returns, Kevin, upon seeing the interior, was very impressed with the custom modifications done to it by Rook.
It is hinted by Kevin that it might have been created by Galvans and later modified by Rook when he pointed out that there was some Galvan tech on it.
In Tummy Trouble, it is revealed that the Proto-TRUK has an auto-pilot mode.
It was destroyed in The Frogs of War: Part 1 but was later rebuilt in The Frogs of War: Part 2.
Apparently the Proto-TRUK is suffering the same running gag as Kevin's Car, as it is constantly being damaged or nearly destroyed throughout the series.
In An American Benwolf in London, Rook changes the steering of the Proto-TRUK from the left side to the right, to be compliant while visiting England.
Community content is available under
CC-BY-SA
unless otherwise noted.