Wiki Targeted (Entertainment)
Play Sound
The President of the United States appears in The Unnaturals, where he watches the Little League baseball games (Cannons against Squires), and the Squires' Coach clones him into a robot. He is protected by the Secret Service.
Appearance
In the episode The Unnaturals, the President appeared as a Caucasian, middle aged, grey-haired man with glasses and a red tie. He also has blue eyes.
Personality
Max mentions the President is a big fan of baseball, explaining his visit during The Unnaturals. In that episode, he is depicted as a relatively stiff and unemotional man.
History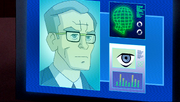 During the events of The Unnaturals, the Forever Knights, lead by Enoch, attempted to take control of the House White House by replacing the President with a robotic duplicate, during one of his, apparently regular, visits to a baseball game. This plot is foiled by Ben, Gwen, and Max, who's credit gets given to Cash and J.T. to Ben's chagrin.
Appearances
Ben 10
Season 3
Trivia
Assuming the stories of the original series take place in the year they came out which is 2007, the equivalent President would have been George W. Bush.
It appears that he was created as to not have a real life counterpart in appearance or personality.
See Also