This article contains information on
of the franchise and is non-canon
Portaler is the Omnitrix's DNA sample of an unknown species from an unknown planet.
Ben can turn into Portaler after he scans a Space Captain in the Web game Fuel Run.[1] He is the winner of Draw Your Own Alien.[2]
Appearance
Portaler resembles a cross between a turtle and a beetle. He has segmented yellow arms and legs that end in stumps, with blue sleeve-like plating on his shoulders. He has a turtle-like face with sunken green eyes and visible nostrils, and has two beetle-like antennae ending in yellow bulbs. His skin is green, and has a blue, yellow and red circular pattern on his stomach. On his back is a blue, turtle-like shell with a red rim and red rock-like spikes on it.
Portaler wears the Omnitrix on the red armor plate on top of his head.
Powers and Abilities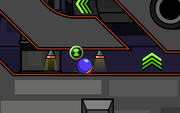 Portaler can roll into a ball with red and green spikes showing, similar to what Ultimate Cannonbolt can do.
Portaler's description in Draw Your Own Alien reads "Its name is Portaler and it uses portals to go anywhere. It can teleport anyone".
Trivia
References
Community content is available under
CC-BY-SA
unless otherwise noted.