We're Getting Mutants in the MCU - The Loop
Play Sound
This article belongs to the

Classic Continuity
Pink-Worst is a character in Omniverse.
Appearance
Pink-Worst is a plump pink alien with a light purple top and dark purple pants. She has long eyelashes, purple lipstick, and curly pinkish-violet hair. Her eyes are yellow.
History
Pink-Worst was first seen in Have I Got a Deal for You when Hokestar tried to sell her his potion but at the first time, she yelled at him that she wasn't interested. After she saw what it did to Solid Plugg, she bought one.
Pink-Worst made cameos in Special Delivery, in Rad and in Cough It Up.
In No Honor Among Bros, Pink-Worst was seen bench pressing before the Golden Fist Tournament started.
In Universe vs. Tennyson, Pink-Worst and Orange-Worst were watching Ben's trial and were excited about the secret prize that they could earn by voting.
Powers and Abilities
Pink-Worst is indestructible on the outside of her body, as she is able to withstand heavy physical attacks due to her soft, blob-like body.[1][2][DJW 1]
Pink-Worst literally absorbs hits, making her skin a little malleable.[2]
Pink-Worst can survive energy attacks, such as Exo-Skull's laser.[3]
Pink-Worst is resistant against extreme heat and immune to acids.[3]
Weaknesses
Pink-Worst is indestructible, though she still feels pain when hit.
Pink-Worst has many attributes that could hinder her in battle.[DJW 2]
Pink-Worst needs oxygen to breathe, meaning that he can neither breathe underwater nor survive in the vacuum of space.[DJW 3]
Pink-Worst is vulnerable to being possessed by an Ectonurite.[DJW 4]
Appearances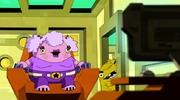 Omniverse
Season 1
Season 3
Season 6
Season 7
Season 8
References