Pink-Worst is a character in Ben 10: Omniverse.
Appearance
Pink-Worst is a plump pink alien with a light purple top and dark purple pants. She has long eyelashes, purple lipstick, and curly pinkish-violet hair. Her eyes are yellow.
History
Pink-Worst was first seen in Have I Got a Deal for You when Hokestar tried to sell her his potion but at the first time, she yelled at him that she wasn't interested. After she saw what it did to Solid Plugg, she bought one.
Pink-Worst made cameos in Special Delivery, in Rad and in Cough It Up.
In No Honor Among Bros, Pink-Worst was seen bench pressing before the Golden Fist Tournament started.
In Universe vs. Tennyson, Pink-Worst and Orange-Worst were watching Ben's trial and were excited about the secret prize that they could earn by voting.
Appearances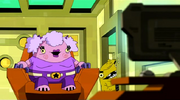 Ben 10: Omniverse
Season 1
Season 3
Season 6
Season 7
Season 8
Community content is available under
CC-BY-SA
unless otherwise noted.