House of the Dragon Trailer - The Loop
Play Sound
Omni-Tricked: Part 4 is the fortieth episode of Ben 10.
Synopsis
After his meeting with Vilgax, Ben continues to transform rapidly without stopping or be able to revert to human form. While Vilgax tries to take the energy of a volcano to recharge his ship and return home, Ben gets the idea to "update" the Omnitrix and thus save the planet from his enemy. But what did he do exactly?
Plot
The four visit another picnic site, and Gwen brings Ben some food. Unfortunately, Ben's rapid alien changing, doesn't allow him to eat. Phil tells them that the problem with the Omnitrix is Vilgax himself, and all he has to do is defeat him. Phil's radar soon picks him up. The four drive towards mount Megalodon. Phil tells them that if Vilgax needs to break orbit, his ship is going to need a lot of energy, and there's a ton of it in the magma underneath the mountain. Phil suggest that they have enough time to undo whatever Vilgax did to the Omnitrix before he breaks orbit. Soon Vilgax breaks through the mountain, causing the volcano to destabilize right underneath them. Phil tells Max to turn back, but Max can't. Ben randomly transforms into Heatblast, and is able to stop the Rustbucket from moving. However Ben falls into the volcano. He tries to stop himself from falling, but cycles through a lot of aliens, until finally ending up with Heatblast, rocketing himself up onto Vilgax's ship.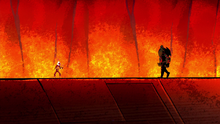 Vilgax thanks Ben for bringing him the Omnitrix, noticing that he survived their last encounter. Ben tries to fight Vilgax once more, however his rapid transformations leaves him at a disadvantage. He transformed into Grey Matter, and suggested that he can control his lack of control. Ben eventually fights off Vilgax, switching from Stinkfly, to XLR8, to Four Arms. Four Arms manages to knock him off balance. Then Ben transforms into Diamondhead, throwing crystals at Vilgax. Vilgax tries to take out Ben, but Ben as Cannonbolt ramps up Vilgax's body, then transforms into Wildvine and flips him over. Ben gets tired from the work of fighting Vilgax. However Vilgax gets up effortlessly, dusting off his shoulders. Vilgax decides that he now wants the Omnitrix. Wildvine tries to punch him, but Vilgax catches it and blasts him with a laser.
Back on the top of the mountain, Max prepares to jump onto Vilgax's ship, and Phil questions what he's doing. Max tells him that he's his grandson, and he has to help him. Right when Phil tries to reason with Max, Gwen jumps right inside with mittens and a fire extinguisher. On the ship, Ben (as Wildvine) struggles to get up as Vilgax pushes him down with his foot. Gwen swoops in and shoots Vilgax with the extinguisher. Right before Vilgax recovers Cannonbolt rolls in and saves her. Ben transforms into Diamondhead, creating protection for the two as Vilgax focuses a laser on them. Ben tells her that she shouldn't be there, and he couldn't stand it if she got hurt. Gwen tells Ben to believe in himself, and right before Vilgax's laser breaks Diamondhead's protection, he transforms into Four Arms, telling her that he has a mission for her, to take care of Max. Ben throws her up towards Max, and gets hit with the laser. Max jumps in and catches her, asking her if she's alright. Gwen tells him that she's worried about Ben, and he's scarred. Max tells her that sometimes being scared is the perfect motivation.
Ben recovers as he is elevated to Vilgax's control room. Ben (as Four Arms) thinks about Gwen, worried. Ben tries to attack Vilgax, but Vilgax picks him up and repairs the Omnitrix, reverting Ben back to human. Vilgax pulls out a device, and tells him that the removal process is quite unpleasant. Ben uses Gwen's mitten, and pushes the device into Vilgax's arm. Ben transforms into Upgrade, angering Vilgax. Ben upgrades the ship, causing it to sink into the magma. Vilgax grabs Upgrade by his Omnitrix, telling him that he's doomed them both, and there's no where for him to run.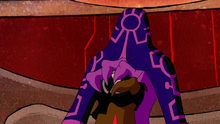 Ben then gets and idea and Upgrades the Omnitrix, thus destroying Upgrades DNA pod, and leads to the creation of Glitch. The Omnitrix glows and gets a new look. Vilgax threatens to destroy Ben and the entire world. XLR8 runs through and charges at Vilgax. Ben transforms from XLR8 to Four Arms, to Overflow, to Diamondhead, to Wildvine, back to Overflow, to Stinkfly, then Grey Matter, into Heatblast, then into Cannonbolt all doing damage to Vilgax. Ben finishes Vilgax off with Diamondhead, leaving him stuck in the ship while it sinks in magma. Max, Gwen, and Phil soon think Ben is dead, however Ben reveals himself to be alive.
Later on, Ben tells Gwen about how he defeated Vilgax, and went from alien to alien without touching the watch. Ben tries to demonstrate, but Phil tells him that when he used Upgrade to upgrade the Omnitrix, it gave him a temporary boost which allowed him to switch from alien to alien. Phil tells Ben that the Omnitrix is functioning the same as it was before Vilgax arrived. Phil leaves saying his services are needed elsewhere.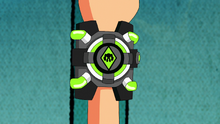 Max soon tells the kids that it's been a wild trip so far, and if they want to cut the summer short and head home early. Ben and Gwen looks at each other confused, but Max reveals himself to be tricking them. All three of them run into the Rustbucket, Ben shouts out yelling "best summer of my life", raising his arm showing a new alien.
Noteworthy Events
Major Events
Vilgax repairs the Omnitrix.
Ben sacrifices Upgrade to reformat and temporarily boost the Omnitrix, unknowingly creating a new power and unlocking a new alien.
Ben learns to fight with the Omnitrix even without being able to predict his transformations, allowing him to defeat Vilgax.
Ben unlocks Master Control for a brief time.
Characters
Villains
Aliens Used
Quotes

XLR8: Mount Megalodon? I just fixed that...
Heatblast: Mess.
Max: Ben, it's probably safer if you stay in the back until you get better control over the situation.
Gwen: So what could Vilgax want with the volcano? I mean, besides a beat down from Ben! (Chuckles). Ben?
Heatblast: (Sighs).
Gwen: Ben?




Max: Are you alright?
Gwen: I'm worried about Ben, he's scared.
Max: Sometimes being scared is the perfect motivation.



| | | |
| --- | --- | --- |
| | Ben: Best summer of my life! | |
Cast
Trivia
This episode features the most Omnitrix transformations in the reboot, with every alien appearing at least twice.
When the episode ends, Ben yells and raises his hands which shows a silhouette of a new alien.
The Omnitrix has been upgraded.
References
Crew Statements
Ben 10 Episodes
| | |
| --- | --- |
| Season 1 | Waterfilter • The Ring Leader • The Filth • Freaky Gwen Ben • Take 10 • Animo Farm • Clown College • Something I Ate • Rustbucket RIP • Ben 24hrs • Riding the Storm Out • The Clocktopus • Growing Pains • Shhh! • Brief Career of Lucky Girl • Adventures in Babysitting • Steam is the Word • Need for Speed • Cutting Corners • Don't Let the Bass Drop • Villain Time • Bright Lights, Black Hearts • Recipe for Disaster • All Wet • Story, Bored • Xingo • Drive You Crazy • Hole in 10 • The Beast Inside • Tomorrow Today • Forgeti • Scared Silly • Bad Penny • Max to the Max • Zombozo-Land • Don't Laze Me, Bro • Omni-Tricked: Part 1 • Omni-Tricked: Part 2 • Omni-Tricked: Part 3 • Omni-Tricked: Part 4 |
| Season 2 | Out to Launch • Can I Keep It? • Battle at Biggie Box • Bon Voyage • Mayhem in Mascot • Screamcatcher • Vote Zombozo • Animorphosis • The 11th Alien: Part 1 • The 11th Alien: Part 2 • High Stress Express • Creature Feature • Drone On • Safari Sa'Bad • The Nature of Things • Assault on Pancake Palace • Bomzobo Lives • The Sound and the Furry • King Koil • Reststop Roustabout • That's The Stuff • Half-Sies • Xingo's Back • Bounty Ball • Fear The Fogg • The Charm Offensive • Super-Villain Team-Up • The Feels • Chicken Nuggets of Wisdom • Past Aliens Present • Double Hex • Ye Olde Laser Duel • All Koiled Up • Ben Again and Again • Dreamtime • Innervasion Part 1: Message in a Boxcar • Innervasion Part 2: Call the Dream Police • Innervasion Part 3: Strange Bedfellows • Innervasion Part 4: Mind Over Alien Matter • Innervasion Part 5: High Override |
| Season 3 | Omni-Copped • This One Goes to 11 • Moor Fogg • Rath of Con • King of the Castle • Speechless on the Seine • Poles Apart • Show Don't Tell • Don't Touch • Big in Japan • Welcome to Zombozo-Zone! • Bridge Out • Cyber Slammers • Big Ben 10 • Beach Heads • LaGrange Muraille • Charm School's Out • Billy Bajillions • Franken-Fight • Buggin' the Buggs • Which Watch • Baby Buktu • Them's Fightin' Words! • Lickety Split • Mutiny for the Bounty • The Chupaca-bro • Buggy Out • Introducing Kevin 11 • Four by Four • Cirque-Us • Forever Road • The Bentathlon • Beware the Scare-Crow • And Xingo Was His Name-O • The Night Ben Tennyson Came to Town • The Claws of the Cat • Prey or Play • Fear in the Family • Roundabout: Part 1 • Roundabout: Part 2 |
| Season 3 Extra | Xingo Nation • Heads of the Family • My Bodyguard • Wheels of Fortune • Heat of the Moment • Vin Diagram • A Sticky Situation • What Rhymes with Omnitrix? • You Remind Me of Someone • Adrenaland Jr. • Steam Fight at the OK Corral • I Don't Like You |
| Season 4 | Summer Breakers • Gentle Ben • Funhouse • The Monsters in Your Head • Tokyo Fun, Part 1: Big Bugg Bash • Tokyo Fun, Part 2: Slamming It Up • Queen of Bees • Falls, Falls, Falls • The Greatest Lake • Mud on the Run • Chicken In Chichen Itza, Part 1: Pyramid Scheme • Chicken In Chichen Itza, Part 2: The Wages of Fear • It's Story Time • Cosplay Day • Tales from the Omnitrix • Bottomless Ben • Ben in Rome, Part 1: A Slice of Life • Ben in Rome, Part 2: The Bee's Knees • Party Poopers • Wind Some, Lose Some • Digital Quality • Tim Buk-tv • Growing Up Is Hard to Do • The Hex Factor • Sweet Tooth • Medieval Upheaval • Speed of Sound • Xingo's World • Tummy Ache • Players of the Lost Park • De-Fanged • Mock 10 • Rekoil • Buktu The Future |
| Season 4 Movie | Ben 10 Versus the Universe: The Movie |
| Season 5 Specials | Ben 10,010 • Ben Gen 10 • Alien X-Tinction |
| Specials | Crossover Nexus |
| | |
| --- | --- |
| Season 1 | The Filth • Waterfilter• The Ring Leader • Riding the Storm Out • The Clocktopus • Take 10 • Growing Pains • Shhh! • Brief Career of Lucky Girl • Animo Farm • Clown College • Adventures in Babysitting • Something I Ate • Steam is the Word • The Beast Inside • All Wet • Villain Time • Drive You Crazy • Tomorrow Today • Story, Bored • Hole in 10 • Recipe for Disaster • Rustbucket RIP • Freaky Gwen Ben • Ben 24hrs • Bright Lights, Black Hearts • Don't Laze Me, Bro • Don't Let the Bass Drop • Bad Penny • Zombozo-Land • Forgeti • Max to the Max • Cutting Corners • Need for Speed • Xingo • Scared Silly • Omni-Tricked: Part 1 • Omni-Tricked: Part 2 • Omni-Tricked: Part 3 • Omni-Tricked: Part 4 |
| Season 2 | Out to Launch • Battle at Biggie Box • Bon Voyage • Mayhem in Mascot • Screamcatcher • Creature Feature • Bomzobo Lives • Animorphosis • Assault on Pancake Palace • High Stress Express • The 11th Alien: Part 1 • The 11th Alien: Part 2 • Half-Sies • Xingo's Back • Bounty Ball • Fear The Fogg • Super-Villain Team-Up • Can I Keep It? • Chicken Nuggets of Wisdom • All Koiled Up • King Koil • The Charm Offensive • Double Hex • Ye Olde Laser Duel • Ben Again and Again • Vote Zombozo • Drone On • Safari Sa'Bad • The Nature of Things • The Sound and the Furry • Reststop Roustabout • That's The Stuff • The Feels • Past Aliens Present • Dreamtime • Innervasion Part 1: Message in a Boxcar • Innervasion Part 2: Call the Dream Police • Innervasion Part 3: Strange Bedfellows • Innervasion Part 4: Mind Over Alien Matter • Innervasion Part 5: High Override |
| Season 3 | Omni-Copped • This One Goes to 11 • Rath of Con • Poles Apart • Show Don't Tell • Welcome to Zombozo-Zone! • Bridge Out • Beach Heads • Charm School's Out • Billy Bajillions • Franken-Fight • Buggin' the Buggs • Which Watch • Baby Buktu • Them's Fightin' Words! • Mutiny for the Bounty • The Chupaca-bro • Buggy Out • Introducing Kevin 11 • Four by Four • Moor Fogg • King of the Castle • Speechless on the Seine • Don't Touch • Big in Japan • Cyber Slammers • Big Ben 10 • LaGrange Muraille • Lickety Split • The Claws of the Cat • Roundabout: Part 1 • Roundabout: Part 2 • Cirque-Us • Forever Road • The Bentathlon • Prey or Play • Beware the Scare-Crow • The Night Ben Tennyson Came to Town • And Xingo Was His Name-O • Fear in the Family |
| Season 3 Extra | Xingo Nation • Heads of the Family • My Bodyguard • Wheels of Fortune • Heat of the Moment • Vin Diagram • A Sticky Situation • What Rhymes with Omnitrix? • You Remind Me of Someone • Adrenaland Jr. • Steam Fight at the OK Corral • I Don't Like You |
| Season 4 | Chicken In Chichen Itza, Part 1: Pyramid Scheme • Chicken In Chichen Itza, Part 2: The Wages of Fear • Ben in Rome, Part 1: A Slice of Life • Ben in Rome, Part 2: The Bee's Knees • Gentle Ben • Funhouse • Summer Breakers • The Monsters in Your Head • Queen of Bees • Falls, Falls, Falls • The Greatest Lake • Mud on the Run • It's Story Time • Cosplay Day • Bottomless Ben • Tales from the Omnitrix • Party Poopers • Wind Some, Lose Some • Digital Quality • Tim Buk-tv • Tokyo Fun, Part 1: Big Bugg Bash • Tokyo Fun, Part 2: Slamming It Up • Growing Up Is Hard to Do • The Hex Factor • Sweet Tooth • Medieval Upheaval • Speed of Sound • Xingo's World • Tummy Ache • Players of the Lost Park • De-Fanged • Mock 10 • Rekoil • Buktu The Future |
| Season 4 Movie | Ben 10 Versus the Universe: The Movie |
| Season 5 Specials | Ben 10,010 • Ben Gen 10 • Alien X-Tinction |
| Specials | Crossover Nexus |