Wiki Targeted (Entertainment)
Play Sound
Omni-Tricked: Part 3 is the thirty-ninth episode of Ben 10.
Synopsis
Ben heads far into the forest to prevent his unpredictable transformations from causing damage. Meanwhile, Vilgax, who seems to be the same species as Gax, lands nearby. The latter helps Ben discover his powers, but he quickly realizes that this new friend is in fact an opponent.
Plot
The four drive through a forest in the Rustbucket, getting as far away from the city as they can. Ben wakes up noticing that everyone got up early. Gwen tells him that they've been up, and Phil states that he switched aliens every fifteen minutes. Ben says he isn't changing anymore, and every could nap now, but the watch begins beeping again. Max tells them that the watch has a mind of its own at the moment, and until they can understand what's wrong, they're staying deep in the forest so no one gets hurt.
Phil begins working on the watch, and Gwen notices the beeping noise is getting worse. Max states that the noise started when the new alien showed up, to which Ben replies saying he has a name, which is Gax. Max questions if it's an alarm, and Phil tells him it might be. He tells them that it could've been what attracted those other aliens to Gax if that's what they were after. Ben doesn't understand what they're trying to fix, aside from the occasional beeping, he can switch from alien to alien, and gets an extra bonus alien. Max tells him that it might be more complicated than that, and they'll figure it out together as a team. Phil puts a device on the watch that will monitor the energy signatures of his rapidly-changing alien forms. Ben angrily states that it's his watch, and his aliens, and he'd know if something was wrong with it, and he's sure it isn't. Ben leaves to test out his new powers, on his own. Max tries to call to Ben, but Phil tells him that it's better if he goes and uses the watch as much as possible, it would give them more data to work with.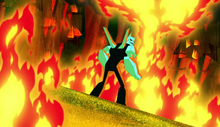 Ben transforms in Gax and plays around with his powers. Ben throws a few trees up and shoots them with his laser eyes. He then transforms into Wildvine, and tries to get the device Phil put on off of his watch, since he wants to focus on Gax. Ben then transforms into Diamondhead. He sharpens his finger and tries to take the device off. Soon a fire lights up and startles Diamondhead. One of his shards gets stuck in the watch, cracking it. The watch acts up, and turns Ben into Cannonbolt. He attempts to stop out the fire, but transforms into Grey Matter. The fire burns his foot causing him to jump around. Switching from XLR8, to Heatblast, to Upgrade. Then changing to Four Arms and back to Diamondhead. He switches to Stinkfly and shoots his gas into the fire, causing it worsen. He eventually transforms into Overflow, but as soon as he shoots the water, switches to Diamondhead. The fire then worsens. Ben then transforms into Gax. Right before a ship crash lands into the forest, putting out the fire. Gax soon recovers, and his watch starts beeping again.
Back at the campsite, Phil states that the reading are off the charts. Max says they have to go find Ben, but Phil tells them that a portion of the watch's data seems incomplete, as if it's missing its other half.
Ben notices that there's another alien, and he shouldn't take any chances. He begins to shoot the alien, but notices how old the alien looked. The alien notices how Ben calls himself Gax, and tells Ben he can call him Vil. He greets Gax, revealing his species as well. Vil tells him that he doesn't notice the power he posses. Gax shows off telling him he has an idea. Vil tells him that he lacks control. Ben tells him that he sound like Max and Gwen. Vil suggest he tries his laser on another tree, this time, Vil will guide him. Gax focuses his laser on the tree, while Vil tells him what to do. While Gax shoots the laser Vil reaches for the watch, however Gax jumps surprised at the fact that he didn't cause a forest fire this time. Gax cartwheels over towards a cliff and lays down. Vil explains to Ben the power he has, and quickly touches the watch, absorbing his DNA.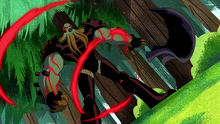 Vilgax forms, becoming his full self once more. Ben asks what Vilgax did to Gax, and he explains that Gax was a fraction of his DNA. His true power was trapped inside the Omnitrix to be used a child's plaything. Vilgax tells him that now he is at his full strength, he will destroy the Omnitrix.
The bounty hunters arrive claiming that they're too late. Much to Ben's surprise, the bounty hunters attack Vilgax. The bounty hunters attack Vilgax, and Ben joins in as XLR8 and helps. He runs Max and Gwen to safety. Max asks what's going on, but Ben doesn't know, but he believes the bounty hunters are on their side. Ben charges at Vilgax as XLR8 but transforms into Grey Matter. Vilgax flicks Grey Mater away. Vilgax defeats all of the bounty hunters, and Ben is left alone. Grey Matter sets up a plan to defeat Vilgax, but looses his ideas once he transforms into Cannonbolt. Cannonbolt charges into Vilgax, who is able to easily stop Cannonbolt from spinning. He then transforms into Heatblast and gets thrown away by Vilgax. He prepares a fireball but then turns into Wildvine. He sticks his arms into the ground using his vines to hold Vilgax. Vilgax pulls Wildvine out of the ground and tries to punch him. He transforms into Stinkfly, then transforms into Diamondhead. Ben throws crystals in Vilgax's eyes and manages to knock him off of the cliff using Overflow.
Max and Gwen arrives asking if Ben is okay, but Vilgax soon jumps back up, congratulating Ben on knocking him off balance. Vilgax tells Ben to surrender, but Ben transforms into Four Arms and punches him. Vilgax catches the punch and throws him very far. Ben transforms from Four Arms, to XLR8, to Heatblast while flying back. He hits a mountain and rocks begin calling on him. Gwen reaches and yells out for Ben, but Max tells her to get down.
Vilgax checks to see if Ben is alive. He notices that he is crushed by a bunch of rocks, and calls him pitiful. He walks away, and gets in his ship and flies off.
Max, Gwen, and Phil check to see if Ben is okay. They move the rocks and notices Grey Matter, lying on the ground. The three are happy to see Ben is alive. Phil notices the cracked watch, and is surprised by it. Phil states that the watch has fused into an open state. He reads energy signatures from ten aliens, he no longer reads one for Ben Tennyson. Ben transforms from alien to alien, unable to revert back to Human.
Noteworthy Events
Major Events
Ben breaks his Omnitrix even further.
Vil makes his debut, before locking Gax in the Omnitrix and becoming Vilgax.
Ben learns about the Omnitrix's full name.
Minor Events
Vilgax reveals his and Gax's species to Ben.
Characters
Villains
Aliens Used
Quotes
| | | |
| --- | --- | --- |
| | Diamondhead: Stay calm Ben. There's no level of disaster you can't master. | |

Phil: These readings are off the charts.
Max: Never mind the readings, Phil. That's the way Ben went, we've got to go find him.
Phil': Wait a moment! There's something strange here. The data inside the watch that allows Ben to transform, a portion of it seems... fragmented -- incomplete. As if it's missing it's other half. I don't think that the watch has been sounding an alarm at all. I believe it may be a beacon.



| | | |
| --- | --- | --- |
| | Gax: Whoa, another alien?! Wha?! I Better not take any chances. | |

Vil: Now see what can be accomplished when such raw force is matched with precision and discipline?
Gax: Wow! I usually just go with the flow, but maybe there is something to this -- to having control.
Vil: Indeed. The True potential of this form is found only in a lifetime of the deliberate honing of one's raw strength. Which is why this power is rightfully mine!
Gax: (Screams)
Gwen: Ben!
Vil: Yes!
Ben: (Screams) (Grunts)
Vilgax: I'm Vilgax once more!




Grey Matter: It appears I am once again a solo act. I need a plan. I could elevate those elements and use their kinetic energy to offset the stability of -- I've got it!
Cannonbolt: I lost it. Have to do this the Cannonbolt way!



Cast
Naming and Translations
| Language | Name | Origin |
| --- | --- | --- |
| Portuguese (Br) | Omni-Engano, Parte 3 | Omni-Deception, Part 3 |
| Spanish (HA) | Omni-Truco, Parte 3 | Omni-Trick, Part 3 |
Trivia
When Vilgax removed Gax from the Omnitrix, the former "busted" the latter's DNA pod.[DR 1]
This is the first episode of the reboot to use all of Ben's aliens.
The device that Phil places on the Omnitrix resembles the Ultimatrix, specifically the four spikes on the chest badge of Ben's ultimate forms.
The device that Phil puts on the Omnitrix also seems to reference the Omnitrix FX toy.
References
Ben 10 Episodes
| | |
| --- | --- |
| Season 1 | Waterfilter • The Ring Leader • The Filth • Freaky Gwen Ben • Take 10 • Animo Farm • Clown College • Something I Ate • Rustbucket RIP • Ben 24hrs • Riding the Storm Out • The Clocktopus • Growing Pains • Shhh! • Brief Career of Lucky Girl • Adventures in Babysitting • Steam is the Word • Need for Speed • Cutting Corners • Don't Let the Bass Drop • Villain Time • Bright Lights, Black Hearts • Recipe for Disaster • All Wet • Story, Bored • Xingo • Drive You Crazy • Hole in 10 • The Beast Inside • Tomorrow Today • Forgeti • Scared Silly • Bad Penny • Max to the Max • Zombozo-Land • Don't Laze Me, Bro • Omni-Tricked: Part 1 • Omni-Tricked: Part 2 • Omni-Tricked: Part 3 • Omni-Tricked: Part 4 |
| Season 2 | Out to Launch • Can I Keep It? • Battle at Biggie Box • Bon Voyage • Mayhem in Mascot • Screamcatcher • Vote Zombozo • Animorphosis • The 11th Alien: Part 1 • The 11th Alien: Part 2 • High Stress Express • Creature Feature • Drone On • Safari Sa'Bad • The Nature of Things • Assault on Pancake Palace • Bomzobo Lives • The Sound and the Furry • King Koil • Reststop Roustabout • That's The Stuff • Half-Sies • Xingo's Back • Bounty Ball • Fear The Fogg • The Charm Offensive • Super-Villain Team-Up • The Feels • Chicken Nuggets of Wisdom • Past Aliens Present • Double Hex • Ye Olde Laser Duel • All Koiled Up • Ben Again and Again • Dreamtime • Innervasion Part 1: Message in a Boxcar • Innervasion Part 2: Call the Dream Police • Innervasion Part 3: Strange Bedfellows • Innervasion Part 4: Mind Over Alien Matter • Innervasion Part 5: High Override |
| Season 3 | Omni-Copped • This One Goes to 11 • Moor Fogg • Rath of Con • King of the Castle • Speechless on the Seine • Poles Apart • Show Don't Tell • Don't Touch • Big in Japan • Welcome to Zombozo-Zone! • Bridge Out • Cyber Slammers • Big Ben 10 • Beach Heads • LaGrange Muraille • Charm School's Out • Billy Bajillions • Franken-Fight • Buggin' the Buggs • Which Watch • Baby Buktu • Them's Fightin' Words! • Lickety Split • Mutiny for the Bounty • The Chupaca-bro • Buggy Out • Introducing Kevin 11 • Four by Four • Cirque-Us • Forever Road • The Bentathlon • Beware the Scare-Crow • And Xingo Was His Name-O • The Night Ben Tennyson Came to Town • The Claws of the Cat • Prey or Play • Fear in the Family • Roundabout: Part 1 • Roundabout: Part 2 |
| Season 3 Extra | Xingo Nation • Heads of the Family • My Bodyguard • Wheels of Fortune • Heat of the Moment • Vin Diagram • A Sticky Situation • What Rhymes with Omnitrix? • You Remind Me of Someone • Adrenaland Jr. • Steam Fight at the OK Corral • I Don't Like You |
| Season 4 | Summer Breakers • Gentle Ben • Funhouse • The Monsters in Your Head • Tokyo Fun, Part 1: Big Bugg Bash • Tokyo Fun, Part 2: Slamming It Up • Queen of Bees • Falls, Falls, Falls • The Greatest Lake • Mud on the Run • Chicken In Chichen Itza, Part 1: Pyramid Scheme • Chicken In Chichen Itza, Part 2: The Wages of Fear • It's Story Time • Cosplay Day • Tales from the Omnitrix • Bottomless Ben • Ben in Rome, Part 1: A Slice of Life • Ben in Rome, Part 2: The Bee's Knees • Party Poopers • Wind Some, Lose Some • Digital Quality • Tim Buk-tv • Growing Up Is Hard to Do • The Hex Factor • Sweet Tooth • Medieval Upheaval • Speed of Sound • Xingo's World • Tummy Ache • Players of the Lost Park • De-Fanged • Mock 10 • Rekoil • Buktu The Future |
| Season 4 Movie | Ben 10 Versus the Universe: The Movie |
| Season 5 Specials | Ben 10,010 • Ben Gen 10 • Alien X-Tinction |
| Specials | Crossover Nexus |
| | |
| --- | --- |
| Season 1 | The Filth • Waterfilter• The Ring Leader • Riding the Storm Out • The Clocktopus • Take 10 • Growing Pains • Shhh! • Brief Career of Lucky Girl • Animo Farm • Clown College • Adventures in Babysitting • Something I Ate • Steam is the Word • The Beast Inside • All Wet • Villain Time • Drive You Crazy • Tomorrow Today • Story, Bored • Hole in 10 • Recipe for Disaster • Rustbucket RIP • Freaky Gwen Ben • Ben 24hrs • Bright Lights, Black Hearts • Don't Laze Me, Bro • Don't Let the Bass Drop • Bad Penny • Zombozo-Land • Forgeti • Max to the Max • Cutting Corners • Need for Speed • Xingo • Scared Silly • Omni-Tricked: Part 1 • Omni-Tricked: Part 2 • Omni-Tricked: Part 3 • Omni-Tricked: Part 4 |
| Season 2 | Out to Launch • Battle at Biggie Box • Bon Voyage • Mayhem in Mascot • Screamcatcher • Creature Feature • Bomzobo Lives • Animorphosis • Assault on Pancake Palace • High Stress Express • The 11th Alien: Part 1 • The 11th Alien: Part 2 • Half-Sies • Xingo's Back • Bounty Ball • Fear The Fogg • Super-Villain Team-Up • Can I Keep It? • Chicken Nuggets of Wisdom • All Koiled Up • King Koil • The Charm Offensive • Double Hex • Ye Olde Laser Duel • Ben Again and Again • Vote Zombozo • Drone On • Safari Sa'Bad • The Nature of Things • The Sound and the Furry • Reststop Roustabout • That's The Stuff • The Feels • Past Aliens Present • Dreamtime • Innervasion Part 1: Message in a Boxcar • Innervasion Part 2: Call the Dream Police • Innervasion Part 3: Strange Bedfellows • Innervasion Part 4: Mind Over Alien Matter • Innervasion Part 5: High Override |
| Season 3 | Omni-Copped • This One Goes to 11 • Rath of Con • Poles Apart • Show Don't Tell • Welcome to Zombozo-Zone! • Bridge Out • Beach Heads • Charm School's Out • Billy Bajillions • Franken-Fight • Buggin' the Buggs • Which Watch • Baby Buktu • Them's Fightin' Words! • Mutiny for the Bounty • The Chupaca-bro • Buggy Out • Introducing Kevin 11 • Four by Four • Moor Fogg • King of the Castle • Speechless on the Seine • Don't Touch • Big in Japan • Cyber Slammers • Big Ben 10 • LaGrange Muraille • Lickety Split • The Claws of the Cat • Roundabout: Part 1 • Roundabout: Part 2 • Cirque-Us • Forever Road • The Bentathlon • Prey or Play • Beware the Scare-Crow • The Night Ben Tennyson Came to Town • And Xingo Was His Name-O • Fear in the Family |
| Season 3 Extra | Xingo Nation • Heads of the Family • My Bodyguard • Wheels of Fortune • Heat of the Moment • Vin Diagram • A Sticky Situation • What Rhymes with Omnitrix? • You Remind Me of Someone • Adrenaland Jr. • Steam Fight at the OK Corral • I Don't Like You |
| Season 4 | Chicken In Chichen Itza, Part 1: Pyramid Scheme • Chicken In Chichen Itza, Part 2: The Wages of Fear • Ben in Rome, Part 1: A Slice of Life • Ben in Rome, Part 2: The Bee's Knees • Gentle Ben • Funhouse • Summer Breakers • The Monsters in Your Head • Queen of Bees • Falls, Falls, Falls • The Greatest Lake • Mud on the Run • It's Story Time • Cosplay Day • Bottomless Ben • Tales from the Omnitrix • Party Poopers • Wind Some, Lose Some • Digital Quality • Tim Buk-tv • Tokyo Fun, Part 1: Big Bugg Bash • Tokyo Fun, Part 2: Slamming It Up • Growing Up Is Hard to Do • The Hex Factor • Sweet Tooth • Medieval Upheaval • Speed of Sound • Xingo's World • Tummy Ache • Players of the Lost Park • De-Fanged • Mock 10 • Rekoil • Buktu The Future |
| Season 4 Movie | Ben 10 Versus the Universe: The Movie |
| Season 5 Specials | Ben 10,010 • Ben Gen 10 • Alien X-Tinction |
| Specials | Crossover Nexus |