House of the Dragon Trailer - The Loop
Play Sound
Omni-Tricked: Part 2 is the thirty-eighth episode of Ben 10.
Synopsis
As the Omnitrix is ​​still uncontrollable, Ben asks a mysterious friend of Max to repair it. But when three bounty hunters, SixSix, Kraab, and Tetrax land to recover the watch, Ben has to try and fight them despite his current predicament.
Plot
This Tennyson trio drives through the city. Gwen asks where they are going. Max tells her that his old buddy Phil was working at a construction site. In the back of the R.V., Ben transforms from Four Arms to Stinkfly to Cannonbolt, and back to human. Max hopes Phil can help with the watch malfunction, but then Ben transforms into Upgrade. Gwen tells Ben that this is serious, but Ben thinks it's cool, and he wants to do whatever he can while it last. Max tells him that there could be unexpected consequences. to the glitch, and he should sit tight. Ben transforms into XLR8 and runs off. He switches from different aliens, helping different people with problems.
Later on, Gwen pulls Ben inside the Rustbucket, telling him to calm down with his powers, until they figure out what's wrong with it. Ben disagrees while transforming into Cannonbolt, and think that watch doesn't need fixing, and it just needs for him to use it more. Ben rolls out helping a few firemen lift their firetruck, then he rolls up a ramp, midair he transforms into Gax again. He eventually he falls down and hits the ground. Max and Gwen arrives, and all three of them rush to the underground worksite. They pause hearing voices from beneath call for help. Max recognizes one of the voices, that being Phil. Gwen figures that the aftershocks from mount Megalodon caused a cave in. Ben as Gax jumps in and lasers through the rocks blocking the train. The crew members are frightened by the sighting of an alien. Ben quickly grabs them, and throws them up towards Gwen and Max. Max asks about Phil, who Ben hasn't saved yet. Gax turns around noticing Phil, asking what he did with his crew. Ben explains that he's not a monster, but then transforms into Stinkfly unexpectedly. Phil questions what he is, but rocks begin to fall, and Stinkfly pushes Phil to safety inside the train.
Phil thanks Ben for saving him. He questions if he heard Max up above ground. Ben tells him that he's up there with his work crew, but the watch starts beeping again, reverting Ben back to human. Phil studies the watch, amazed by its power. Phil asks Ben many questions about the watch, but Ben stops him telling him that they should probably get out of there. The watch transforms Ben into Four Arms, and amazes Phil. They enter the trains control room. Ben removes the giant rock so Phil can fix the trains controls. Phil continues asking questions, until Ben tells him to focus. Phil manages to activate the controls and get the train running, and right after, Ben transforms into Grey Matter. He tells Phil that Max thought he could repair the watch, right after he reverts back to human. The two hear a loud bumping noise. The top of the train is ripped off by Kraab and SixSix. Ben questions who they are they, and what are they. Right behind them, Tetrax lands in. Phil tells Ben to hit his watch before getting thrown, and locked into a room. Ben tries to talk his way out of fighting, since the watch is timed out, but gets trapped in a net by SixSix. Phil yells out telling him that they're after the Omnitrix, but cuts himself off and calls it the watch. Ben randomly transforms into Overflow, and ends up flowing the room with water. Tetrax shoots open a door, causing the water to flood out, alongside the bounty hunters. The hunters recover and Ben gets ready to shoot them with water again, but switches to XLR8. Tetrax shoots Ben, but he dodges it and takes his weapon. Tetrax forms his arm into a spike wrecking ball, and attempts to hit XLR8. He manages to get very close to XLR8 very quickly. Ben asks how he's getting so close, but he tells him that he isn't too slow, while revealing XLR8's species to Ben. Ben asks what he called him, but Tetrax tells him what he is doesn't matter to them, but what he has, they want. Ben manages to make Tetrax's blaster shoot SixSix, sending him off the train. XLR8 takes his gun and shoots it. The laser reflects off walls and hits the train controls. Phil yells out telling Ben they have no breaks. Ben gets thrown into the door by Kraab. Phil tells Ben that they have problems with the console. Ben notices that there's light up ahead.
The Bounty hunters enters the room telling Ben to hand over the alien, but Ben is confused as to which, since he has 10 of them. Ben unexpectedly transforms into Wildvine. Once they exit the tunnel, the Bounty hunters leave. Ben thinks that their too scared to face off with Wildvine, but Phil tells him that wasn't it, they were running away from the cliff up ahead. Max and Gwen arrives in the Rustbucket, telling the two to jump. Ben doesn't believe he can make it across, and he needs a more powerful alien. Phil tells him that he has all of the power he needs. Wildvine manages to swing them across, and they both land safely on the grass.
Later on, Max states that the bounty hunters are gone now, so things are good. However Ben thinks he failed because they got away, but Gwen tells him that he won, he saved all of the workers, and Phil thanks Ben for saving him. Max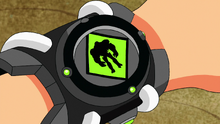 asks Phil if he has any idea about Ben's watch, and why the hunters were after it. Phil tells him that they weren't after the watch, but something in it. Ben questions what they might want, he turns the dial on the watch, and notices that they were after Gax.
Noteworthy Events
Major Events
Character Debuts
Characters
Villains
Aliens Used
Quotes

Tetrax: SixSix may be susceptible to your speed, but you'll not find Tetrax so slow, Kineceleran.
XLR8: Who are you calling Kenny... Celery Man?




Max: Well, whoever they were, they're gone now.
Ben: So I failed. Those alien guys got away.
Gwen: No, you won. You saved all those workers.
Phil: And you saved me. Forever grateful.
Max: I second that. And while I hate to be short on the niceties, any thought on Ben's buggy watch or why they were after it?
Phil: They didn't want the device, they wanted something in the device.
Ben: In it? But what? (Gasps) Gax!



Naming and Translations
| Language | Name | Origin |
| --- | --- | --- |
| Spanish (HA) | Omni-Truco, Parte 2 | Omni-Trick, Part 2 |
Cast
Trivia
Tetrax reveals XLR8's species to Ben.
Ben 10 Episodes
| | |
| --- | --- |
| Season 1 | Waterfilter • The Ring Leader • The Filth • Freaky Gwen Ben • Take 10 • Animo Farm • Clown College • Something I Ate • Rustbucket RIP • Ben 24hrs • Riding the Storm Out • The Clocktopus • Growing Pains • Shhh! • Brief Career of Lucky Girl • Adventures in Babysitting • Steam is the Word • Need for Speed • Cutting Corners • Don't Let the Bass Drop • Villain Time • Bright Lights, Black Hearts • Recipe for Disaster • All Wet • Story, Bored • Xingo • Drive You Crazy • Hole in 10 • The Beast Inside • Tomorrow Today • Forgeti • Scared Silly • Bad Penny • Max to the Max • Zombozo-Land • Don't Laze Me, Bro • Omni-Tricked: Part 1 • Omni-Tricked: Part 2 • Omni-Tricked: Part 3 • Omni-Tricked: Part 4 |
| Season 2 | Out to Launch • Can I Keep It? • Battle at Biggie Box • Bon Voyage • Mayhem in Mascot • Screamcatcher • Vote Zombozo • Animorphosis • The 11th Alien: Part 1 • The 11th Alien: Part 2 • High Stress Express • Creature Feature • Drone On • Safari Sa'Bad • The Nature of Things • Assault on Pancake Palace • Bomzobo Lives • The Sound and the Furry • King Koil • Reststop Roustabout • That's The Stuff • Half-Sies • Xingo's Back • Bounty Ball • Fear The Fogg • The Charm Offensive • Super-Villain Team-Up • The Feels • Chicken Nuggets of Wisdom • Past Aliens Present • Double Hex • Ye Olde Laser Duel • All Koiled Up • Ben Again and Again • Dreamtime • Innervasion Part 1: Message in a Boxcar • Innervasion Part 2: Call the Dream Police • Innervasion Part 3: Strange Bedfellows • Innervasion Part 4: Mind Over Alien Matter • Innervasion Part 5: High Override |
| Season 3 | Omni-Copped • This One Goes to 11 • Moor Fogg • Rath of Con • King of the Castle • Speechless on the Seine • Poles Apart • Show Don't Tell • Don't Touch • Big in Japan • Welcome to Zombozo-Zone! • Bridge Out • Cyber Slammers • Big Ben 10 • Beach Heads • LaGrange Muraille • Charm School's Out • Billy Bajillions • Franken-Fight • Buggin' the Buggs • Which Watch • Baby Buktu • Them's Fightin' Words! • Lickety Split • Mutiny for the Bounty • The Chupaca-bro • Buggy Out • Introducing Kevin 11 • Four by Four • Cirque-Us • Forever Road • The Bentathlon • Beware the Scare-Crow • And Xingo Was His Name-O • The Night Ben Tennyson Came to Town • The Claws of the Cat • Prey or Play • Fear in the Family • Roundabout: Part 1 • Roundabout: Part 2 |
| Season 3 Extra | Xingo Nation • Heads of the Family • My Bodyguard • Wheels of Fortune • Heat of the Moment • Vin Diagram • A Sticky Situation • What Rhymes with Omnitrix? • You Remind Me of Someone • Adrenaland Jr. • Steam Fight at the OK Corral • I Don't Like You |
| Season 4 | Summer Breakers • Gentle Ben • Funhouse • The Monsters in Your Head • Tokyo Fun, Part 1: Big Bugg Bash • Tokyo Fun, Part 2: Slamming It Up • Queen of Bees • Falls, Falls, Falls • The Greatest Lake • Mud on the Run • Chicken In Chichen Itza, Part 1: Pyramid Scheme • Chicken In Chichen Itza, Part 2: The Wages of Fear • It's Story Time • Cosplay Day • Tales from the Omnitrix • Bottomless Ben • Ben in Rome, Part 1: A Slice of Life • Ben in Rome, Part 2: The Bee's Knees • Party Poopers • Wind Some, Lose Some • Digital Quality • Tim Buk-tv • Growing Up Is Hard to Do • The Hex Factor • Sweet Tooth • Medieval Upheaval • Speed of Sound • Xingo's World • Tummy Ache • Players of the Lost Park • De-Fanged • Mock 10 • Rekoil • Buktu The Future |
| Season 4 Movie | Ben 10 Versus the Universe: The Movie |
| Season 5 Specials | Ben 10,010 • Ben Gen 10 • Alien X-Tinction |
| Specials | Crossover Nexus |
| | |
| --- | --- |
| Season 1 | The Filth • Waterfilter• The Ring Leader • Riding the Storm Out • The Clocktopus • Take 10 • Growing Pains • Shhh! • Brief Career of Lucky Girl • Animo Farm • Clown College • Adventures in Babysitting • Something I Ate • Steam is the Word • The Beast Inside • All Wet • Villain Time • Drive You Crazy • Tomorrow Today • Story, Bored • Hole in 10 • Recipe for Disaster • Rustbucket RIP • Freaky Gwen Ben • Ben 24hrs • Bright Lights, Black Hearts • Don't Laze Me, Bro • Don't Let the Bass Drop • Bad Penny • Zombozo-Land • Forgeti • Max to the Max • Cutting Corners • Need for Speed • Xingo • Scared Silly • Omni-Tricked: Part 1 • Omni-Tricked: Part 2 • Omni-Tricked: Part 3 • Omni-Tricked: Part 4 |
| Season 2 | Out to Launch • Battle at Biggie Box • Bon Voyage • Mayhem in Mascot • Screamcatcher • Creature Feature • Bomzobo Lives • Animorphosis • Assault on Pancake Palace • High Stress Express • The 11th Alien: Part 1 • The 11th Alien: Part 2 • Half-Sies • Xingo's Back • Bounty Ball • Fear The Fogg • Super-Villain Team-Up • Can I Keep It? • Chicken Nuggets of Wisdom • All Koiled Up • King Koil • The Charm Offensive • Double Hex • Ye Olde Laser Duel • Ben Again and Again • Vote Zombozo • Drone On • Safari Sa'Bad • The Nature of Things • The Sound and the Furry • Reststop Roustabout • That's The Stuff • The Feels • Past Aliens Present • Dreamtime • Innervasion Part 1: Message in a Boxcar • Innervasion Part 2: Call the Dream Police • Innervasion Part 3: Strange Bedfellows • Innervasion Part 4: Mind Over Alien Matter • Innervasion Part 5: High Override |
| Season 3 | Omni-Copped • This One Goes to 11 • Rath of Con • Poles Apart • Show Don't Tell • Welcome to Zombozo-Zone! • Bridge Out • Beach Heads • Charm School's Out • Billy Bajillions • Franken-Fight • Buggin' the Buggs • Which Watch • Baby Buktu • Them's Fightin' Words! • Mutiny for the Bounty • The Chupaca-bro • Buggy Out • Introducing Kevin 11 • Four by Four • Moor Fogg • King of the Castle • Speechless on the Seine • Don't Touch • Big in Japan • Cyber Slammers • Big Ben 10 • LaGrange Muraille • Lickety Split • The Claws of the Cat • Roundabout: Part 1 • Roundabout: Part 2 • Cirque-Us • Forever Road • The Bentathlon • Prey or Play • Beware the Scare-Crow • The Night Ben Tennyson Came to Town • And Xingo Was His Name-O • Fear in the Family |
| Season 3 Extra | Xingo Nation • Heads of the Family • My Bodyguard • Wheels of Fortune • Heat of the Moment • Vin Diagram • A Sticky Situation • What Rhymes with Omnitrix? • You Remind Me of Someone • Adrenaland Jr. • Steam Fight at the OK Corral • I Don't Like You |
| Season 4 | Chicken In Chichen Itza, Part 1: Pyramid Scheme • Chicken In Chichen Itza, Part 2: The Wages of Fear • Ben in Rome, Part 1: A Slice of Life • Ben in Rome, Part 2: The Bee's Knees • Gentle Ben • Funhouse • Summer Breakers • The Monsters in Your Head • Queen of Bees • Falls, Falls, Falls • The Greatest Lake • Mud on the Run • It's Story Time • Cosplay Day • Bottomless Ben • Tales from the Omnitrix • Party Poopers • Wind Some, Lose Some • Digital Quality • Tim Buk-tv • Tokyo Fun, Part 1: Big Bugg Bash • Tokyo Fun, Part 2: Slamming It Up • Growing Up Is Hard to Do • The Hex Factor • Sweet Tooth • Medieval Upheaval • Speed of Sound • Xingo's World • Tummy Ache • Players of the Lost Park • De-Fanged • Mock 10 • Rekoil • Buktu The Future |
| Season 4 Movie | Ben 10 Versus the Universe: The Movie |
| Season 5 Specials | Ben 10,010 • Ben Gen 10 • Alien X-Tinction |
| Specials | Crossover Nexus |