House of the Dragon Trailer - The Loop
Play Sound
Omni-Tricked: Part 1 is the thirty-seventh episode of Ben 10.
Synopsis
Ben's trip to Portland with his family is interrupted by the arrival of a brand new, eleventh alien, Gax, as he fights another one of Dr. Animo's monsters. But when the Omnitrix starts behaving strangely, Ben begins to transform from one alien to another without being able to stop.
Plot
Cannonbolt fights off one of Dr. Animo's mutations. Cannonbolt tries to escape it, but he gets caught. The Terramite throws him around the place. He manages to knock it over, but the Terramite gets back up, and hits him with a tree. Cannonbolt goes flying across the forest, hitting the Rustbucket. All of a sudden he starts beeping. The Terramite comes by and hits Cannonbolt while he's distracted by the constant beeping. Cannonbolt begins to chase after the creature, but he times out. Gwen looks out the window telling Ben to hurry up and get inside the Rustbucket.
Ben complains saying he hates when the bad guys get away. Max tells him that he did the best that he could, and that's what anyone could ask for. Gwen asks Ben if he's ok, but Ben complains that he doesn't have enough power. The watch begins beeping again. Eventually the Rustbucket begins shaking. They all exit the vehicle, looking up at Mount Megaladon. Gwen tells them that Mount Megaladon is a dormant volcano, and it's been inactive for years. Dr. Animo show's up in his drone, telling the Tennyson trio that it's about to take itself off the inactive list. Animo tells them that he plans for his creature to reactive the volcano, and for the city of Portland to pay him to stop it, or they get to drown in burning lava.
Gwen asks Ben to dial up Overflow. As Ben searches for Overflow, he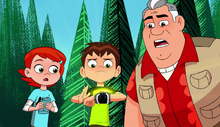 notices an alien he's never seen before. Ben questions what alien it is. Max suggest that it might have something to do with the alarm, some kind of warning. Ben activates the alien. After Ben transforms, Gwen asks Ben what he will call this alien. Words whisper in Ben's head, giving him the name Gax. Max tells Ben that he has to stop that creature. Gax eventually makes it up the mountain. On the way he discovers some of his abilities. Gax fights the Terramite, on top of the volcano. Lava starts shooting out while they fight. Gax uses the Terramite's body to plug up some of the holes in the volcano. Gax is thrown off of the Mountain, but he soon catches himself, discovering his new ability, laser eyes. Animo's drone shows up, telling Ben that he has doomed the city, by making the volcano worse.
Back on the ground, Max asks Gwen, who's looking though binoculars, how is Ben doing. She says Ben is doing fine, but the mountain isn't. Gax shoves a giant rock into the volcano, thinking everything is ok. Gwen alerts Max that the Terrimate is about to attack Ben, Max takes Gwen inside the Rustbucket, ready to take off and help. Right before Gax tries to finish the Terramite off, Ben times out. Ben tries to escape, but he has nowhere to run.
Animo tells his creature to destroy Ben, but right before the Terramite attempts to smash Ben, Max drove straight into it, knocking it off of the mountain. Gwen tells Ben he should use another alien, but Ben transforms into Gax anyway. Gax walks off thinking nothing can go wrong, all until the Terramite jumps out and attacks him. Gax throws the creature in the volcano, making things worse. Max drives them to safety, while Gwen tells Ben to get away from the volcano, otherwise he's making things worse. That give Gax the idea that making things worse is exactly what they need. Gax throws the Terramite into the volcano, causing a rockslide. Ben picks up the Rustbucket, and takes it to safety. Animo comes in telling Ben that he hasn't won. Ben shows Animo his victory, and kicks him into the sky.
Later on, Ben is still Gax, carving his name into a rock.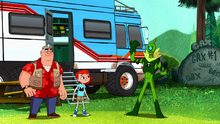 Gwen mentions that it's a little weird that Ben hasn't timed out yet, but Ben thinks it's awesome.
Max brings food out and Gax begins to eat some, but the watch begins beeping again, transforming into Wildvine. Gwen asks shouldn't he be back to Ben now, but Ben likes his transformation into Wildvine. Ben transforms again, transforming him into Grey Matter, then he transforms into Cannonbolt. Max asks if he can stop it, but Ben states that he loves it.
Noteworthy Events
Major Events
Ben unlocks his eleventh alien, Gax.
Ben prevents Mount Megaladon from erupting.
Omnitrix Alien Debut
Characters
Villains
Aliens Used
Quotes

Grandpa Max: "Kids, foods ready. I guess we'll find out whatever Gax is, likes hamburgers, (chuckles). (Ben grabs all three hamburgers with his tentacles). WHOA?! Nice to see you got over your tentacle-phobia"
Gax: "Not hard when their attached to (Eats three hamburgers and assemble his tentacles to a arm) the most cool and powerful alien in the whole universe! HAIL TO THE GAX!!"



Naming and Translations
| Language | Name | Origin |
| --- | --- | --- |
| Spanish (HA) | Omni-Truco, Parte 1 | Omni-Trick, Part 1 |
Allusions
The note of chores Max left Ben in The Filth is seen.
Gax's transformation sequence is a reference to Over Justice's gun morphing in Space Patrol Luluco.[ALM 1]
Cast
Trivia
This episode was aired in the U.K. on May 27th, 2017.
This episode was released on the Cartoon Network app, prior to the full movie event airdate.
This is the Tennyson trio's second time visiting Portland.
Gax was unlocked because Vilgax, who knows how the Omnitrix works, used his DNA as an inside man to activate Gax's DNA pod.[DR 1]
Footage from this episode was later shown in Ben 10 Versus the Universe: The Movie, while Ben is on trial against the Grand Magistrate.
References
Crew Statements
André LaMilza
Kelly Turnbull
Ben 10 Episodes
| | |
| --- | --- |
| Season 1 | Waterfilter • The Ring Leader • The Filth • Freaky Gwen Ben • Take 10 • Animo Farm • Clown College • Something I Ate • Rustbucket RIP • Ben 24hrs • Riding the Storm Out • The Clocktopus • Growing Pains • Shhh! • Brief Career of Lucky Girl • Adventures in Babysitting • Steam is the Word • Need for Speed • Cutting Corners • Don't Let the Bass Drop • Villain Time • Bright Lights, Black Hearts • Recipe for Disaster • All Wet • Story, Bored • Xingo • Drive You Crazy • Hole in 10 • The Beast Inside • Tomorrow Today • Forgeti • Scared Silly • Bad Penny • Max to the Max • Zombozo-Land • Don't Laze Me, Bro • Omni-Tricked: Part 1 • Omni-Tricked: Part 2 • Omni-Tricked: Part 3 • Omni-Tricked: Part 4 |
| Season 2 | Out to Launch • Can I Keep It? • Battle at Biggie Box • Bon Voyage • Mayhem in Mascot • Screamcatcher • Vote Zombozo • Animorphosis • The 11th Alien: Part 1 • The 11th Alien: Part 2 • High Stress Express • Creature Feature • Drone On • Safari Sa'Bad • The Nature of Things • Assault on Pancake Palace • Bomzobo Lives • The Sound and the Furry • King Koil • Reststop Roustabout • That's The Stuff • Half-Sies • Xingo's Back • Bounty Ball • Fear The Fogg • The Charm Offensive • Super-Villain Team-Up • The Feels • Chicken Nuggets of Wisdom • Past Aliens Present • Double Hex • Ye Olde Laser Duel • All Koiled Up • Ben Again and Again • Dreamtime • Innervasion Part 1: Message in a Boxcar • Innervasion Part 2: Call the Dream Police • Innervasion Part 3: Strange Bedfellows • Innervasion Part 4: Mind Over Alien Matter • Innervasion Part 5: High Override |
| Season 3 | Omni-Copped • This One Goes to 11 • Moor Fogg • Rath of Con • King of the Castle • Speechless on the Seine • Poles Apart • Show Don't Tell • Don't Touch • Big in Japan • Welcome to Zombozo-Zone! • Bridge Out • Cyber Slammers • Big Ben 10 • Beach Heads • LaGrange Muraille • Charm School's Out • Billy Bajillions • Franken-Fight • Buggin' the Buggs • Which Watch • Baby Buktu • Them's Fightin' Words! • Lickety Split • Mutiny for the Bounty • The Chupaca-bro • Buggy Out • Introducing Kevin 11 • Four by Four • Cirque-Us • Forever Road • The Bentathlon • Beware the Scare-Crow • And Xingo Was His Name-O • The Night Ben Tennyson Came to Town • The Claws of the Cat • Prey or Play • Fear in the Family • Roundabout: Part 1 • Roundabout: Part 2 |
| Season 3 Extra | Xingo Nation • Heads of the Family • My Bodyguard • Wheels of Fortune • Heat of the Moment • Vin Diagram • A Sticky Situation • What Rhymes with Omnitrix? • You Remind Me of Someone • Adrenaland Jr. • Steam Fight at the OK Corral • I Don't Like You |
| Season 4 | Summer Breakers • Gentle Ben • Funhouse • The Monsters in Your Head • Tokyo Fun, Part 1: Big Bugg Bash • Tokyo Fun, Part 2: Slamming It Up • Queen of Bees • Falls, Falls, Falls • The Greatest Lake • Mud on the Run • Chicken In Chichen Itza, Part 1: Pyramid Scheme • Chicken In Chichen Itza, Part 2: The Wages of Fear • It's Story Time • Cosplay Day • Tales from the Omnitrix • Bottomless Ben • Ben in Rome, Part 1: A Slice of Life • Ben in Rome, Part 2: The Bee's Knees • Party Poopers • Wind Some, Lose Some • Digital Quality • Tim Buk-tv • Growing Up Is Hard to Do • The Hex Factor • Sweet Tooth • Medieval Upheaval • Speed of Sound • Xingo's World • Tummy Ache • Players of the Lost Park • De-Fanged • Mock 10 • Rekoil • Buktu The Future |
| Season 4 Movie | Ben 10 Versus the Universe: The Movie |
| Season 5 Specials | Ben 10,010 • Ben Gen 10 • Alien X-Tinction |
| Specials | Crossover Nexus |
| | |
| --- | --- |
| Season 1 | The Filth • Waterfilter• The Ring Leader • Riding the Storm Out • The Clocktopus • Take 10 • Growing Pains • Shhh! • Brief Career of Lucky Girl • Animo Farm • Clown College • Adventures in Babysitting • Something I Ate • Steam is the Word • The Beast Inside • All Wet • Villain Time • Drive You Crazy • Tomorrow Today • Story, Bored • Hole in 10 • Recipe for Disaster • Rustbucket RIP • Freaky Gwen Ben • Ben 24hrs • Bright Lights, Black Hearts • Don't Laze Me, Bro • Don't Let the Bass Drop • Bad Penny • Zombozo-Land • Forgeti • Max to the Max • Cutting Corners • Need for Speed • Xingo • Scared Silly • Omni-Tricked: Part 1 • Omni-Tricked: Part 2 • Omni-Tricked: Part 3 • Omni-Tricked: Part 4 |
| Season 2 | Out to Launch • Battle at Biggie Box • Bon Voyage • Mayhem in Mascot • Screamcatcher • Creature Feature • Bomzobo Lives • Animorphosis • Assault on Pancake Palace • High Stress Express • The 11th Alien: Part 1 • The 11th Alien: Part 2 • Half-Sies • Xingo's Back • Bounty Ball • Fear The Fogg • Super-Villain Team-Up • Can I Keep It? • Chicken Nuggets of Wisdom • All Koiled Up • King Koil • The Charm Offensive • Double Hex • Ye Olde Laser Duel • Ben Again and Again • Vote Zombozo • Drone On • Safari Sa'Bad • The Nature of Things • The Sound and the Furry • Reststop Roustabout • That's The Stuff • The Feels • Past Aliens Present • Dreamtime • Innervasion Part 1: Message in a Boxcar • Innervasion Part 2: Call the Dream Police • Innervasion Part 3: Strange Bedfellows • Innervasion Part 4: Mind Over Alien Matter • Innervasion Part 5: High Override |
| Season 3 | Omni-Copped • This One Goes to 11 • Rath of Con • Poles Apart • Show Don't Tell • Welcome to Zombozo-Zone! • Bridge Out • Beach Heads • Charm School's Out • Billy Bajillions • Franken-Fight • Buggin' the Buggs • Which Watch • Baby Buktu • Them's Fightin' Words! • Mutiny for the Bounty • The Chupaca-bro • Buggy Out • Introducing Kevin 11 • Four by Four • Moor Fogg • King of the Castle • Speechless on the Seine • Don't Touch • Big in Japan • Cyber Slammers • Big Ben 10 • LaGrange Muraille • Lickety Split • The Claws of the Cat • Roundabout: Part 1 • Roundabout: Part 2 • Cirque-Us • Forever Road • The Bentathlon • Prey or Play • Beware the Scare-Crow • The Night Ben Tennyson Came to Town • And Xingo Was His Name-O • Fear in the Family |
| Season 3 Extra | Xingo Nation • Heads of the Family • My Bodyguard • Wheels of Fortune • Heat of the Moment • Vin Diagram • A Sticky Situation • What Rhymes with Omnitrix? • You Remind Me of Someone • Adrenaland Jr. • Steam Fight at the OK Corral • I Don't Like You |
| Season 4 | Chicken In Chichen Itza, Part 1: Pyramid Scheme • Chicken In Chichen Itza, Part 2: The Wages of Fear • Ben in Rome, Part 1: A Slice of Life • Ben in Rome, Part 2: The Bee's Knees • Gentle Ben • Funhouse • Summer Breakers • The Monsters in Your Head • Queen of Bees • Falls, Falls, Falls • The Greatest Lake • Mud on the Run • It's Story Time • Cosplay Day • Bottomless Ben • Tales from the Omnitrix • Party Poopers • Wind Some, Lose Some • Digital Quality • Tim Buk-tv • Tokyo Fun, Part 1: Big Bugg Bash • Tokyo Fun, Part 2: Slamming It Up • Growing Up Is Hard to Do • The Hex Factor • Sweet Tooth • Medieval Upheaval • Speed of Sound • Xingo's World • Tummy Ache • Players of the Lost Park • De-Fanged • Mock 10 • Rekoil • Buktu The Future |
| Season 4 Movie | Ben 10 Versus the Universe: The Movie |
| Season 5 Specials | Ben 10,010 • Ben Gen 10 • Alien X-Tinction |
| Specials | Crossover Nexus |