Spider-Man: No Way Home Trailer Dropped - The Loop
Play Sound
"
Now that the Omnitrix has been Omni-kicked, there's no bad guy that can stand a chance.
"

– Ben.[1]
Omni-Kix is a power-up that is used during Season 4 of Ben 10. It was unlocked by putting in a special key that Ben found in the pod in which the Omnitrix arrived, in order to one up his rival Kevin Levin. It was first activated in Summer Breakers.
Concept and Activation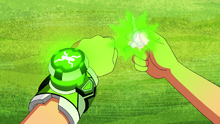 The Omni-Kix enhancements use high tech armor that amplifies the aliens' abilities. The Omni-Kix feature is part of a security protocol that is built in the Omnitrix.[DR 1]
To activate the Omni-Kix form, Ben transforms into an alien and then turns the Omnitrix symbol in a 90° degree angle, leaving it in a sideways position. The user is enveloped into a robotic version of the Omnitrix aliens.
Despite the enhanced power boosts, it also makes the Omnitrix time out faster, so it must be used sparingly.[2]
Omni-Kix Aliens
Trivia
Much like Forever Knight's helmet, the interior of the Omni-Kix armor is similar to those worn by Iron Man.
The Omnitrix symbols of the Omni-Kix aliens are rotated sideways, similar to Jetray from Ben 10 Franklin.

The coloring of the Omnitrix symbols bears a resemblance to the Classic Timeline Omnitrix symbols used since Alien Force. By extension, they also bear a resemblance to the design of the Plumber Badges seen in Alien Force and Ultimate Alien.

The Omni-Kix feature can work regardless of whether the Omni-Kix Key is inside the Omnitrix once the function is unlocked.
An Omni-Kix version of Grey Matter would resemble a big mech suit.[DR 2]
An Omni-Kix version of Overflow would possibly have armor matching the suits used by other Cascans on Cascareau.[DR 3]
None of the Omni-Kix aliens appeared during Season 5 because the episodes were written at a different time.[DR 4]
References