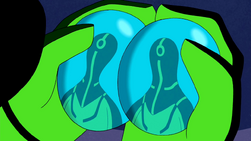 Occulents are orbs that act as the eyes of the Sentinels. They appeared in Eye of the Beholder.
History
In Eye of the Beholder, Baz-l attempted to steal all three occulents (and swallowed one of them) before being caught by the Churl. After Ship, Julie, Gwen, Kevin, and Ben had freed Baz-l and awakened the Sentinels, Julie was able to figure out that Baz-l had swallowed an occulent after the eyeless Sentinel only tried to attack him. After realizing this, she performed the Heimlich maneuver on him and gave the eyeless Sentinel its eye back.
Community content is available under
CC-BY-SA
unless otherwise noted.