Jurassic World: Dominion Dominates Fandom Wikis - The Loop
Play Sound
This article belongs to the

Classic Continuity
"
Some say might be a ball of lightning come alive. Others think it's static cling run amok. Tough to say.
It eats electricity. The more it gobbles, the more powerful it gets.
It's also got a dangerous sense of humor.
"
Nosedeenians,[2] commonly known as Megawatts or Megawhatts,[1][DR 1] are mischievous little creatures composed of electrical energy who have the physical form of anthropomorphic batteries. They come from the Nosideen Quasar.[pop-up 1][3]
Appearance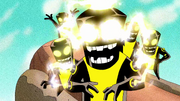 Nosedeenians are black and yellow, white, or green, with plus and minus symbols on their back (+ and -), similar to a battery. They have a large lightning bolt-shaped marking on their chest, with them standing at roughly a foot tall, with pointy legs, and three fingers on each hand.
Behavior
Nosedeenians exist to have "fun", which in their case is to cause trouble wherever they go. While they can cause a lot of damage, Nosedeenians do not seem to be evil, and in fact are not openly hostile to humans, merely lacking any self-control or sense of the danger they may be causing. In other words, they seem to be psychotic.
Nosedeenians will only attack if they are provoked.
The Nosedeenian language consists of a series of high-pitched squeaking and chirping noises. Still, they have proven to have at least some basic knowledge of English, as they wrote the (gramatically incorrect) sentence "U AM LAME" on the Rust Bucket, and seemed to understand Ben Tennyson's instructions as Buzzshock despite him not talking to them in their language.
Powers and Abilities
Nosedeenians have the ability to manipulate electricity, and can pass through any electrical source using a form of enhanced speed.[1][3]
Nosedeenians can control electricity and can inhabit electrical devices, controlling them from the inside, and in some cases powering them. However, they can also cause electrical technology to malfunction and fry when they passes through them. They can animate and possess electrical machines as a result.[1]
Nosedeenians have the capability to duplicate themselves when they are severed, more specifically when one is cut in half or has enough power.[1] However, they must first learn how and train themselves in order to do it.[MW 1]
Nosedeenians have enhanced agility, as shown when Buzzshock jumped over Phil when he attacked him and landed on both feet.[4]
Nosedeenians can electrify liquids, such as a Sphoeroid's slime, to attack enemies.[5]
Nosedeenians can use their powers to seamlessly fly, leaving an electric trail behind.[6][7]
Nosedeenians are surprisingly strong for their size, being able to lift a human at least by their underwear.[1]
Nosedeenians can emit a sonic scream capable of shattering glass.[1]
Weaknesses
A Nosedeenian's power can be taken away by fire, or when they are trapped in something made of a non-conductive material.[1]
Nosedeenians can be insulated with rubber-sheeted blankets.[2]
If a Nosedeenian runs out of energy, they will fall asleep.[2]
A Nosedeenian's energy can be absorbed by a species such as Conductoids.[2]
A Nosedeenian's small size can be a disadvantage against a bigger, stronger opponent like Phil.[4]
Notable Nosedeenians
Notable Nosedeenian Hybrids
Trivia
Rook is the first to refer to these aliens as "Nosedeenians". Prior to this, the Nosedeenians were known as "Megawatts".
As of A Jolt from the Past, Undertown is partly powered by a volunteer group of Nosedeenians who were freed from imprisonment by Ben and Rook.
There are some Nosedeenians in the web game Wrath of Psychobos and the Steam game Ben 10 Game Generator 5D, the latter of which features some blue Nosedeenians.
References
Pop-Ups