Nemuinas are a fairy-like species from Nemunimos IV.
Appearance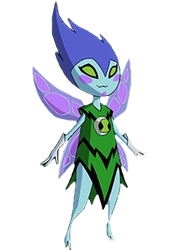 Nemuinas are a short, fairy-like species with blue skin. They have purple fairy-like wings and light purple hair that sticks straight up. They have two, three-fingered hands, their feet have two toes on them and their eyes are pink with feminine eyelashes. Nemuinas have pink markings on their cheeks and chins.
Nemuinas speak with a high trilling voice.
Female Nemuinas look similar to male Nemuinas.[DJW 1]
Powers and Abilities
Nemuinas can produce a dust from their fingers that makes those who inhale it go to sleep, and then they can induce a dream state in their sleeping victim. They will then be able to enter and manipulate those dreams. They can also change dreams into nightmares if they need to.
Nemuinas can fly and have enhanced speed and agility.
Weaknesses
A Nemuina's powers would not work against robotic enemies, as they cannot sleep or dream.
Nemuinas are weak to their natural predator.[DJW 2]
Notable Nemuinas
Notable Nemuina Hybrids
Etymology
The name "Nemuina" means "I feel sleepy" in Japanese.
Trivia
References
Crew Statements
Community content is available under
CC-BY-SA
unless otherwise noted.