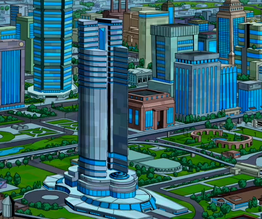 Nemesis Tower
is a tower owned by
Carl Nesmith
.
Ben 10: Ultimate AlienEdit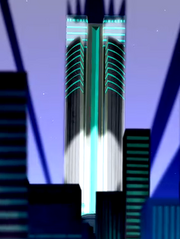 The tower first appears in
Hero Time
, when
Captain Nemesis
is having a party. This is the place where
Ben
fought against him as
Ultimate Humungousaur
and later
Water Hazard
.
The tower appears again in Double or Nothing, when Ben fights against Hugh, Swamps and Fridge.
The tower reappears in Catch a Falling Star, where Captain Nemesis and Jennifer Nocturne Nocturne go in search for a new armor.
Ben 10: OmniverseEdit
In Arrested Development, it was revealed that the Billions Tower was built next to this tower.
In For a Few Brains More, the tower was seen briefly.
Notable InhabitantsEdit
Notable VisitorsEdit
AppearancesEdit
Ben 10: Ultimate AlienEdit
Ben 10: OmniverseEdit