Spider-Man: No Way Home Trailer Dropped - The Loop
Play Sound
Need for Speed is the seveneenth episode of Ben 10.
Synopsis
Touring Yellowstone National Park, Ben uncovers a plot by LaGrange who wants to dig up an old treasure from below the national park.
Plot
The Tennysons arrive at Yellowstone National Park. Max points out that it's as beautiful as he remembers it. He acknowledges that Ben and Gwen aren't always excited about the places they visit, but Ben interrupts him says that they've been researching Yellowstone all morning. Ben states that people on the internet thinks there's treasure under there. Gwen states that theirs a super volcano under the park. The Tennysons arrive and Ben states he feels good about camping. Two women walk by talking about treasure and Ben follows them.
He arrives at a ranger station and spots LaGrange. LaGrange hears something and walks over towards Vin's car. Ben quickly transforms and hides behind his head as Grey Matter.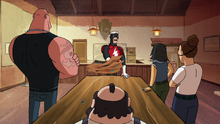 LaGrange walks into the ranger station and greets his opponents. He hands him a map and tells them how the race is going down. Grey Matter from outside hears about it, an gets excited. Gwen questions what Ben is doing, but Ben tells her to be quiet. Back inside the building, Vin questions how they know that there is treasure is even there. Mel asks who cares, and mocks Vin asking if he's afraid his car can't handle the dirt. Vin yells back at the two Malachi Sisters stating that real racing is in the streets. LaGrange interrupts asking them to save their energy for the race. Outside Gwen states that Ben was right, and their is treasure, and their going to race for it. Ben imagines him getting there first, and he could win the treasure. He imagines he creates Cybear. The illegal racers then walks out of the station, and Ben and Gwen runs and hides. As they drive off, Ben attempts to transform into XLR8, but instead he gets Diamondhead.
The Tennysons drive in the Rustbucket, with max questioning why Ben transformed into Diamondhead while they have to chance illegal racers. The Malachi Sisters starts hitting Dirty Dobs' vehicle. All of the racers, with the exception of LaGrange, eliminates each other. Vin's car flips over, and the rangers chases him down. Max drives through disgusted by the sights of the destroyed park. Ben states that they need to stop LaGrange and his goons. Max gets angered once he hears LaGrange's name, and he speeds up. LaGrange uses his car's missiles to take out Dirty Dob's car. Back in the Rustbucket, Ben transforms into Stinkfly. He takes out the cannons on the Malachi Sitters cars. And he defeats them. Stinkfly asks Max and Gwen to take care of the Malachi Sisters while he goes to handle LaGrange. LaGrange drives happy, but he notices Ben in the sky. LaGrange manages to escape, and Ben times out and falls in the mud.
LaGrange drives up to the cave, looking at his map. Ben arrives tired, and tells him the race isn't over. LaGrange disagrees and activates a button, releasing a miniature vehicle from his car. Ben transforms into Overflow, expecting something better. They both race through the caves. LaGrange throws explosives at LaGrange, and slows Ben down. Ben notices that their in a geyser, and questions who would hide a treasure there. LaGrange gloats, ready to win the treasure, Overflow bumps into him, which causes him to go flying into the geyser. LaGrange dangles off of the edge of some rocks. Overflow notices treasure, and gets distracted. He wishes to take it, but he sacrifices it to save LaGrange.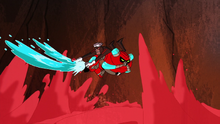 Overflow flies out of the geyser with LaGrange, and sets him down, for the rangers to get him. Gwen and Max congratulates Ben. Gwen questions if Ben got the treasure, but Ben states that being a hero and saving the day is enough. The treasure then lands in front of them, and excites Ben. However Max states that since the treasure was found on Federal property, it belongs to the government. The rangers state that they can put the money towards the conservation fund. Ben gets disappointed, that he didn't get the treasure. Max states that in a way, he found the real treasure - the beauty of Yellowstone Park. However Ben isn't impressed.
Major Events
Character Debuts
Characters
Villains
Aliens Used
Quotes

LaGrange: I'm glad to see you all made it -- the Malachi Sisters, Dirty Dobbs, Vin Ethanol.
Vin Ethanol: Yo.
LaGrange: Everyone take a map. It outlines the details of today's race course.
Vin: Yo, but this goes through miles of protected environmental habitats.
LaGrange: Of course it does. We will race through the Grand Prismatic Springs, through the geysers and across the mud pots, and finally, into an abandoned cavern...which happens to be the location of the legendary lost treasure of Yellowstone.




LaGrange: Just one more jump and the treasure will be mine! I am the ultimate racing champion!
Overflow: Hey, you're Italian, right? How do you say "you're slow" in Italian?
LaGrange: Je suis Franais!



Naming and Translations
| Language | Name | Origin |
| --- | --- | --- |
| German | Rostbeulen-Drift | Rustbucket Drift |
Cast
Trivia
This episode aired as the 36th episode in U.S.
The title is a reference to the video game series of the same name.
Ben 10 Episodes
| | |
| --- | --- |
| Season 1 | Waterfilter • The Filth • Clown College • The Ring Leader • Take 10 • Ben 24hrs • Freaky Gwen Ben • Rustbucket RIP • The Clocktopus • Growing Pains • Villain Time • Something I Ate • Don't Let the Bass Drop • Cutting Corners • Animo Farm • Riding the Storm Out • Need for Speed • Brief Career of Lucky Girl • Forgeti • Shhh! • Bright Lights, Black Hearts • Adventures in Babysitting • Steam is the Word • Recipe for Disaster • All Wet • Story, Bored • Xingo • Drive You Crazy • Scared Silly • Hole in 10 • The Beast Inside • Tomorrow Today • Bad Penny • Max to the Max • Zombozo-Land • Don't Laze Me, Bro • Omni-Tricked: Part 1 • Omni-Tricked: Part 2 • Omni-Tricked: Part 3 • Omni-Tricked: Part 4 |
| Season 2 | Out to Launch • Can I Keep It? • Battle at Biggie Box • Bon Voyage • The 11th Alien: Part 1 • The 11th Alien: Part 2 • Mayhem in Mascot • Screamcatcher • Vote Zombozo • Animorphosis • High Stress Express • Creature Feature • Drone On • Safari Sa'Bad • The Nature of Things • Assault on Pancake Palace • Bomzobo Lives • The Sound and the Furry • King Koil • Reststop Roustabout • That's The Stuff • Half-Sies • Xingo's Back • Bounty Ball • Fear The Fogg • The Charm Offensive • Super-Villain Team-Up • The Feels • Chicken Nuggets of Wisdom • Past Aliens Present • Double Hex • Ye Olde Laser Duel • Ben Again and Again • All Koiled Up • Dreamtime • Innervasion Part 1: Message in a Boxcar • Innervasion Part 2: Call the Dream Police • Innervasion Part 3: Strange Bedfellows • Innervasion Part 4: Mind Over Alien Matter • Innervasion Part 5: High Override |
| Season 3 | Omni-Copped • This One Goes to 11 • Moor Fogg • Rath of Con • King of the Castle • Speechless on the Seine • Poles Apart • Show Don't Tell • Don't Touch • Big in Japan • Welcome to Zombozo-Zone! • Bridge Out • Cyber Slammers • Big Ben 10 • Beach Heads • LaGrange Muraille • Charm School's Out • Billy Bajillions • Franken-Fight • Buggin' the Buggs • Which Watch • Baby Buktu • Them's Fightin' Words! • Lickety Split • Mutiny for the Bounty • The Chupaca-bro • Buggy Out • Introducing Kevin 11 • Four by Four • Cirque-Us • Forever Road • The Bentathlon • Beware the Scare-Crow • The Night Ben Tennyson Came to Town • The Claws of the Cat • Prey or Play • And Xingo Was His Name-O • Fear in the Family • Roundabout: Part 1 • Roundabout: Part 2 |
| Season 3 Extra | Xingo Nation • Heads of the Family • My Bodyguard • Wheels of Fortune • Heat of the Moment • Vin Diagram • A Sticky Situation • What Rhymes with Omnitrix? • You Remind Me of Someone • Adrenaland Jr. • Steam Fight at the OK Corral • I Don't Like You |
| Season 4 | Gentle Ben • Funhouse • Summer Breakers • The Monsters in Your Head • Tokyo Fun, Part 1: Big Bugg Bash • Tokyo Fun, Part 2: Slamming It Up • Queen of Bees • Falls, Falls, Falls • The Greatest Lake • Mud on the Run • Chicken In Chichen Itza, Part 1: Pyramid Scheme • Chicken In Chichen Itza, Part 2: The Wages of Fear • It's Story Time • Cosplay Day • Bottomless Ben • Tales from the Omnitrix • Ben in Rome, Part 1: A Slice of Life • Ben in Rome, Part 2: The Bee's Knees • Party Poopers • Wind Some, Lose Some • Digital Quality • Tim Buk-tv • Growing Up Is Hard to Do • The Hex Factor • Sweet Tooth • Medieval Upheaval • Speed of Sound • Xingo's World • Tummy Ache • Players of the Lost Park • De-Fanged • Mock 10 • Rekoil • Buktu The Future |
| Season 4 Movie | Ben 10 Versus the Universe: The Movie |
| Season 5 Specials | Ben 10,010 • Ben Gen 10 • Alien X-Tinction |
| Specials | Crossover Nexus |
| | |
| --- | --- |
| Season 1 | The Filth • Waterfilter• The Ring Leader • Riding the Storm Out • The Clocktopus • Take 10 • Growing Pains • Shhh! • Brief Career of Lucky Girl • Animo Farm • Clown College • Adventures in Babysitting • Something I Ate • Steam is the Word • The Beast Inside • All Wet • Villain Time • Drive You Crazy • Tomorrow Today • Story, Bored • Hole in 10 • Recipe for Disaster • Rustbucket RIP • Freaky Gwen Ben • Ben 24hrs • Bright Lights, Black Hearts • Don't Laze Me, Bro • Don't Let the Bass Drop • Bad Penny • Zombozo-Land • Forgeti • Max to the Max • Cutting Corners • Need for Speed • Xingo • Scared Silly • Omni-Tricked: Part 1 • Omni-Tricked: Part 2 • Omni-Tricked: Part 3 • Omni-Tricked: Part 4 |
| Season 2 | Out to Launch • Battle at Biggie Box • Bon Voyage • Mayhem in Mascot • Screamcatcher • Creature Feature • Bomzobo Lives • Animorphosis • Assault on Pancake Palace • High Stress Express • The 11th Alien: Part 1 • The 11th Alien: Part 2 • Half-Sies • Xingo's Back • Bounty Ball • Fear The Fogg • Super-Villain Team-Up • Can I Keep It? • Chicken Nuggets of Wisdom • All Koiled Up • King Koil • The Charm Offensive • Double Hex • Ye Olde Laser Duel • Ben Again and Again • Vote Zombozo • Drone On • Safari Sa'Bad • The Nature of Things • The Sound and the Furry • Reststop Roustabout • That's The Stuff • The Feels • Past Aliens Present • Dreamtime • Innervasion Part 1: Message in a Boxcar • Innervasion Part 2: Call the Dream Police • Innervasion Part 3: Strange Bedfellows • Innervasion Part 4: Mind Over Alien Matter • Innervasion Part 5: High Override |
| Season 3 | Omni-Copped • This One Goes to 11 • Rath of Con • Poles Apart • Show Don't Tell • Welcome to Zombozo-Zone! • Bridge Out • Beach Heads • Charm School's Out • Billy Bajillions • Franken-Fight • Buggin' the Buggs • Which Watch • Baby Buktu • Them's Fightin' Words! • Mutiny for the Bounty • The Chupaca-bro • Buggy Out • Introducing Kevin 11 • Four by Four • Moor Fogg • King of the Castle • Speechless on the Seine • Don't Touch • Big in Japan • Cyber Slammers • Big Ben 10 • LaGrange Muraille • Lickety Split • The Claws of the Cat • Roundabout: Part 1 • Roundabout: Part 2 • Cirque-Us • Forever Road • The Bentathlon • Prey or Play • Beware the Scare-Crow • The Night Ben Tennyson Came to Town • And Xingo Was His Name-O • Fear in the Family |
| Season 3 Extra | Xingo Nation • Heads of the Family • My Bodyguard • Wheels of Fortune • Heat of the Moment • Vin Diagram • A Sticky Situation • What Rhymes with Omnitrix? • You Remind Me of Someone • Adrenaland Jr. • Steam Fight at the OK Corral • I Don't Like You |
| Season 4 | Chicken In Chichen Itza, Part 1: Pyramid Scheme • Chicken In Chichen Itza, Part 2: The Wages of Fear • Ben in Rome, Part 1: A Slice of Life • Ben in Rome, Part 2: The Bee's Knees • Gentle Ben • Funhouse • Summer Breakers • The Monsters in Your Head • Queen of Bees • Falls, Falls, Falls • The Greatest Lake • Mud on the Run • It's Story Time • Cosplay Day • Bottomless Ben • Tales from the Omnitrix • Party Poopers • Wind Some, Lose Some • Digital Quality • Tim Buk-tv • Tokyo Fun, Part 1: Big Bugg Bash • Tokyo Fun, Part 2: Slamming It Up • Growing Up Is Hard to Do • The Hex Factor • Sweet Tooth • Medieval Upheaval • Speed of Sound • Xingo's World • Tummy Ache • Players of the Lost Park • De-Fanged • Mock 10 • Rekoil • Buktu The Future |
| Season 4 Movie | Ben 10 Versus the Universe: The Movie |
| Season 5 Specials | Ben 10,010 • Ben Gen 10 • Alien X-Tinction |
| Specials | Crossover Nexus |
| | |
| --- | --- |
| Season 1 | Waterfilter • The Ring Leader • The Filth • Freaky Gwen Ben • Take 10 • Animo Farm • Clown College • Something I Ate • Rustbucket RIP • Ben 24hrs • Riding the Storm Out • The Clocktopus • Growing Pains • Shhh! • Brief Career of Lucky Girl • Adventures in Babysitting • Steam is the Word • Need for Speed • Cutting Corners • Don't Let the Bass Drop • Villain Time • Bright Lights, Black Hearts • Recipe for Disaster • All Wet • Story, Bored • Xingo • Drive You Crazy • Hole in 10 • The Beast Inside • Tomorrow Today • Forgeti • Scared Silly • Bad Penny • Max to the Max • Zombozo-Land • Don't Laze Me, Bro • Omni-Tricked: Part 1 • Omni-Tricked: Part 2 • Omni-Tricked: Part 3 • Omni-Tricked: Part 4 |
| Season 2 | Out to Launch • Can I Keep It? • Battle at Biggie Box • Bon Voyage • Mayhem in Mascot • Screamcatcher • Vote Zombozo • Animorphosis • The 11th Alien: Part 1 • The 11th Alien: Part 2 • High Stress Express • Creature Feature • Drone On • Safari Sa'Bad • The Nature of Things • Assault on Pancake Palace • Bomzobo Lives • The Sound and the Furry • King Koil • Reststop Roustabout • That's The Stuff • Half-Sies • Xingo's Back • Bounty Ball • Fear The Fogg • The Charm Offensive • Super-Villain Team-Up • The Feels • Chicken Nuggets of Wisdom • Past Aliens Present • Double Hex • Ye Olde Laser Duel • All Koiled Up • Ben Again and Again • Dreamtime • Innervasion Part 1: Message in a Boxcar • Innervasion Part 2: Call the Dream Police • Innervasion Part 3: Strange Bedfellows • Innervasion Part 4: Mind Over Alien Matter • Innervasion Part 5: High Override |
| Season 3 | Omni-Copped • This One Goes to 11 • Moor Fogg • Rath of Con • King of the Castle • Speechless on the Seine • Poles Apart • Show Don't Tell • Don't Touch • Big in Japan • Welcome to Zombozo-Zone! • Bridge Out • Cyber Slammers • Big Ben 10 • Beach Heads • LaGrange Muraille • Charm School's Out • Billy Bajillions • Franken-Fight • Buggin' the Buggs • Which Watch • Baby Buktu • Them's Fightin' Words! • Lickety Split • Mutiny for the Bounty • The Chupaca-bro • Buggy Out • Introducing Kevin 11 • Four by Four • Cirque-Us • Forever Road • The Bentathlon • Beware the Scare-Crow • And Xingo Was His Name-O • The Night Ben Tennyson Came to Town • The Claws of the Cat • Prey or Play • Fear in the Family • Roundabout: Part 1 • Roundabout: Part 2 |
| Season 3 Extra | Xingo Nation • Heads of the Family • My Bodyguard • Wheels of Fortune • Heat of the Moment • Vin Diagram • A Sticky Situation • What Rhymes with Omnitrix? • You Remind Me of Someone • Adrenaland Jr. • Steam Fight at the OK Corral • I Don't Like You |
| Season 4 | Summer Breakers • Gentle Ben • Funhouse • The Monsters in Your Head • Tokyo Fun, Part 1: Big Bugg Bash • Tokyo Fun, Part 2: Slamming It Up • Queen of Bees • Falls, Falls, Falls • The Greatest Lake • Mud on the Run • Chicken In Chichen Itza, Part 1: Pyramid Scheme • Chicken In Chichen Itza, Part 2: The Wages of Fear • It's Story Time • Cosplay Day • Tales from the Omnitrix • Bottomless Ben • Ben in Rome, Part 1: A Slice of Life • Ben in Rome, Part 2: The Bee's Knees • Party Poopers • Wind Some, Lose Some • Digital Quality • Tim Buk-tv • Growing Up Is Hard to Do • The Hex Factor • Sweet Tooth • Medieval Upheaval • Speed of Sound • Xingo's World • Tummy Ache • Players of the Lost Park • De-Fanged • Mock 10 • Rekoil • Buktu The Future |
| Season 4 Movie | Ben 10 Versus the Universe: The Movie |
| Season 5 Specials | Ben 10,010 • Ben Gen 10 • Alien X-Tinction |
| Specials | Crossover Nexus |