This article is a stub. You can help by editing it.
The Mutant Tyrannosaurus was revived by Dr. Animo from a fossilized skeleton in Washington B.C..
Appearance
History
Ben 10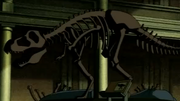 After arriving at Washington D.C.'s Natural History Museum and modifying his Transmodulator, Dr. Animo used it to reanimate and revive a Tyrannosaurus from a skeleton. Animo then used the revived T. Rex as transportation, and to attack and try to kill Kelly. When Ben, as Stinkfly, destroyed Animo's Transmodulator, the Mutant Tyrannosaurus became a lifeless skeleton again, which then collapsed.
Powers and Abilities
Weaknesses
Appearances
Ben 10
Community content is available under
CC-BY-SA
unless otherwise noted.