House of the Dragon Trailer - The Loop
Play Sound
Mole-Stache's species are a rodent-like alien species from an unknown planet.
Appearance
This species are short, rodent-like aliens that resemble mole rats, with brown fur and yellow mustaches and four fingers. They have long thin ears, pot-bellied stomachs, buck teeth, with brown spots on their bodies. The position of these spots is not uniform between members of the species, with different members having the spots in different positions and patterns.
Only males of this species have been seen.
Powers and Abilities
This species' hair (mustaches for males and pigtails for females)[DJW 1] are free-forming and about as maneuverable as any limb, able to stretch and form itself into a variety of shapes. While doing so, they can perform with it feats like wrapping enemies up, forming hands, catching drafts, and carrying themselves around. It can also be used as a parachute or propellers.
This species appears to have skill in hand-to-hand combat with the mustache, as Mole-Stache easily defeated Fistrick with it.[1]
This species can fly by twirling their mustaches around like a helicopter.[1][2]
This species' mustaches are strong enough to lift a truck[1] and a tree.[3] On their own and despite their small size, however, this species is strong enough to carry a Revonnahgander with their bare hands while flying and without any trouble.[1]
This species can dig into hard surfaces, much like real moles.
If this species' mustaches are cut or shaved off, they would quickly regenerate.[DJW 2]
Weaknesses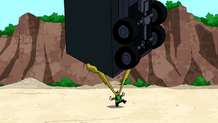 This species can have trouble staying upright while carrying something as heavy as a truck with their mustaches.[1]
Diet
This species eats nuts such as acorns, seeds, birch and spruce-like bark, salt blocks, fibrous paper, and clumps of nutritious dirt with grubs and worms in it.[DJW 3]
Notable Members
Trivia
Derrick J. Wyatt, when asked to give a made-up name for this species, called it "Mystaxian". He also called their home planet "Glabertron".[DJW 4] Wyatt doesn't consider these names canon as the writers likely already came up with some, which Charlotte Fullerton was in charge of.
References