Jurassic World: Dominion Dominates Fandom Wikis - The Loop
Play Sound
This article belongs to the

Classic Continuity
"
I say, Mole-Stache! This is quite unprecedented!
"

– Mole-Stache.[1]
Mole-Stache[DJW 1] is the Omnitrix's DNA sample of an unknown species from an unknown planet.
Appearance
Mole-Stache is a rodentoid alien with a green and black jumpsuit in which his ears stick out and also has a pair of white gloves. He has a big blonde mustache and beaver-like teeth, as well as a slight potbelly. He also wears a green and white belt in which the Omnitrix symbol is located.
Personality
Mole-Stache speaks in a stereotypical gentleman manner and tends to use high vocabulary.
Powers and Abilities
Mole-Stache's mustache is free-forming and about as maneuverable as any limb, able to stretch and form itself into a variety of shapes. While doing so, he can perform with it feats like wrapping enemies up, forming hands, catching drafts, and carrying himself around. It can also be used as a parachute or propellers.
Mole-Stache appears to have skill in hand-to-hand combat with the mustache, as he easily defeated Fistrick with it.[1]
Mole-Stache can fly by twirling his mustache around like a helicopter.[1][2]
Mole-Stache's mustache is strong enough to lift a truck[1] and a tree.[3] On his own and despite his small size, however, Mole-Stache is strong enough to carry a Revonnahgander with his bare hands while flying and without any trouble.[1]
Mole-Stache can dig into hard surfaces, much like a real mole.
If Mole-Stache's mustache is cut or shaved off, it would quickly regenerate.[DJW 2]
Weaknesses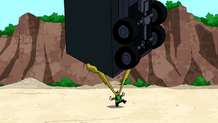 Aside from his malleable mustache and derived powers, Mole-Stache has no visible skills, hence why Ben regarded him as a useless alien upon transforming into him for the first time.[4]
Mole-Stache can have trouble staying upright while carrying something as heavy as a truck with his mustache. When reverting to Ben, his nose will also hurt.[1]
History
1773
Omniverse
Appearances
Ben

Season 2
Season 3
Season 7
Season 8
Video Games
Mole-Stache is a playable alien character in the game. His design is largely the same as in Omniverse except his belt has been recolored black and his Omnitrix symbol has possibly been relocated to his back.
Naming and Translations
Language
Name
Origin
Bulgarian
Къртосташ
From the original English name
Chinese
怪胡鼠
From 怪胡 (Guài Hú), weird moustache and 鼠 (Shǔ), mouse
French
Mole-Stache
From the original English name
German
Maulwurf
From Maulwurf, mole
Greek
Μουστοπόντικας
From μουστάκι, mustache, and τυφλοπόντικας, mole
Italian
Baffi di Talpa
From baffi, mustache, di, of, and talpa, mole
Polish
Kretowąs
From kret, mole, and wąs, moustache
Portuguese (Br)
Bigotóide
From bigode, mustache, and -óide, suffix "similar to"
Romanian
Mole-Stache
From the original English name
Russian
Усатый
Молстейч
From усатый, whiskered
From the original English name
Spanish (HA)
Mole-Stache
From the original English name
Etymology
Mole-Stache's name is a portmanteau of the words "mole", referring his appearance, and "mustache", which alludes to his ability to fight with his malleable mustache.
Trivia
References
Crew Statements
Tanner Johnson
Audio Commentary