House of the Dragon Trailer - The Loop
Play Sound
Mock 10 is the one hundred and sixty-fourth episode of Ben 10.
Synopsis
Ben, Kevin, and LaGrange find themselves stuck "outside of time" after the latter hijack a supersonic train with a fault engine, forcing the trio to team up and slow down.
Plot
The episode starts with the Tennysons visiting the Sonitrain, which Gwen states that it was very nice for Helen to donate a portion of her Sonitrain to Max's alma mater. Ben, however, playing on his tablet, doesn't want to look at the train. He declares the day a Ben day. Gwen takes the tablet telling him that he's played the game a bunch of times, and Ben states that he has seen the train already. On top of that, he saved it from Lord Decibel. Gwen hands Ben back the tablet, but right when she hands it to him, Kevin runs in and takes it. He stands there holding the tablet up in the air. Ben is confused, and questions what he's doing. Kevin slams the tablet on the ground, and runs off into the train. Kevin yells out telling them that he is hijacking the train. Gwen tells Ben to go after him, but he already knows to do so. Annoyed at the fact that he does this so many times. Gwen runs off to Max telling him that Kevin is trying to hijack the train. Max tells her not to worry since Helen made sure that it was impossible to get running, and there isn't anything that could re-activate it.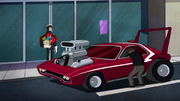 Inside the train, Ben tells Kevin that he has to get back to his "Ben day", and they should get this over with. Kevin questions if he wants to know why he's doing this, but Ben states he doesn't. Kevin tells him he's going to listen anyway, and he explains. He tells Ben that no one was recognizing his "genius" pranks, and he plans to hijack the train, and defeat Ben. Then no one will ever forget his name. Ben figures since he just wants attention, he doesn't have to fight him. He walks off and Kevin follows him, telling him not to ignore him. Kevin prepares to hit his watch, and force a fight. However laughter is heard from inside the train. LaGrange shows up greeting the two boys. LaGrange claims that he plans to hijack the train. He asks if they want to know why, but Ben says no again. LaGrange states that he's going to listen anyway. LaGrange explains that his car was stolen. Then his bike, then his pride. So he plans to re-gain it by becoming the fastest any man has ever gone. Kevin questions how he plans on doing that, when the controls are bogus. LaGrange pulls out a device, that he plans to get the train moving with. He then finds it strange that it's not working. Kevin states that he's the one supposed to be hijacking that ride. He transforms into Skunkmoth. He states he has the perfect tool to get the train moving. LaGrange asks what, and Skunkmoth slams his face on the controls. Ben transforms into Jetray, and shoots his neuroshock blasts at the two. They both dodge and it hits the controls, and starts up the train. Skunkmoth and Jetray argue over the fact that the train is started off. LaGrange starts moving the train. Jetray and Skunkmoth go flying outside the train.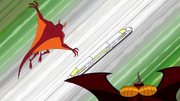 Kevin gets angered since he was supposed to hijack the train. Inside the train, LaGrange puts the train into high gear. As a result, the train begins going really fast, and Jetray and Skunkmoth begins pushing it faster. The train goes so fast, time around it froze. The train continued going really fast. Jetray and Skunkmoth bails from the train. LaGrange jumps out, stating that it's too fast even for him. He then jumps out.
The three gentlemen notices how everything around them is frozen. LaGrange explains that they're moving so fast, everything appears frozen. Kevin leaves off to go pull pranks, and Ben leaves to do his own thing as well. LaGrange sobs, questioning if he conquered speed, or has it conquered him. Ben runs towards a frozen Gwen, and he takes her tablet to play it. Kevin runs to someone's doorbell and rings it as a prank. He then remembers that everyone is frozen in time. Kevin then runs to a restaurant and shoves his face in some food, trying to get a laugh out of people, yet still no satisfaction to him. He runs to a bank and takes a lot of cash, right in front of a police officer. However he finds it boring since time is frozen. LaGrange arrives at where Vin Ethanol is working, and hops in his arms. He questions what he should do. LaGrange then gets the Idea that he should face his fears head on and conquer them.
Ben gets tired of being frozen in time. He runs into Kevin. Kevin states that this is lame. They leave to find LaGrange. Kevin questions what he's thinking about. To which LaGrange replies stating his existence. Ben states that they have to come up with a plan to undo this. Kevin replies saying that things were going great, until LaGrange got in the way. LaGrange tells him that he stole the train for the glory of being the fastest, and that Kevin only wanted attention from Gwen, and as usual he denies. LaGrange tells him that love is but a hollow promise, and is why he only enjoys the thrill of the race. Kevin replies in anger, telling him that he went so fast he scared himself. Kevin pushes him and LaGrange tells him that he spoke to the universe, and Vin Ethanol. Kevin yells out saying that LaGrange is the one that got them stuck there. Kevin transforms into Skunkmoth and shoots a gas at him. LaGrange and and Kevin both fight each other. Ben thinks for a moment, and comes up with an idea. He tells them that they need to put the train in reverse. Ben transforms into Humungousaur to stop the train. They then wait for him to time back in. Ben transforms into XLR8, then goes Omni-Kix. LaGrange signals the two boys to begin pushing the train. XLR8 uses his back-booster, and they go even faster. LaGrange struggles to keep the train steady. They eventually manage to pull it off. The three depart, and LaGrange is arrested. Gwen questions if Ben and Kevin are going to mess with each other, however Ben states that they've been there and done that, and the Sonitrain was it's own adventure. Gwen questions what he means, since they were gone for "five seconds. Ben states it felt like an eternity. Ben plans to spend time with family now. Gwen tells Ben to get away from her, and to play his videogames. Ben states that he's beaten them all. He yells out, asking the universe what his meaning is now.
Noteworthy Events
Major Events
Ben and Kevin team up with LaGrange for the first time.
Characters
Neutrals
Villains
Aliens Used
By Ben
XLR8 (x4; 1st time is daydream, 2nd time is flashback, 3rd time is cameo, goes Omni-Kix and reverts)
By Kevin
Quotes

Kevin: Why are there turntables?
Ben: Kevin! Let's get this over with, gotta get back to my me time.
Kevin: Wait! Don't you want to know why I'm doing this?
Ben: No.
Kevin: Well, you're going to listen anyways. The last few weeks I've had a huge problem! I've been pulling pranks as usual.
Bashmouth (Flashback): (Howls, panting).
Two girls: Awww!
Kevin: No one was recognizing my genius!
Quad Smack (flashback): (Throws statue at building). How ya like me now?!
Guy: Aww, thanks, bud! That building was set for demolition.
Quad Smack: Sighs.
Kevin: So when I heard about this train, I knew I could pull off the biggest prank ever! By hijacking it, and kicking your butt, no one will ever forget my name!




Ben: Wait, you just want attention?
Kevin: Yes!
Ben: Oh, then I guess I don't have to fight ya!
Kevin: Hey! Don't ignore me!
Ben: Sounds like you need some "me time" too!
Kevin: Fine! I'll just force a rumble! (Prepares to hit his watch).
Lagrange: (Evil Laughter). Hello, Tennyson and Grumpy Boy! Ho, ho, ho, ho! I plan on Hijacking this train, and nobody can stop me! I only have one more speed record to beat, and this train is the key!




Ben: Oh, come on! Is there anyone else who wants to steal this train?
LaGrange: Would you like to know why I had to resort to a non-wheeled vehicle?
Ben: No.
Lagrange: Well, you're going to listen anyways! First, someone stole my beautiful car!
LaGrange (Flashback): What are you doing? Get back here!
LaGrange: Then it was my bike!
LaGrange (Flashback): What, again? Seriously?
LaGrange: And then...my pride! So, I plan to re-gain it, by going the fastest any man has ever gone before!




LaGrange: Look! Gentlemen, do you not see what has happened? We've gone so fast, we've out run time! Look around you, everyone is completely still. But it is only because of how fast we are moving!
Jetray: Yea? Well, thanks to you, the Sonitrain is long gone!
Skunkmoth: In that case, see ya, losers! The Levin annual prank spree starts now! (Laughs).
LaGrange: I have gone so fast I have broken time, and it frightens me. (sobbing).
Jetray: Uhh, this is weird... I'm gonna go.
LaGrange: Speak to me, universe! Have I conquered speed, or has it conquered me? What is my meaning now?



Kevin: "Hello! Answer the door! Oh yeah, everyone is frozen in time. Whatever."
| | | |
| --- | --- | --- |
| | LaGrange: What does it all mean, Vin? I tasted ultimate speed! And it scared me. Scared me because whatever I was looking for wasn't there...Maybe I haven't been chasing ultimate speed after all. Maybe I've been running from something! Oh, Vin, you were the only one who really understood me. What's that? I should face my fears head-on and conquer them? Oh uh, but, what if I should fail? | |

Gwen: Ben, aren't you and Kevin going to mess with eachother?
Ben: Nah, Been there and done that, the Sonitrain turned out to be its own adventure.
Gwen: What? You guys were gone for, like, 5 seconds!
Ben: Well, Gwen, it felt like an eternity. Besides, now I can spend time with family right, Cuz?
Gwen: Quit being a weirdo! Go play a video game or something!
Ben: But I beat all my games, Gwen, all of 'em! Speak to me, Universe, what is my meaning now?!



Cast
Trivia
XLR8 is seen again briefly after having gone Omni-Kix prior, before reverting into Ben, marking the first time an alien is seen reverting from their Omni-Kix form.
Ben 10 Episodes
| | |
| --- | --- |
| Season 1 | Waterfilter • The Ring Leader • The Filth • Freaky Gwen Ben • Take 10 • Animo Farm • Clown College • Something I Ate • Rustbucket RIP • Ben 24hrs • Riding the Storm Out • The Clocktopus • Growing Pains • Shhh! • Brief Career of Lucky Girl • Adventures in Babysitting • Steam is the Word • Need for Speed • Cutting Corners • Don't Let the Bass Drop • Villain Time • Bright Lights, Black Hearts • Recipe for Disaster • All Wet • Story, Bored • Xingo • Drive You Crazy • Hole in 10 • The Beast Inside • Tomorrow Today • Forgeti • Scared Silly • Bad Penny • Max to the Max • Zombozo-Land • Don't Laze Me, Bro • Omni-Tricked: Part 1 • Omni-Tricked: Part 2 • Omni-Tricked: Part 3 • Omni-Tricked: Part 4 |
| Season 2 | Out to Launch • Can I Keep It? • Battle at Biggie Box • Bon Voyage • Mayhem in Mascot • Screamcatcher • Vote Zombozo • Animorphosis • The 11th Alien: Part 1 • The 11th Alien: Part 2 • High Stress Express • Creature Feature • Drone On • Safari Sa'Bad • The Nature of Things • Assault on Pancake Palace • Bomzobo Lives • The Sound and the Furry • King Koil • Reststop Roustabout • That's The Stuff • Half-Sies • Xingo's Back • Bounty Ball • Fear The Fogg • The Charm Offensive • Super-Villain Team-Up • The Feels • Chicken Nuggets of Wisdom • Past Aliens Present • Double Hex • Ye Olde Laser Duel • All Koiled Up • Ben Again and Again • Dreamtime • Innervasion Part 1: Message in a Boxcar • Innervasion Part 2: Call the Dream Police • Innervasion Part 3: Strange Bedfellows • Innervasion Part 4: Mind Over Alien Matter • Innervasion Part 5: High Override |
| Season 3 | Omni-Copped • This One Goes to 11 • Moor Fogg • Rath of Con • King of the Castle • Speechless on the Seine • Poles Apart • Show Don't Tell • Don't Touch • Big in Japan • Welcome to Zombozo-Zone! • Bridge Out • Cyber Slammers • Big Ben 10 • Beach Heads • LaGrange Muraille • Charm School's Out • Billy Bajillions • Franken-Fight • Buggin' the Buggs • Which Watch • Baby Buktu • Them's Fightin' Words! • Lickety Split • Mutiny for the Bounty • The Chupaca-bro • Buggy Out • Introducing Kevin 11 • Four by Four • Cirque-Us • Forever Road • The Bentathlon • Beware the Scare-Crow • And Xingo Was His Name-O • The Night Ben Tennyson Came to Town • The Claws of the Cat • Prey or Play • Fear in the Family • Roundabout: Part 1 • Roundabout: Part 2 |
| Season 3 Extra | Xingo Nation • Heads of the Family • My Bodyguard • Wheels of Fortune • Heat of the Moment • Vin Diagram • A Sticky Situation • What Rhymes with Omnitrix? • You Remind Me of Someone • Adrenaland Jr. • Steam Fight at the OK Corral • I Don't Like You |
| Season 4 | Summer Breakers • Gentle Ben • Funhouse • The Monsters in Your Head • Tokyo Fun, Part 1: Big Bugg Bash • Tokyo Fun, Part 2: Slamming It Up • Queen of Bees • Falls, Falls, Falls • The Greatest Lake • Mud on the Run • Chicken In Chichen Itza, Part 1: Pyramid Scheme • Chicken In Chichen Itza, Part 2: The Wages of Fear • It's Story Time • Cosplay Day • Tales from the Omnitrix • Bottomless Ben • Ben in Rome, Part 1: A Slice of Life • Ben in Rome, Part 2: The Bee's Knees • Party Poopers • Wind Some, Lose Some • Digital Quality • Tim Buk-tv • Growing Up Is Hard to Do • The Hex Factor • Sweet Tooth • Medieval Upheaval • Speed of Sound • Xingo's World • Tummy Ache • Players of the Lost Park • De-Fanged • Mock 10 • Rekoil • Buktu The Future |
| Season 4 Movie | Ben 10 Versus the Universe: The Movie |
| Season 5 Specials | Ben 10,010 • Ben Gen 10 • Alien X-Tinction |
| Specials | Crossover Nexus |
| | |
| --- | --- |
| Season 1 | The Filth • Waterfilter• The Ring Leader • Riding the Storm Out • The Clocktopus • Take 10 • Growing Pains • Shhh! • Brief Career of Lucky Girl • Animo Farm • Clown College • Adventures in Babysitting • Something I Ate • Steam is the Word • The Beast Inside • All Wet • Villain Time • Drive You Crazy • Tomorrow Today • Story, Bored • Hole in 10 • Recipe for Disaster • Rustbucket RIP • Freaky Gwen Ben • Ben 24hrs • Bright Lights, Black Hearts • Don't Laze Me, Bro • Don't Let the Bass Drop • Bad Penny • Zombozo-Land • Forgeti • Max to the Max • Cutting Corners • Need for Speed • Xingo • Scared Silly • Omni-Tricked: Part 1 • Omni-Tricked: Part 2 • Omni-Tricked: Part 3 • Omni-Tricked: Part 4 |
| Season 2 | Out to Launch • Battle at Biggie Box • Bon Voyage • Mayhem in Mascot • Screamcatcher • Creature Feature • Bomzobo Lives • Animorphosis • Assault on Pancake Palace • High Stress Express • The 11th Alien: Part 1 • The 11th Alien: Part 2 • Half-Sies • Xingo's Back • Bounty Ball • Fear The Fogg • Super-Villain Team-Up • Can I Keep It? • Chicken Nuggets of Wisdom • All Koiled Up • King Koil • The Charm Offensive • Double Hex • Ye Olde Laser Duel • Ben Again and Again • Vote Zombozo • Drone On • Safari Sa'Bad • The Nature of Things • The Sound and the Furry • Reststop Roustabout • That's The Stuff • The Feels • Past Aliens Present • Dreamtime • Innervasion Part 1: Message in a Boxcar • Innervasion Part 2: Call the Dream Police • Innervasion Part 3: Strange Bedfellows • Innervasion Part 4: Mind Over Alien Matter • Innervasion Part 5: High Override |
| Season 3 | Omni-Copped • This One Goes to 11 • Rath of Con • Poles Apart • Show Don't Tell • Welcome to Zombozo-Zone! • Bridge Out • Beach Heads • Charm School's Out • Billy Bajillions • Franken-Fight • Buggin' the Buggs • Which Watch • Baby Buktu • Them's Fightin' Words! • Mutiny for the Bounty • The Chupaca-bro • Buggy Out • Introducing Kevin 11 • Four by Four • Moor Fogg • King of the Castle • Speechless on the Seine • Don't Touch • Big in Japan • Cyber Slammers • Big Ben 10 • LaGrange Muraille • Lickety Split • The Claws of the Cat • Roundabout: Part 1 • Roundabout: Part 2 • Cirque-Us • Forever Road • The Bentathlon • Prey or Play • Beware the Scare-Crow • The Night Ben Tennyson Came to Town • And Xingo Was His Name-O • Fear in the Family |
| Season 3 Extra | Xingo Nation • Heads of the Family • My Bodyguard • Wheels of Fortune • Heat of the Moment • Vin Diagram • A Sticky Situation • What Rhymes with Omnitrix? • You Remind Me of Someone • Adrenaland Jr. • Steam Fight at the OK Corral • I Don't Like You |
| Season 4 | Chicken In Chichen Itza, Part 1: Pyramid Scheme • Chicken In Chichen Itza, Part 2: The Wages of Fear • Ben in Rome, Part 1: A Slice of Life • Ben in Rome, Part 2: The Bee's Knees • Gentle Ben • Funhouse • Summer Breakers • The Monsters in Your Head • Queen of Bees • Falls, Falls, Falls • The Greatest Lake • Mud on the Run • It's Story Time • Cosplay Day • Bottomless Ben • Tales from the Omnitrix • Party Poopers • Wind Some, Lose Some • Digital Quality • Tim Buk-tv • Tokyo Fun, Part 1: Big Bugg Bash • Tokyo Fun, Part 2: Slamming It Up • Growing Up Is Hard to Do • The Hex Factor • Sweet Tooth • Medieval Upheaval • Speed of Sound • Xingo's World • Tummy Ache • Players of the Lost Park • De-Fanged • Mock 10 • Rekoil • Buktu The Future |
| Season 4 Movie | Ben 10 Versus the Universe: The Movie |
| Season 5 Specials | Ben 10,010 • Ben Gen 10 • Alien X-Tinction |
| Specials | Crossover Nexus |