Wiki Targeted (Entertainment)
Play Sound
The Medic's Species are unnamed species from an unknown planet.
Appearance
They have yellow or pale pink skin, pink or yellow eyes with no irises, fang-like teeth, 6 arms and 4 grey claws on each hand.
Only male members of this species have been seen, so it is unknown how females of this species look.
History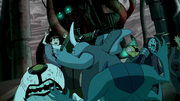 If you look closely, when Ben was being carried off by the aliens in Ben 10: Secret of the Omnitrix, one of the aliens that appear was similar in species and was shown with an eyepatch.
In Con of Rath, there is another member of Interpreter alien's species in the space café.
Notable Members