The Mark 5 Nanoshift Enabled Exo-Armor is a creation of Inspector 13. It is referred to as the Cincotrix by Clyde Fife.
Appearance
It is a wrist band that morphs into a full-fledged armor with various weapons giving the user enhanced strength, durability and flight.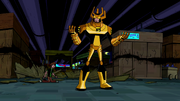 Features
Lasers
Flamethrower
Freeze Ray
Energy Shields
Extendable Arms
Modes
Pursuit Mode: Wheels grow out of the boots and thrusters in the back propel the armor forward.
Submarine Mode: An oxygen tank grows out of the back and a breathing mask grows on the face.
Flight Mode: A high-powered rocket builds out of the back.
Appearances
Ben 10: Omniverse
Naming and Translations
Language
Name
Origin
Portuguese (Br)
Exo-Armadura de Nano-Transformação Nível 5
Pentatrix
Nano-Transformation Exo-Armor Level 5
From penta, five in Greek and trix
Trivia
It was mistaken for a sock when Clyde Fife put it on.
The word Cinco means "Five" in Spanish and Portuguese.

Ironically only 3 modes were ever shown.