Wiki Targeted (Entertainment)
Play Sound
"
This is a clear violation of Code T22-...
"

– Magister Gilhil's last words.[1]
Magister Prior Gilhil was a Plumber who attained the rank of Magister. He was Max Tennyson's boss,[DM 1] and had over 300 planets under his watch.[2]
Personality
Gilhil has a very strict, no-nonsense, by-the-book personality, always following the rules set by the Plumbers closely.
Gilhil was ready to throw Ben Tennyson, Gwen Tennyson and Kevin Levin into the Null Void forever for Plumber impersonation, and he only spared them from the Null Void because they, as Gwen pointed out, didn't claim to be Plumbers, but simply protected people from alien attacks (and especially in Ben's case, since his Omnitrix already gives him a sort of Plumber license). However, he forces Kevin to stop fighting with aliens, regardless of self-defense or the defense of others, due to his criminal files.
Gilhil was quick to side with a Highbreed's claim of being attacked over Ben and his team, simply because the trio was on thin ice with him already. It is possible that Gilhil holds grudges due to his lack of sympathy when seeing Ben get in trouble a second time, but he managed to keep his head cool enough to ask the Highbreed to come with him for questioning. The Magister later shows a softer side when he allows the trio to keep their Plumber badges after realizing that Darkstar was behind the whole incident.
Unfortunately, Gilhil's dedication to the law would ultimately lead to his death at the hands of Aggregor.
History
Alien Force
In Darkstar Rising, Magister Prior Gilhil was informed that three human adolescents, Ben Tennyson, Gwen Tennyson and Kevin Levin, where pretending to be Plumbers, and set a trap for them using some Forever Knight holograms. When the Magister tried to arrest them, Kevin fights him and is overpowered, but Ben uses Goop to defeat Gilhil so they can talk.
Ben and Gwen mention that they are the grandchildren of the Plumber Max Tennyson. But the Magister points out that Kevin doesn't have any Plumber ancestry, much to Kevin's annoyance. He reveals that Kevin's biological father was one. Gilhil allows them to continue their alien investigations and asks for Kevin's badge, as he had stolen it from Magister Labrid. Gilhil warns him that if he doesn't give the badge, he would be thrown in the Null Void again. As a result, Kevin gives his badge to the Magister, which makes him upset.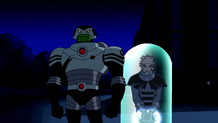 Later, after the trio defeat a Highbreed, Gilhil comes and puts them under arrest for impersonating Plumbers again, but they soon get attacked by a masked figure who tries to absorb all their powers and captures them, while Gwen manages to escape.
The masked figure takes all of them, including the Highbreed, to his hideout where he reveals to them who he is. The enemy shows himself to be Michael Morningstar who now calls himself Darkstar after the team first defeated him in All That Glitters, and begins to absorb Ben's, Kevin's, Gilhil's and the Highbreed's energy. Luckily, Gwen shows up with an army of DNAliens who detract Darkstar long enough for Kevin to free himself and the others, including Gilhil, who thanks him. They all proceed to fight Darkstar and defeat him. Afterwards, Gilhil gives Kevin his badge back, and places the team in charge of protecting Earth, before sending Darkstar to the Null Void.
Ultimate Alien
In Escape from Aggregor, Magister Gilhil answered a distress call from Aggregor's ship and boarded it. He then met Aggregor who told the Magister that it was a computer error. After demanding a search of the ship, Gilhil soon located Aggregor's prisoners, five aliens from the Andromeda Galaxy. When Gilhil announced Aggregor's code violation and began listing his crimes, the Osmosian appeared and attacked Gilhil from behind by blasting him with his energy spear, killing the Magister. Aggregor appeared later wearing his Plumber suit.[DM 2]
Appearances
Alien Force
Season 2
Ultimate Alien
Season 1
Naming and Translations
Language
Name
Origin
Spanish (HA)
Gilhil (Alien Force)
Gilhil
Dub error; pronounced /gɪ'lɪl/ (Darkstar Rising) and /ga'lɪl/ (Escape from Aggregor).
Note: "Prior" has never been mentioned.
Spanish (Spain)
Prior Gil
From the original English name; pronounced /'praɪor /'gɪl/
Trivia
Gilhil was designed by Derrick J. Wyatt.[DJW 1]
Gilhil is the second known Magister-ranked Plumber that was killed in the line of duty. The first was Magister Labrid.[3]
After Gilhil was killed by Aggregor, it is unknown what happened to his body.
References
Crew Statements