Wiki Targeted (Entertainment)
Play Sound
"
You...you are Ben Tennyson. You can do anything...
"
Magister Labrid was the first active Plumber to appear in the Alien Force series.
Appearance
Labrid is a tall, fish-like humanoid with mauve-colored skin and yellow eyes with black, slit-like pupils. His neck is covered with long black gills on either side. He wears a Plumber Suit with a helmet filled with a water-like liquid.
Personality
Labrid was a serious, brave and dedicated Plumber, and appeared to feel strongly about his job. When he first met Ben and Gwen, he apologized for mistakenly attacking them and offered them his help.
As a Plumber, Labrid was greatly concerned about the safety of others, as he expressed anger when he saw Kevin's dangerous laser lances, and didn't appear to trust Kevin because of this. Labrid was even concerned for the safety of his attackers, as he quickly warned a Forever Knight to not use a laser lance that had been damaged during the fight in the castle, though his words fell on deaf ears.
Like his conrade Max, he seemed to act somewhat as a father figure towards Ben. When Ben felt that he couldn't do anything without his grandpa, Labrid give him gentle encouraging words to before he died.
History
Early life
In his early life as seen in Moonstruck, Labrid helped Max Tennyson rescue Verdona from a Synthroid. He was also the one to recruit Max into the Plumbers.
Alien Force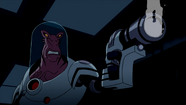 Labrid first showed up in the first episode of Alien Force, because he thought Ben had stolen the Omnitrix. He tracked Ben down from the Rust Bucket all the way to where Gwen took karate lessons. When he first appeared, he was wearing an ID mask. He attacked Ben and Gwen while they were locked in the karate lessons building. Eventually, Gwen managed to capture him. After he explained himself, he apologized for attacking Ben, as he thought Ben was just some kid who stole the Omnitrix. He accompanied Ben and Gwen to a stakeout where a weapons trade, held by Kevin Levin, between the DNAliens and the Forever Knights was happening. They managed to take down Kevin while the DNAliens and the Forever Knights escaped.
Kevin managed to lead them to the Forever Knight's base. He is mortally wounded during a battle with the Forever Knights while protecting Kevin. His dying wish was for Ben, Kevin and Gwen to complete their mission. Labrid evaporates during his death, with his Plumber suit empty. Kevin then takes his Plumber Badge.
Powers and Abilities
As a member of the Plumbers, Labrid was a skilled fighter and was able to hold his own against the DNAliens and Forever Knights while assisting Ben. He was also rather resourceful, seen when he started a fire using his blaster to keep the DNAliens at bay.
Labrid was also a good tracker, as he managed to track down Ben and follow him to Gwen's school, meaning he was skilled at stealth as well.
Labrid also knowledgeable about various weapons, as he instantly recognized the Level 5 laser lances that Kevin had, and explained how dangerous they where to humans.
Weaknesses
Labrid requires a very specific hydrospheric composition in order to survive (which does not includes oxygen, as he referred to humans as oxygen-breathers). Once his suit was damaged and this substance leaked and drained away, he perished in a matter of minutes.
Labrid can be constrained by a DNAlien's slime.
Labrid is vulnerable to Gwen's mana and the Synthroid's electric beams.
Appearances
Alien Force
Season 1
Ultimate Alien
Season 3
Trivia
The crew were thinking of doing a story about Magister Labrid in Season 3 of Alien Force that would reveal a lot about him, but this did not come to pass.[DM 1]
References