Doctor Strange in The Multiverse o Madness - The Loop
Play Sound
This article belongs to the

Classic Continuity
The Lovely Duck is a ship piloted and owned by Rad Dudesman that appears in Ben 10: Omniverse.
History
In Rad, the Lovely Duck was used to transport the Gracklflint to Incursean territory on a rescue mission to save a Magister Arnux and his crew who were stranded on Terminus III.
In Rad Monster Party, it was used in the Plumbers' service once again for a supply mission to Anur Transyl.
Technology
The Lovely Duck is a heavily-armed ship with an arsenal of hand-weapons for Rad Dudesman to use, and is capable of faster than light flight. It also has an onboard Artificial Intelligence (AI) computer named Pyxi, who speaks in a language that sounds like garbled gibberish to others. The only ones who can understand her are Rad and Ben as Grey Matter, (which means that Galvans could understand her). Pyxi's appearance is a pink rectangle with two smaller rectangles for eyes. She also has a longer rectangle for a mouth which is only visible when she speaks.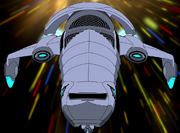 The ship itself has been heavily modified, as Rook noted that it had an Anaxion Halo Grid wired to the Gyro-Axle. Its outward appearance has the bow shaped like a duck's face, with a blaster turret mounted under the chin. It has a very large cargo hold for transporting goods. The ship is armed with various weapons, including twin energy cannons mounted on both sides of the bow.
The Lovely Duck's vital component is a Variable G Offset Modulator. However, with some improvisation, the ship can function without one. As shown in Charmed, I'm Sure and The Vampire Strikes Back, the ship is a hodgepodge of improvised repairs and jury-rigged systems. 
Appearances
Omniverse
Season 3
Season 5
Trivia
The engine on the ship is similar to the Null Void Chamber seen in Ben 10,000 and Ken 10.
The Lovely Duck and its captain Rad Dudesman are an allusion to Han Solo and the Millennium Falcon from Star Wars. The ship itself is shown to be a mixture of improvised systems cobbled together.