Kylmyys is an ice-cold world and a home planet of the Necrofriggians and Psycholeopterrans.
Landscape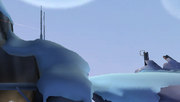 Kylmyys is an icy cold world that was long thought to be uninhabited.
Kylmyys is full of large glaciers, snowstorms and many deep caves.
Necrofriggians live in the caves on Kylmyys.
History
A major ice age occured on the planet killing all life except for the Necrofriggians and the Psycholeopterrans.
Appearances
Known Inhabitants
Etymology
The name "Kylmyys" is Finnish for coldness.
Games
Galactic Racing
Various tracks located on Kylmyys exist in the game