The images on this article are non-canon, being obtained from video games
Kylmyys is an ice-cold world and a home planet of the Necrofriggians and Psycholeopterrans.
Landscape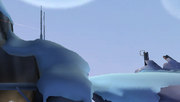 Due to a cataclysmic event that occurred eons ago, Kylmyys is covered entirely by glacial ice and snow, trapped in an everlasting winter.[merchandise 1]
History
Because of the planet's oppressively cold temperature, no corporeal creature could survive in this unbearable frozen climate. However, the Necrofriggians managed to evolve over the millennia into intangible ghost-like forms, having no solid material to freeze. In a wistful way, for even though the incorporeal Necrofriggian may be able to exist on their home planet, they can never truly be a part of it, nor any concrete world.[merchandise 1]
Appearances
Known Inhabitants
Etymology
Kylmyys is Finnish for "cold".
Video Games
Galactic Racing
Various tracks located on Kylmyys exist in the game.
Trivia
References
Merchandise
Community content is available under
CC-BY-SA
unless otherwise noted.