Wiki Targeted (Entertainment)
Play Sound
Kwarrel was a prisoner on Null Void Incarcecon who helped Kevin Levin revert from his first mutation. He also taught him how to absorb matter rather than energy.
Appearance
Kwarrel resembles a big grey muscular human, with a big moustache and sideburns, pointed ears, and a scar running across his right eye.
Personality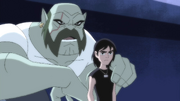 Unlike most prisoners, Kwarrel had a relaxed and level-headed attitude. He would often observe from the side and break up fights, having a positive influence on his fellow prisoners. He was very good at anger management, having "known the feeling" of being filled up with anger.[1] He likely shared Quince's affinity for having friends.
Kwarrel had a special relationship with Kevin, whom he took under his wing to help manage his anger, mutation, and powers. The two bonded and their relationship grew into a mentor-mentee one at least; and a father-son one at most. Kwarrel was not only willing to bring Kevin with him as he tried to escape Incarcecon, but willing to give up his life so that Kevin could escape and have a future. His influence undoubtedly changed Kevin's life for the better.
Powers and Abilities
Kwarrel had no known abilities except for his immense strength, being able to throw Kevin 11 with little effort. He seemed somewhat knowledgeable about Osmosians, as he was able to teach Kevin how to absorb matter and free him of his mutation.
History
Kwarrel had allegedly lived a very full life and knew lots of things.[DM 1]
Kwarrel appears only in the flashbacks of ...Nor Iron Bars a Cage. His relationship with Kevin started when Kevin was being hostile in the prison yard. He tells Kevin to cool off, Kevin tries to tackle him, but he quickly throws Kevin on his back. Before he passes out, Kwarrel introduces himself and says he'll be waiting when Kevin is ready to let go of all his anger. Kevin eventually came to him for help, to which Kwarrel welcomed him, mentoring him on how to revert his mutation. He also teached Kevin how to absorb materials in place of energy, after which saying there was nothing more he could teach Kevin.
During a prison riot, Kwarrel revealed to Kevin a secret underground tunnel he had been digging for years, and invited him to come along and escape from Incarcecon. However, Morgg was waiting for them, who had known about the tunnel for months and was waiting to shoot them. Kwarrel tackled Morgg, making him drop his gun, and urged Kevin to escape. Kevin ran, and Morgg eventually picked back up his gun and shot Kwarrel dead.
Appearances
Ultimate Alien
Season 2
Etymology
Ironically, Kwarrel's name sounds like the word 'quarrel', which means to argue or fight, yet Kwarrel has a calm and laid-back attitude, not to mention occasionally maintaining peace amongst his fellow prisoners.
Trivia
It is unknown what crime Kwarrel committed to end up in the Null Void,[DM 2] but Kwarrel mentioning he knew how it felt being as angry as Kevin was, suggesting it may have been a violent crime.
References