Jurassic World: Dominion Dominates Fandom Wikis - The Loop
Play Sound
This article belongs to the

Classic Continuity
This article is about the cryptid. You might have been looking for the episode.
"
Sightings go back hundreds of years, on this very lake. Some say it's a myth... not me! I could take you to a spot where I personally laid eyes upon the beast. That is, if you've got the stomach for some real adventure!
"
Krakkens are a type of cryptid from the planet Earth.[DJW 1]
Appearance
Krakkens are giant, bipedal creatures that were specified to live underwater. They have four webbed legs and a tail with a fin, and two tentacles coming out of their mouths which act like two extra arms. They have blue eyes, golden teeth, six gills on their necks, and the upper part of their body is dark cyan, while the lower part is olive.
Krakkens in Omniverse have a less slender body, only four gills, and their body is recolored grey, with the lower part being a lighter shade. Their eyes are golden and on the top of the head, facing forwards rather than being one at each side like in the original series. They also have no pupils. The tail has no fin, and the hind limbs have turned into short fins with spikes in the upper part. The front limbs have a large spike below the elbow with smaller spikes protruding from it, the webs are shorter, and the claws appear to be sharper. The tentacles no longer come out from the mouth, protruding from the sides of the face instead, are the same shade of grey as the upper body, and have pointy ends. Also, their teeth are now white, sharper, and more numerous than in the original series.
History
A Krakken was first seen in The Krakken. She first appeared when she attacked Four Arms after he scared Gwen. Four Arms tried to tell Max and Gwen that he saw a lake monster but they didn't believe him, although in the following day, Captain Shaw revealed the history of the Krakken.
Later on, she appeared and attacked Jonah Melville and his crew after they took one of her eggs. She fought XLR8 and despite being overpowered, managed to get her egg back. However, Jonah and his crew managed to take both of her eggs at the same night which made her attack them again the next day at a cannery.
During the attack Jonah decided to poach her too because he wanted even more money. Luckily, Ben, who had arrived with Max and Gwen to rescue the eggs, transformed into Ripjaws and assisted the Krakken in fighting Jonah, who was using an underwater mech suit. After a long underwater battle, Ripjaws managed to get the Krakken's eggs to a safe spot in a clearing. After destroying his mech, the Krakken prepared to eat Jonah, but was stopped by Ripjaws, who knocked out Jonah and left him for the police. The episode ended with the Krakken cuddling her eggs in peace.
In Gone Fishin', a Krakken was being used as a guard dog by Captain Kork and attacked Ben, Max and Rook. Ben tricked her into eating him as Crashhopper, whereupon he bounced around her insides, thereby defeating her and making her spit him up.
In Vreedlemania, a Krakken tried to steal a pot of food from the Vreedles, only to be tamed by Sceles Vreedle. Sceles later has her attack Ben, but Ma Vreedle throws her back into the water when the attack threatens Sandra Tennyson.
Reproduction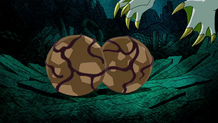 Krakkens reproduce by laying eggs.[1]
Diet
Krakkens are seem to be Carnivores.[1][2]
Powers and Abilities
Due to their large size, Krakkens possess an incredible amount of strength.
Despite being massive in size, Krakkens seem quite capable of stealth, given that Captain Shaw spent a good deal of time trying to find one of them.
Almost nothing has been shown to hurt Krakkens.
Being aquatic creatures, Krakkens are able to breathe underwater.
Krakkens also have a considerable bite force in their jaws, as displayed when one of them caught Jonah Melville's mech suit in her tentacles and used her jaws to bite it open.
Appearances
Ben 10
Season 1
Omniverse
Season 2
Season 7
Trivia
References