Wiki Targeted (Entertainment)
Play Sound
"
Diss me all you want. I'm still 10 times better than you! I've got all your powers, plus my own! I'm Kevin 11!
"

– Kevin to Diamondhead.[1]
Kevin 11 is the mutation Kevin Levin went through in the original series.
Appearance
Generally, Kevin 11 mostly resembles a reddish-pink version of Four Arms but with an upper left arm belonging to Heatblast, an upper right arm belonging to Diamondhead, and lower arms belonging to Wildmutt. He also has Stinkfly's wings, XLR8's tail, Ghostfreak's eye track on his chest, and an upper back resembling Upgrade's.
His head consists of Kevin's hair and ears, two left eyes belonging to Four Arms, a right eye belonging to Grey Matter, and Ripjaws' lure, teeth, mouth/jaw interior, and gills. He wears Kevin's cargo shorts.
In an Ultimate Alien flashback, Kevin 11 looks the same except he is wearing jeans and all of his eyes are green. His Upgrade pattern on his back is also different.
Personality
As absorbing too much energy causes Osmosians to lose their sanity,[2] Kevin's sociopathic tendencies became more accentuated in this form. Since compared to his somewhat collected and laid-back demeanor[3] before he transformed,[4] Kevin 11 displays a lack of restraint and lucidity in many ways.
Kevin 11 is notably much quicker to anger and more confrontational, as demonstrated with his interactions with Ben Tennyson, Technorg,[1] and his fellow inmates in the Null Void Incarcecon.[5]
Kevin 11's lack of lucidity also shines through his tendency to quickly blame people other than himself, as demonstrated when he blames Ben for their situation fighting in the Megacruiser, not entirely knowing why he did so in the first place.[1]
However, even in this form, Kevin 11 still demonstrated a vulnerable, yet somewhat innocent side, as he ultimately realized that he needed help and so turned to Kwarrel. He was finally able to let go of the anger brought on by this transformation, thus making it easier for him to turn back to normal.[5]
A dream world version of Kevin 11 was more beastly and primitive than the original, acting more or less animalistic.[6]
History
Ben 10
After Kevin had been defeated by the Omnitrix's feedback pulse in Kevin 11, he had discovered that he had absorbed a sufficient amount of DNA from the blast. The Omnitrix had let loose every available strand it contained, allowing Kevin to switch between any of Ben's ten aliens. He was also able to access his own human form for brief intervals, putting him in a situation opposite to Ben himself.
However, during a fight with Four Arms on the Golden Gate Bridge in Framed, Four Arms put Kevin into submission and, at first, looked like he was going to kill him. Instead, he deliberately missed and walked away, stating that Kevin was never worth it. Kevin, however, wanted to continue fighting and became enraged. The rage of an untrained Osmosian, combined with all of the energy and DNA he had absorbed, caused his powers to spiral out of control, causing him to mutate into a hulking chimerical behemoth fusion of the ten original starter aliens of the Omnitrix, which Kevin dubbed "Kevin 11" (due to having all of the powers of all ten Omnitrix aliens plus his own).
In Grudge Match, Kevin 11 attacked Ben to get revenge, blaming his condition on him. As the two battled, they were abducted and forced to fight in Slix Vigma's gladiator games. During their battles, Ben helped Kevin 11 to realize the advantages of his mutated form. Because Kevin 11 was an amalgam of aliens, he could mix and match their powers to make up for their reduced potency. Although forced to work together, Kevin 11's only goal was killing Ben.
After Ben and Kevin 11 succeeded in escaping, Kevin 11 attacked Ben and trapped him against the wall with Stinkfly's goo before moving in with Diamondhead's spear hand, gloating that no matter what alien Ben transformed into, he knew every one of them. Little did he know that Ben unlocked Cannonbolt, whom he transformed into just as Kevin 11 was about to murder him before getting into an escape pod. Kevin 11 nearly barged into the pod when he was stopped by Technorg, whom Ben had spared and he declared a life debt to. After Technorg helped Cannonbolt escape, he turned his attention to Kevin (who had called him a lap dog just as he was about to kill Ben). The two were transported to a different galaxy at the end of the episode while locked in combat. Kevin defeated Technorg and took control of the Megacruiser.[pop-up 1][7]
In Back with a Vengeance, Kevin 11 teamed up with Vilgax to defeat Ben, and eventually managed to remove the Omnitrix with Vilgax's help while in the Null Void. However, he betrayed Vilgax in an attempt to leave both Ben and Vilgax in the Null Void and use the Omnitrix to take over the world, only for Ben to escape alongside Gwen, trick him into giving a fake watch, and leave him and Vilgax trapped instead. Kevin spent the rest of the show in the Null Void.
In Perfect Day, Kevin 11 appeared as a "tough hall monitor" in a dream, confronting the Tennysons in human form before willingly transforming. He chased the Tennysons towards the library, though they were able to lose him when Ben answers every question in a computerized test with 'C', allowing a passage out of the library to open. Kevin 11 is later seen flaking Enoch alongside SixSix only to be blown back when Ben transforms into Ultra Ben. Kevin 11 charged at the "Ultra Tennysons" only to be defeated by Ultra Ben.
Ultimate Alien
In ...Nor Iron Bars a Cage, it is revealed how Kevin changed back to normal from Kevin 11. When he became a Null Void prisoner, he met another prisoner named Kwarrel, who he soon looked to as a mentor. Kwarrel taught Kevin 11 how to control his anger and powers. Soon enough, he had learned he could do much more than merely absorb and manipulate energy, he found out that he could do the same thing with matter itself.
Future
In Ken 10, Devlin Levin can transform into a creature very similar in appearance to Kevin 11 (dubbed "Devlin 11").
Powers and Abilities
Overall, Kevin 11 had access to the abilities of the first 10 aliens Ben ever turned into.
Being part-Tetramand, Kevin 11 shared many of the same powers as Four Arms, such as enhanced strength and jumping. Technically speaking, Kevin 11 was physically stronger than Four Arms.[1]
Being part-Pyronite, Kevin 11 shared many of the same powers as Heatblast, such as pyrokinesis. This is mainly due to his upper right arm sharing the same appearance as an ordinary Pyronite's arm.
Being part-Petrosapien, Kevin 11 shared many of the same powers as Diamondhead, such as firing crystal shard projectiles, morphing his arm into weapons, and enhanced durability. This is mainly due to his upper left arm sharing the same appearance as an ordinary Petrosapien's arm.
Being part-Lepidopterran, Kevin 11 shared many of the same powers as Stinkfly, such as flight and spitting slime out of his mouth.
Being part-Kineceleran, Kevin 11 shared many of the same powers as XLR8, such as enhanced speed, agility, and reflexes. His tail was also prehensile, as he was able to use it to hang on to a Diamondhead's leg after being pushed to the point of almost falling off a cart.[7]
Being part-Vulpimancer, Kevin 11 shared many of the same powers as Wildmutt, such as enhanced senses[pop-up 2][7] and sharp claws.
Being part-Piscciss Volann, Kevin 11 shared many of the same powers as Ripjaws, such as breathing underwater, a glowing lure, and an expandable mouth with steel-bending jaws and sharp teeth.
Being part-Osmosian, Kevin 11 retained his normal form's natural energy absorption powers although he never trained himself to do so.
Kevin 11 could combine Heatblast's flames with Stinkfly's goo to form an explosive attack.[1]
Kevin 11 could combine XLR8's speed, Four Arms' strength, Diamondhead's durability into "one mean punch".[1]
Weaknesses
Despite being stronger than Four Arms, Kevin 11's powers were mostly not as strong as Ben's because they only had one-tenth of their original strength.[8][1]
Kevin 11 was vulnerable to electricity, such as that generated by shock collars.[1]
Video Games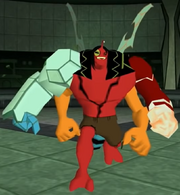 In Protector of Earth, Kevin 11 escapes from the Null Void after his last battle with Ben and kidnaps Max Tennyson, luring Ben into an ambush in a nearby forest. Ben defeats him and he is sent back to the Null Void.
Appearances
Ben 10
Season 2
Season 4
Ultimate Alien
Season 2
Notes
See Also
References
Pop-ups
Crew Statements