This article is a stub. You can help by editing it.
Karl w/a K is a mutant green latern fish-like monster that disguises himself into a human, like his twin brother Carl w/a C that first appear in Scared Silly.
Appearance
Human form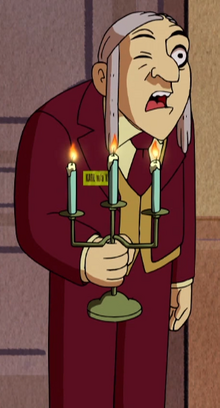 Karl is a grown man with long grey hair, a closed eye that doesn't open, wears a brown suit and tie, and carries a three candleholder.
Monster Form
His true form has the appearance of a humanoid lantern fish , He is green and blue like his human form he also closes one of his eyes.
Personality
He is kind of friendly at first, but when he turned into a monster he starts to make objects float in the air and destroy the Tennysons, but thanks to Wildvine he destroys the orb and karl weakens.
History
Powers and Abilities
He can disguise himself as either a human or monster, and he can do gravikinesis.
Weaknesses
If his orb is destroyed, Karl is weakened.
Appearances
Community content is available under
CC-BY-SA
unless otherwise noted.